The Assembly Election Results should be a wake up call for the BJP. Although not all might be lost for them for the 2019 Lok Sabha Elections.
The results of the assembly elections in 5 states across India brought much needed cheer to the opposition Congress (INC) party. They were the single largest party in Madhya Pradesh & Rajasthan where they formed government with help of few MLA's from other parties & independents. Chattisgarh election was a total shock for all alike where INC won a landslide nearly wiping out BJP from the state. The reaction among BJP supporters has been a mix of shock, anguish & despondency depending on whom you converse with. Rajasthan was no surprise given the alternating model of power between BJP & INC over the past 25 years. But the landslide defeat in Chattisgarh for the INC & the narrow loss in Madhya Pradesh (where a simple swing of a mere half a dozen seats towards BJP would have given them upper hand) were forecasted to be unlikely even with the head winds of 15 year anti-incumbency. The issue of double anti-incumbency (i.e. At central & state level) in the end proved too much to overcome even for fairly popular CM's like Raman Singh & Shivraj Singh Chouhan where a large no. of their MLA's were shown the door by the electorate.
Many questions have arisen following the 0-3 defeats of the BJP by INC such as: Did the BJP base completely collapse? Has the INC turned the tables on the BJP? How does this project for 2019? Etc.
Skipping on the seats won by all parties that most are well aware of let's look at the vote share%
Chattisgarh
Here the BJP vote share completely collapsed from 40-41% in past elections to bottom out at 33%. The uptick in Others was due to pick up of votes by the BSP-CJC alliance at the expense of BJP. Ajit Jogi instead of hurting the INC like what was expected to be the case before the election instead severely dented the BJP vote%. INC grew its vote share by 2.7% vs 2013 which is a natural extension of the pattern over the past 3 election cycles where they have been slowly increasing their vote share across the state. However this is the first time that they actually succeeded in winning the assembly election as BJP always maintained a slim lead over them which completed evaporated this time around.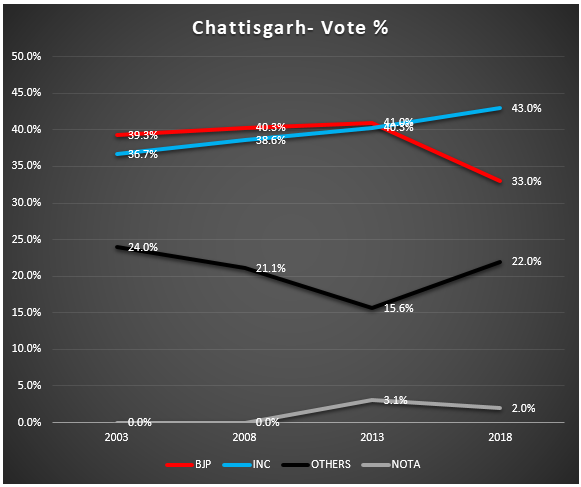 Madhya Pradesh
In Madhya Pradesh BJP did still manage to have 0.1% vote share % lead over INC (BJP 41% INC 40.9%) but INC managed to win few more seats. During the 2008 elections, ex CM Uma Bharti floated her own party called Bharatiya Jan Shakti Party & got 4.7% of the vote. Considering that as a splintered pro BJP vote we can see that BJP basically got 42.4-42.5% of the vote share % in 2003 & 2008 elections. The Modi wave in 2013 saw that the vote share increase to 44.9%. So at 41% in 2018 the BJP vote% is just 1.5% lower than the historical average of ~42.5% (which translates to a <5% relative loss).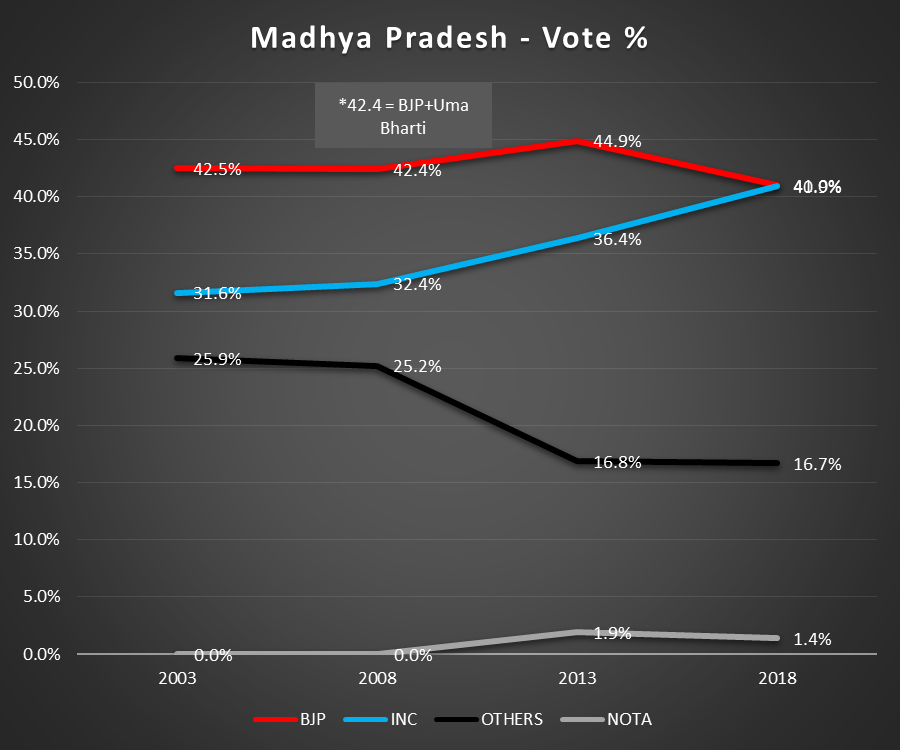 Rajasthan
After the landslide victory for BJP in 2013 the BJP vote share reduced from 45.2% to 38.8% a loss of 6.4% vote share%. INC on the other hand grew its vote share % by 6.2% to increase from 33.1% to 39.3%. They not only closed the massive 12.1% vote share% delta but INC surpassed BJP with +0.5% vote share % delta. Fascinatingly BJP's vote share % of 38.8% was very close to the vote share% it received in 2003 (39.2%) when it comfortably won the assembly elections. What has happened is that over the years the others vote reduced from ~25% to 20% which has gone into the INC's kitty allowing them to emerge victorious.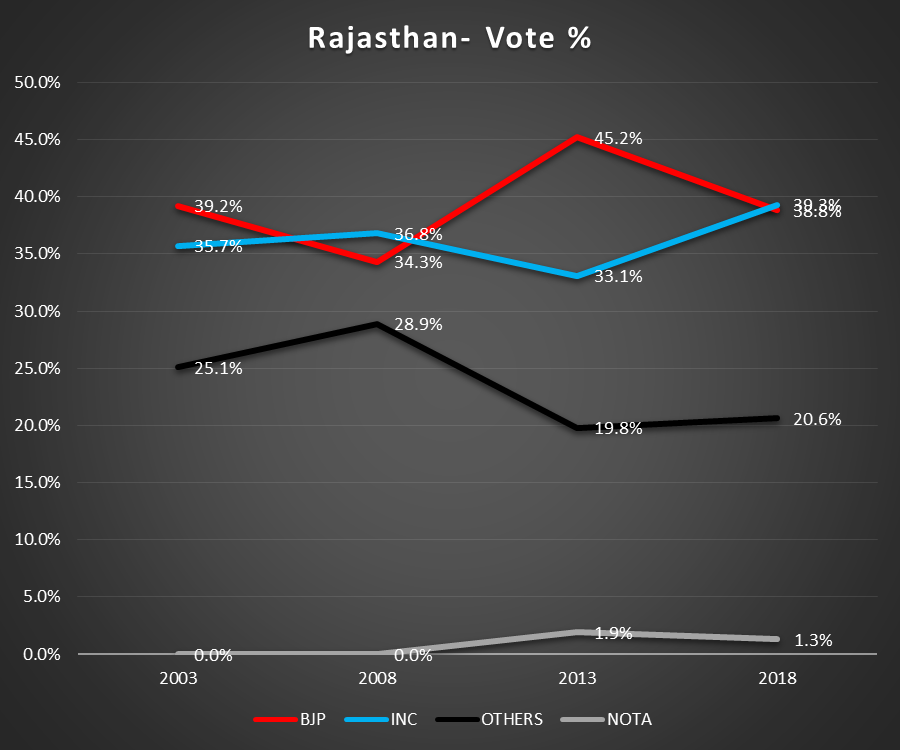 Others Vote Share
A trend which has been occurring especially over the past 5 years is that the election is becoming increasingly bipolar (in BJP vs INC direct contest) states or more tripolar (where there is a dominant regional party) in the states across India.
Once upon a time the Others which consisted of many smaller parties & also Independents used to have significant vote share%. This translated to some amount of influence in the outcome of elections & also during coalition building post elections. The Indian voter it seems has become shrewder unwilling to cast his vote in favor of some party or independent candidate that doesn't have the heft to rule for the next 5 years. He considers voting for these smaller parties/others simply as a "wasted" vote. This has been occurring across multiple states but I shall focus on the major assembly elections that have occurred over the past 12 months: Gujarat, Karnataka, Madhya Pradesh, Rajasthan and Chattisgarh. I am not including the assembly elections before that due to 1) "recency" factor & 2) BJP has underwhelmed in its performance since the huge landslide in UP in early 2017.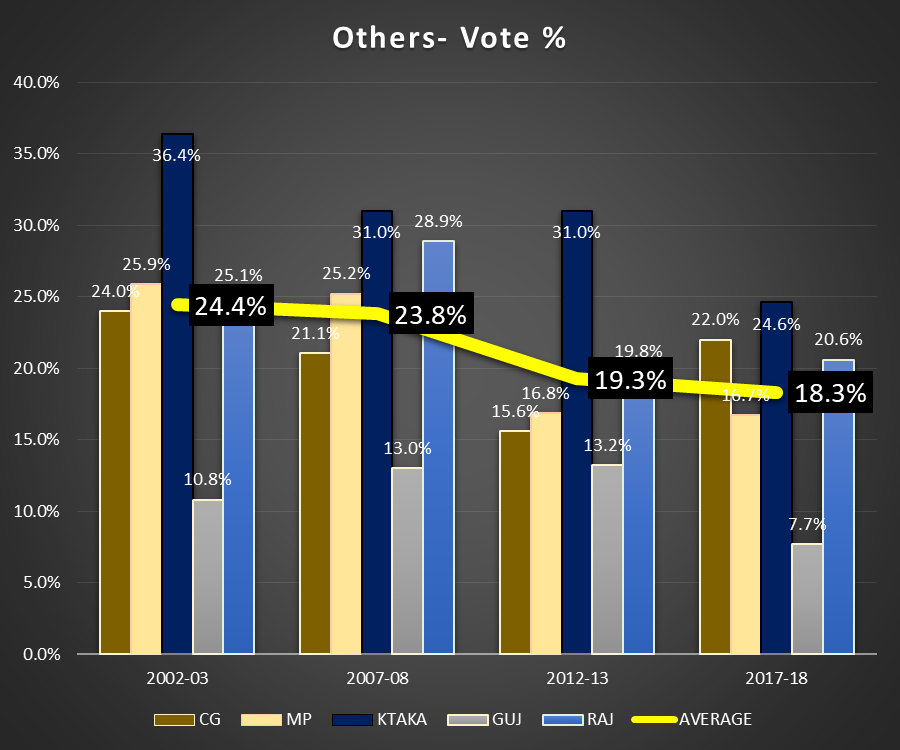 Most of the states show that over the past 4 election cycles including current one the average vote share of Others has come down from an average of ~24% to ~18%. Now maybe a 1 to 1.5% could possibly be attributed to being lost to the NOTA option (which was just introduced in 2013). However even after excluding NOTA still it shows that there is a ~5% drop in other vote share %.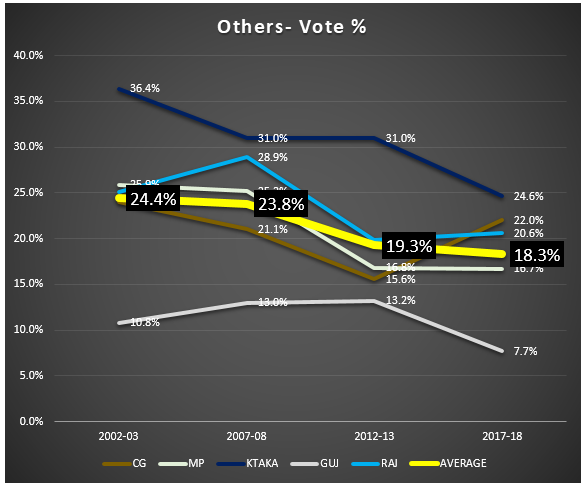 2017 Gujarat & 2018 Karnataka
Comparing 2017 Gujarat & 2018 Karnataka we see that the dip in others occurred in the current election cycle (2017-18). In Gujarat Others was cut significantly by 5.5% from 13.2% in 2012 to just 7.7% in 2018.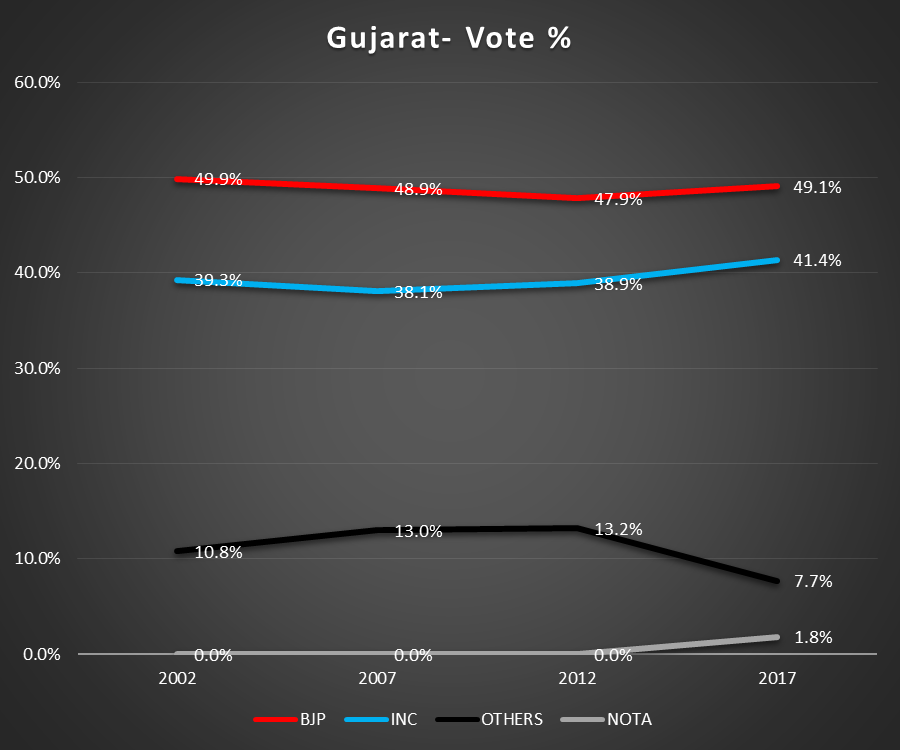 Karnataka there is a serious 3rd player in JDS, which for the sake of this discussion I have considered as part of others. Even then the others still declined significantly from 31% in 2013 to 24.6% this year (big 6.4% decline).
Note: For the BJP vote share of 2013 I have aggregated vote share of all factions which fought the election separately.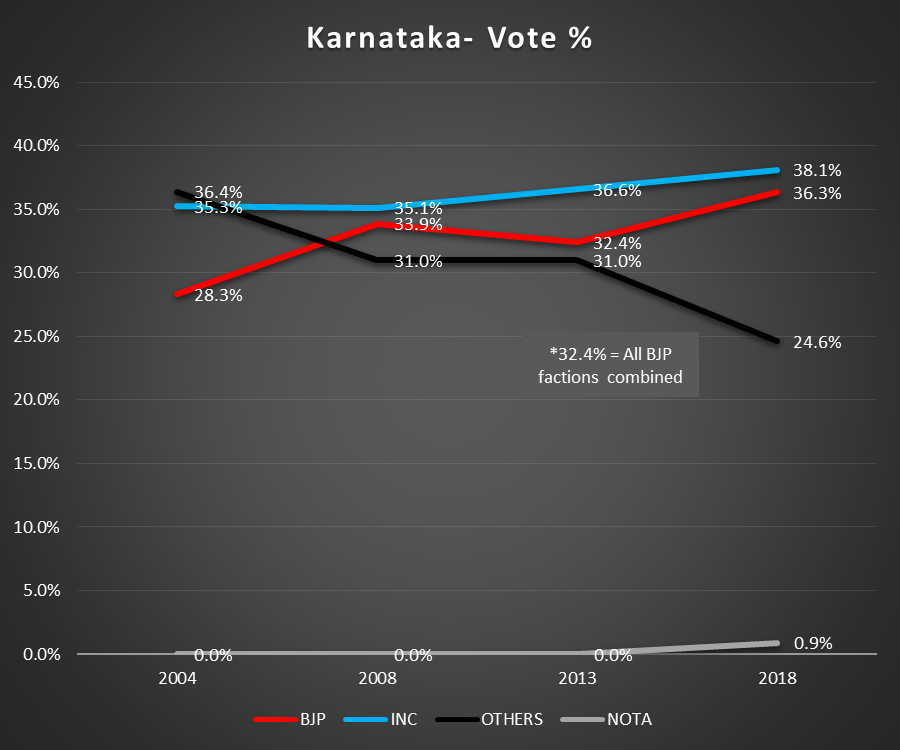 The point to note here is that these were elections where both the INC & BJP simultaneously were able to increase their vote share at expense of others! The increases on both sides ranged from a modest 1.3% to a healthy 3.9%.

2018 Chattisgarh, Madhya Pradesh & Rajasthan
Chattisgarh is an outlier with other states where the Ajit Jogi CJC & BSP alliance grabbed significant vote share increasing the Others vote share % & severely damaging the BJP vote share %. (As is shown in the graphs above)
Madhya Pradesh & Rajasthan both saw their Others vote share which fell in 2013 remained relatively unchanged 5 years later in 2018. (As is shown in the graphs above)
Now Madhya Pradesh & Rajasthan which went to elections as part of the Modi wave in 2013/14. The Others vote share declined in the 2013 cycle itself & remained somewhat constant in 2018. BJP probably peaked in 2013 at ~45% in both states & in 2018 reverted close to their mean winning vote share % from past cycles at ~39% in Rajasthan & at 41% in MP (slightly under the 42.5% historical average). This shows that while the BJP vote share in Madhya Pradesh & Rajasthan has experienced some attrition for sure it hasn't collapsed as many would like to believe. What has happened that the reduction of the Others vote share % in Madhya Pradesh & Rajasthan of the order of ~7-8 % which mostly went to BJP in 2013 in the wave election & is now in 2018 mostly going to the INC benefitting the later this time around.
Now contrast this with the Gujarat & Karnataka results which were prior to the Modi wave of 2013/2014 where not only INC but also BJP picked up 1 to 4% vote share at the cost of Others. I.e. reduction in Others is happening in this cycle vs previous cycle.

Looking forward to 2019
Now extrapolating of assembly elections to national elections is always tricky due to different issues affecting both sets of elections. Some voters during the recent elections who have vote against BJP have indicated that they wish to vote for Modi in 2019. So the following projections need to be taken with a grain of salt.
What we have seen from the past 5 major assembly elections that INC has gained anywhere from 1.5 to 6.2% vote share. After absolutely bottoming out in 2014 LS the only way is up for them. The questions is that what sort a bounce it could possibly gain & how many seats it can pick up.
During the 2014 LS there were 190 seats where BJP & INC were either 1st (winner) or 2nd (runner-up). Out of these 190 seats BJP won 167 where INC was the runner up & INC won 23 seats where BJP was runner up.

For INC to make some sort of comeback in 2019 it has to make a dent in these 167 seats that it lost to the BJP. The assembly election has seen that INC was able to increase in vote share by 10 to 15% on a relative basis most of it from the BJP & little from Others.
Now assume a perfect vote transfer (a big if!) from disgruntled BJP voters in 2014 to INC in 2019 (another big if as they could vote for Other parties or choose NOTA)
What would happen in these seats if let's say there is a movement of 5% of overall BJP voters to INC or say 10% or even a massive 15%.

The huge wins scored by BJP in 2014 provide some safety margin to BJP (but as seen in recent assembly elections no lead can be truly safe ever). If 5% of BJP voters switch from BJP -> INC, BJP would lose 14 more seats to the INC while a 10% voters transfer from BJP -> INC would cause loss of 28 seats which still is a not a huge loss. However once 15% of BJP voters from 2014 switch allegiance to INC the losses could start to take its toll on BJP with a projected loss of 54 seats as government formation with alliance patterns becomes more complicated & tricky.
Conclusion
This shows that barring Chattisgarh there wasn't a huge but mild erosion of the BJP voter base. BJP is trying to enter "greenfield" states where it doesn't have a presence to overcome losses in states where it already has a presence & could possibly have maxed out in terms of vote share in 2013-14 cycle. BJP is still hovering around 40% vote share in the "brownfield" states but there is limited opportunities for further organic growth especially when facing anti-incumbency. After the UP by poll loses I had written that it needs to stich up smart alliances with the "1 to 5% percenter" parties in various states so that 1) Others vote doesn't drift towards the Opposition & 2) helps overcome the opposition alliance arithmetically in certain states & 3) helps protect against vote share % erosion due to anti-incumbency. For e.g. in UP if it can give couple of seats to 3-4 smaller alliance partners. It could win let's say 35 seats by fighting alone or win 55 by giving up 10 seats to allies: i.e. small sacrifice by BJP would however pay rich dividends in 2019.
The recent losses for the BJP have been sort of a "wake up call" which shows that there is discontent on the ground which shouldn't be taken lightly. The data from the assembly polls show that due to anti-incumbency there could be some "reversion to the mean" post 2013-14 wave but also that the vote share has also not collapsed. The Others vote share collapsing with most of it going into the opposition kitty coupled with some bounce back from the opposition has made the game closer versus before where there is not much room for error for the BJP. The small losses in the BJP vote share are not fatal as of today but have to be worked upon without fail as they have potential to become huge problems if left unattended. BJP needs to make immediate course corrections as effect of any change will take time to filter through & there are probably only 11 weeks before the mode code of conduct comes into place for 2019 LS elections.
Disclaimer: The opinions expressed within this article are the personal opinions of the author. MyIndMakers is not responsible for the accuracy, completeness, suitability, or validity of any information on this article. All information is provided on an as-is basis. The information, facts or opinions appearing in the article do not reflect the views of MyindMakers and it does not assume any responsibility or liability for the same.
Comments