Can the BJP win 71 seats in UP again in 2019 against a joint Opposition?
There is a saying in Indian polity that "The road to New Delhi goes through Lucknow". Uttar Pradesh the "Gargantua" of India is home to 220+ million people (roughly equal to population of Brazil). If UP were a country by itself, in terms of population it would be the 5th largest country in the world. It sends 80 MP's to the Lok Sabha (i.e. 15% of all MP's across India come from UP). During the 2014 elections the BJP led NDA coalition swept this state winning 73/80 seats. (BJP: 71 Apna Dal: 2). The importance of this landslide victory in UP to the overall BJP numbers nationally can be gauged from the fact that 1 out of every 4 BJP MP's in 2014 was from UP (71/282).
2014 Lok Sabha & 2017 Assembly Elections: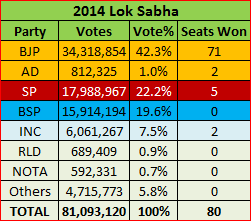 The 43+% vote share of the BJP-Apna Dal combo was overwhelming compared to the 20-22% vote share of two regional parties Samajwadi Party (SP) & Bahujan Samaj Party (BSP) who fought separately. Congress (INC) fighting separately made it a multipolar contest benefiting the front runner BJP.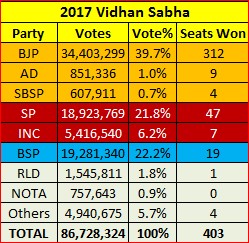 This scenario of BJP vs a fragmented opposition was mostly replicated again in 2017 Assembly elections with some changes. BJP picked up another smaller ally SBSP (Suheldev Bhartiya Samaj Party) while SP & INC formed their own pre poll alliance. Even with this tripolar fight, between BJP, SP+INC & BSP BJP & its allies won 325/400 in a stunning landslide which was beyond the projections of even its own supporters.
"Mahagathbandhan" vs NDA 2014 vs 2018 bypolls:
Having been bested by the BJP twice in a span of three years both at national & local level, SP & BSP putting aside their decades old rivalry decided to join hands for future elections. Earlier this year in March when SP put up candidates for both Gorakhpur & Phulpur seats BSP (which doesn't usually fight bypolls) threw their support behind the SP candidates. SP pulled off a major upset by winning both the seats which were won just 3 years ago by BJP with big margins. Fast forward to May when SP & BSP joined forces with both the INC & Ajit Singh led RLD to form a sort of "Mahagathbandhan" (MGB) to fight the Kairana LS bypoll. SP party member Tabassum Hassan fought on a RLD ticket against Mriganka Singh, daughter of former MP Hukum Singh who passed away earlier this year. CM Yogi & few members of his cabinet did campaign in Kairana but it came to a naught as the joint opposition candidate won by 44k+ votes.
Below are the numbers for the 2014 LS election vs the 3 LS bypolls this year (Gorakhpur, Kairana & Phulpur) & 2017 VS election vs the 1 VS bypoll: Noorpur. Note: For the opposition even though they fought separately in 2014 I will look into the combined numbers for SP+BSP+INC+RLD denoted by MGB* (Mahagathbandhan)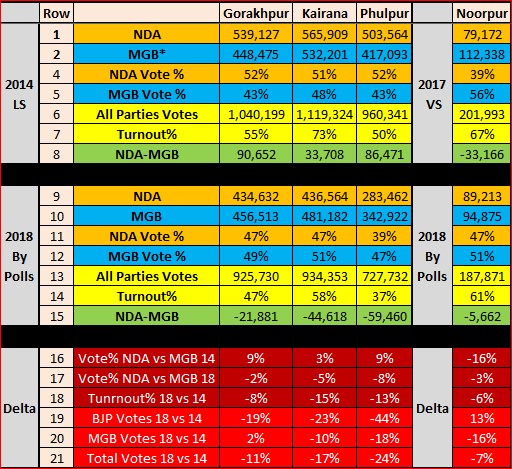 The enormity of the wins in UP in 2014 by BJP is seen by the fact that the BJP vote count (Row 1) is much larger than even the combined vote share of MGB (Row 2). Even against a combined MGB, BJP would still win these three Lok Sabha seats comfortably by margins of ~ 90k, 33k & 86k (Row 7). Noorpur is an exception where in the 2017 Vidhan Sabha the combined might of the MGB would have defeated the BJP by ~ 33k votes.
Coming to the 2018 bypolls BJP lost these 3 LS seats by ~ 21k, 44k & 59k votes respectively (Row 15). Since the turnout for a bypoll is expected to be lower than a regular election it is not surprising to see that the Turnout% for these 3 LS seats was lower between 8 to 13% absolute margin (Row 18) compared to 2014 LS. This in turn resulted in the Total Votes (all parties combined) being lower by 11 to 24% relative margin (Row 21). What hurt the BJP is that it saw its raw vote count erode by a large 19 to 44% relative margin (Row 17) which was much larger than the decrease in Total Vote count of 11 to 24% (Row 21). MGB saw a 2% increase in votes in Gorakhpur & a 10 to 18% decrease (Row 20) in other 2 constituencies which is much lower than the BJP declines. This paved the way for the upsets by the MGB vs BJP in these 3 LS seats.
The reason for these BJP defeats/vote share declines could certainly be some level of defections from the BJP to the MGB fold. However the data above correlates more to a BJP voter not showing up to the polling booth to vote. MGB voters having not tasted success in over 3 years were more motivated than BJP voters as they want to send a message to the BJP with their voting. This phenomenon of incumbent government struggling in its "Get out the vote" effort is also referred to as "enthusiasm gap" which is suffered by parties not only in India but across the globe. USA has seen a trend where the party in power in the White House sees its seats reduce in lower House of Congress during every mid-term election. There is a general voter apathy among the BJP base which needs to be fixed otherwise it would be staring at a very poor showing in 2019 from UP. With some level of opposition unity on the cards one can expect that the fight for UP in 2019 is going to be an uphill climb.
If one adds the combined votes of the SP+BSP together (assuming 100% vote transference) vs BJP+AD from the 2014 election it would win only 39 seats. This number if we add INC & RLD to the mix i.e. MGB vs NDA would further go down to just 23 seats! Once one adds voter dissatisfaction/apathy & double incumbency at Centre & State level this could push the BJP seat count from UP down to below 20 which would catastrophic for its chances to form the next government.
One fact which has not been reported & could just be a small silver lining for the BJP is the Noorpur VS seat results. As per the arithmetic from the 2017 VS polls it should have lost the seat by 33k+ votes. However since it lost by less than 6k votes it means that there was some cross voting from the MGB towards BJP. This is borne out by the fact that the BJP votes actually went up from 79 to 89K (diametrically opposite to the LS bypolls) & also impressive considering the fact that the overall turnout was 6% lower than in the 2017 VS elections!
Looking forward to 2019:
Since the latest bypoll results have been announced many BJP supporters have shrugged these off being due to voter lethargy seen during bypolls. They say that this will be overcome during an expected high pitch campaign in 2019. Their point is that the 10 to 15% absolute reduction in Turnout % is all due to BJP voters, which is not entirely true as the MGB also saw a small reduction in votes. Leaving it all upto Modi to make up for this "enthusiasm gap" would be a risky proposition. The government still has one more year to go before the polls could accumulate further anti-incumbency leading to further voter defections from the BJP. As I written earlier the government needs to work on wooing the disenchanted middle class or else it will pay heavily in 2019 if these fickle voters either cross over to the opposition or decided to abstain from voting.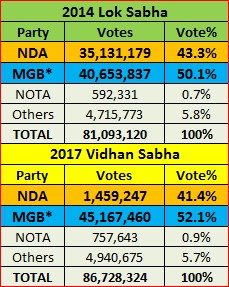 When the vote shares of the proposed MGB partners are added up (from either 2014 LS or 2017 VS) it comes out to be 7% higher than the respective NDA vote share. A few experts expect a significant 90% vote transference between the MGB partners. Even accounting for 10% loss via vote transference leakages the adjusted MGB vote share at 45 to 47% is still higher than the 41 to 43% vote share of BJP. Add to the fact that in many individual seats the combined no. of opposition MGB voters are so skewed in their favor that even a higher turnout by BJP voters will not be enough for the NDA candidates to win. To overcome this problem of arithmetic in not only UP but across the nation Amit Shah has publicly declared his desire for the NDA to reach 50.1% of vote share in 2019 to beat out any challenge from a combined opposition.
One source of votes is the less than ideal vote transference between SP & BSP & possibly other partners too. Interestingly for the 3 bypolls the MGB has fielded a Nishad (Gorakhpur), Kurmi (Phulpur) & Muslim (Kairana) which have resulted in as per some estimated 90% voter transference. The million dollar question is that when in 2019 there are Yadav & Dalit candidates standing for election will the two communities who don't get along vote for the other communities candidate? Even if there are defections due to less than ideal vote transference among MGB there are absolutely no guarantees that these votes would end up in NDA's kitty. Therefore it would be unwise to rely heavily on these voters to swing the election in BJP's favor. The only other option is to expand the NDA base. BJP in 2014 had one junior partner in Apna Dal & added another one SBSP in the 2017 assembly elections. Looking at 2014 & 2017 numbers, the ~5.7 votes of other parties is where there opportunity lies to increase one's vote share.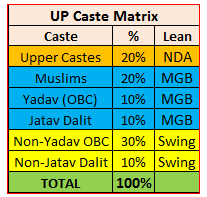 Political parties in UP (like most of India) depend heavily on caste combinations for winning elections. BJP core support base is the 20% chunk of upper caste voters: mostly Brahmins & Thakurs. MGB alliance is mostly composed of Muslims, Yadavs (Akhilesh Yadav's SP base) & Jatav Dalits (Mayawati's BSP base). In the past these parties by stitching an alliance of their core bases + Muslims + the non-Yadav OBC base in SP's case or the Non-Jatav Dalit base in BSP's case used to win elections in multi polar fights. BJP & Modi by attracting these 2 sets of voters in 2014 & 2017 swung the election decisively in their favor. In the past when in power the spoils of power used to go mostly to the Yadavs (SP rule) & Jatavs (BSP rule) which would create resentment among the large section of non-Yadav OBC's & non-Jatav Dalits. This is one of the several reasons why they were attracted towards the BJP in the last few years. However there have been reports of similar murmurs of discontent by these two groups of being marginalized once again this time however by the upper castes under BJP rule.
There have been complaints that ascendancy of Yogi to the CM's chair (who is a Thakur) had led to again resurgence of so called "Thakurvad" & dominance of upper castes that these subaltern groups resent to. BJP cannot afford at all to let these voters again slip back to the MGB as otherwise they will get absolutely crushed at the polls in 2019. There are reports of an impending cabinet reshuffle to win back these voters by promoting many OBC & Dalit leaders to the cabinet. Another plan of the BJP is to do a subcategorization of the OBC reservation pie to ensure that vast majority of the benefits are not taken up by the well-off Yadavs & reach all the sections of OBC's especially the underprivileged ones. This step the party believes will show the seriousness of their commitment towards the development & upliftment of non-Yadav OBC's. MGB has dedicated 40% alliance of 20% Muslims, 10% Jatavs & 10% Yadavs. Challenge for BJP is mop up 75 to 80% of the remaining 60% voter base to get 45 to 48% overall vote share.
Below is a look at numbers for the "Others" from the 2017 VS election (as some parties changed alliances between 2014 & 2017 while others didn't exist in 2014 I am not looking at 2014 LS numbers). Almost 300 parties fought elections in Uttar Pradesh so the list of the others could be extremely long but I am only focusing on those ones who had around 1 lakh votes or higher.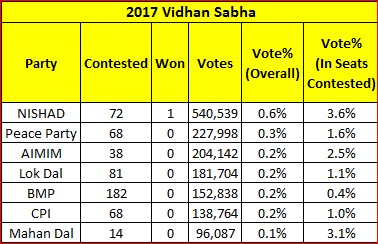 For the list of potential BJP allies one can safely remove AIMIM & Peace Party due to their affiliation with minorities. An alliance with Communist Party of India (CPI) can also be ruled out. An alliance with the Lok Dal which has support among the Jats could be used as a counterbalance to the bigger Jat party in the MGB: RLD. This split of Jat votes would be used to chip away at the MGB vote share. However this would occur only if BJP thinks that the Jats who voted for them in 2014 & 2017 would now leave en masses switching over to RLD in the MGB coalition.
That leaves with the 3 remaining ones that I want to focus on: NISHAD party, BMP (Bahujan Mukti Party) & Mahan Dal.
The Nishad Party was formed by ex BSP member Sanjay Nishad. The party's support bases are fishermen/boatmen communities such as Nishad, Kewats & Bind. Sanjay's son was the MGB candidate for Gorakhpur where pulled off the biggest upset of these bypolls winning the former LS seat of CM Yogi. Since there is no official alliance yet with the MGB, BJP can bring them over them to the NDA fold in 2019. They polled an impressive 3.5+% of overall vote share in 72 assembly constituencies that they contested in the 2017 VS elections even winning one seat in the process. Next is the Mahan Dal founded by Keshav Dev Maurya which caters to non-Yadav OBC communities like Shakyas, Mauryas and Kushwahas which also pulled in ~ 3% vote share in the 14 constituencies that they contested. Finally the BMP (Bahujan Mukti Party) which was setup to empower Dalits is another small player who could be helpful to BJP in pulling the Dalit vote away from BSP/MGB. These parties as seen in table above could win only 1 seat in Vidhan Sabha elections & would lay a big fat egg if they contested alone in 2019. Nevertheless if they join forces with NDA or even MGB they could act as a force multiplier.
CONCLUSION:
BJP has to work hard to address the concerns of the disinterested voters in the next 12 months as in the absence of a turnout surge it will game over in UP. These bypolls have shown that there are a lot of warning signs across the board for BJP. It would be unwise to sweep these issues under the rug & dismiss them as occurring due to the nature of bypolls where local issues carry more weightage in absence of an overarching national narrative. A 3 to 5% swing from MGB towards NDA (as the earlier data shows) shows that that the task for NDA to win is hard but not unsurmountable. There remains a risk in taking it for granted that once Modi enters the picture "all will be fine". Simply relying on a turnout surge via a Modi campaign blitzkrieg at the end is risky & not prudent. The arithmetic superiority of MGB alliance (even minus the vote transference) calls for BJP to stich up alliances with smaller parties. This is something that I have alluded in a podcast a few weeks ago where I called for BJP to stitch up tactical alliances with the so called "1 & 2 percenter" smaller parties in states across India. BJP recently has had a tough time with many of its allies who complain of high handed behavior by the BJP. Burying the hatchet with smaller regional parties will help them overcome the arithmetic against a potential united opposition as in many cases growing the BJP base further organically is not feasible. In UP the combination of these 5 smaller partners [2 existing (Apna Dal & SBSP) & 3 potential (NISHAD Party, Mahan Dal & BMP)] with the BJP would send a clear signal to the disgruntled & fence sitters among the non-Yadav OBC's & non-Jatav Dalits to coalesce around the BJP led NDA coalition. Forming the alliance with these smaller parties in UP would require some magnanimity on the part of BJP & Amit Shah to give up let's say 10 seats total to these 5 partners. Since they won 71/80 seats in 2014 this would mean loss of only one existing seat for an alliance partner in 2019. This small sacrifice by BJP would however pay rich dividends come 2019.
Note: I want to thank PV @pingvond for the exchanging his thoughts & observations for this article.
Disclaimer: The opinions expressed within this article are the personal opinions of the author. MyIndMakers is not responsible for the accuracy, completeness, suitability, or validity of any information on this article. All information is provided on an as-is basis. The information, facts or opinions appearing in the article do not reflect the views of MyindMakers and it does not assume any responsibility or liability for the same.
Comments