Analyzing the 2019 Lok Sabha Numbers Closely: How the BJP crossed 303 on it own- Part 2
In Part 1 of the deep dive on the 2019 Lok Sabha elections we had looked at the seats won, vote share, the no. of states & seats where the parties/alliances had won >50% of the vote share, etc. Here in Part 2 we will look at a few more national trends for these recently concluded elections.
Deposits Forfeited:
Any candidate who receives less than 1/6 of the total votes has his deposit forfeited i.e. the money put down by the candidate goes to the Election Commission. Many times parties contest seats from where they have little or no presence & end up losing their deposits from multiple seats. An example of this was in 2014 where AAP lost deposits on a staggering ~413 of the 443 (96%) seats that they contested.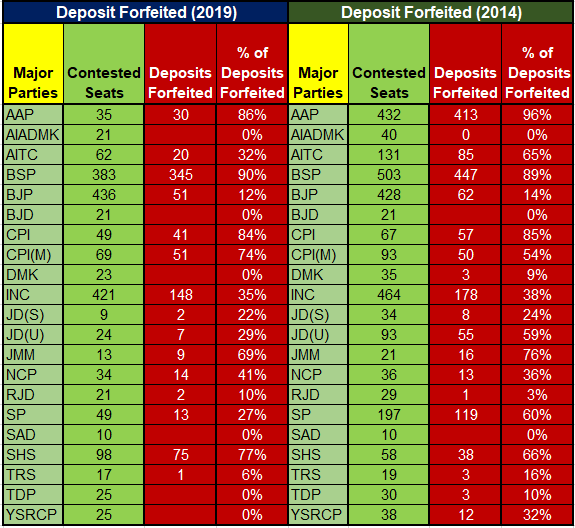 AAP this time around in spite of contesting far fewer seats still managed to lose deposits on 86% of contested seats. This 86% rate of deposits being lost among the well-known parties was only lower than BSP which lost 90% of their deposits. BSP does tend to lose a very high % of deposits as they have generally over the years contested a lot of seats across the nation. Most of these seats are in constituencies where they have no chance of winning by themselves. BSP in 2014 lost deposits in 447/503 seats (89%) similar to the 90% this time around.
Both BJP & INC have managed to reduce their deposit forfeited % from 14% & 38% respectively in 2014 to 12% & 35% in 2019. This could possibly be due to both of them having new allies. These new alliances helps them to add the votes of their partners to get over the >1/6th mark to prevent their deposits from being forfeited.
Another interesting trend in this data is that CPI(M)'s rout in this election cycle in both West Bengal & Kerala which is reflected by the increase in deposits lost rising from 54% in 2014 to 74% in 2019.
Region Wise Performance:
The BJP has been called by many as a "Hindi Heartland" party which lacks presence across the breadth of India. This label was indeed true in the past but BJP especially in the last 2 election cycles has been steadily increasing its presence all across India either via organic growth or by partnerships with smaller regional parties. Of the 29 states + NCT of Delhi across India (keeping aside the smaller single seat Union Territories) BJP & its NDA allies have won seats in 25/30: i.e. all but 5 states: 2 states in the South: Kerala & Andhra Pradesh & 3 smaller ones in the North East: Meghalaya, Mizoram & Sikkim.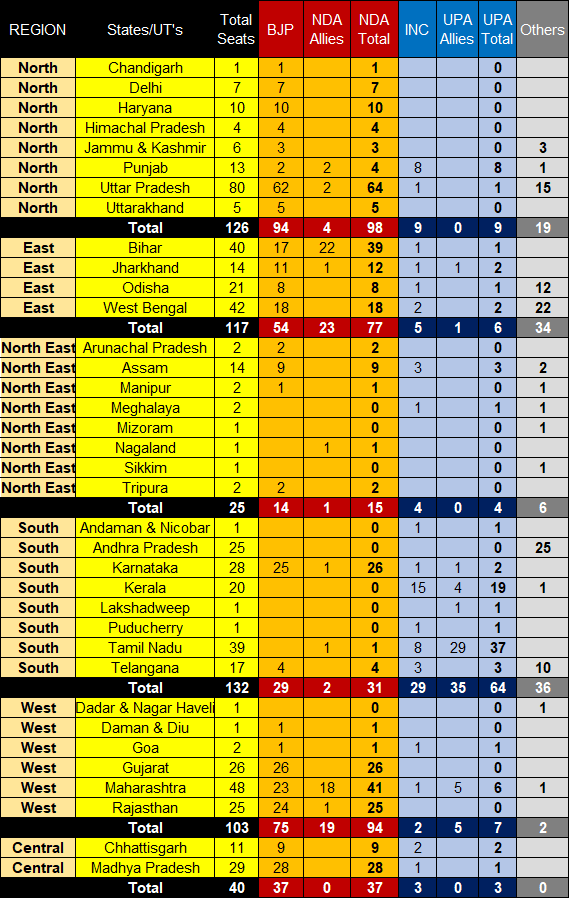 BJP (by itself) has the maximum number of seats for any single party in the North, Central, East, North-East & West regions of the country. Even in the South region where traditionally it has been weaker, BJP is tied for 1st position with INC (29 seats each). This should put to rest any lazy analysis by some political commentators that BJP is not a true pan Indian party.
Win Margin%:
BJP won a landslide mandate in 2014 with huge margins in large number of seats across multiple states. Now being the incumbent government the common perception was that the margin of victory will come down & many seats would now see close contests in 2019.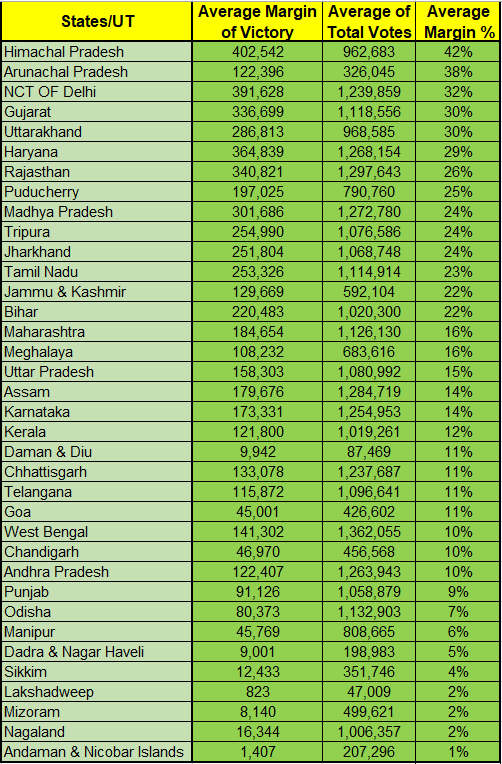 But what happened in reality was just the opposite. BJP managed to win their stronghold states with large margins: most of them with least double digit margins (including up to a staggering 42% margin in Himachal Pradesh! where BJP got ~69% of the vote). The top ones on the list are mostly dominated by states where NDA did well (excluding Tamil Nadu & Puducherry where UPA alliance had a near clean sweep winning 38/39 seats).
Now in bipolar fights it is easy to get a huge winning margins when one side completely overwhelms the other side. But in a contest where there are more than couple of players (multipolar contests) a huge delta is even more stunning. A few of these multipolar fight states which standout are Delhi, Haryana & Uttar Pradesh. Delhi is overall number 3 on the list where the incumbent government is run by AAP who is the third pole in addition to the two main contestants BJP & INC. This makes the 32% average win margin for the 7 seats of Delhi by BJP a mindboggling number. Haryana with a divided opposition among INC, INLD, JJP & AAP makes the 29% win margin for the BJP as an another stand out performance. Uttar Pradesh where INC as a 3rd player (albeit a smaller one) in addition to the SP+BSP alliance would have made it a close contest in theory on a large number of seats but still the average margin of win was 15%! I will cover the state specific details in more detail in a future article.
Looking at BJP & INC win margin for 2014 & 2019 both parties have improved their distribution of seats won with higher 20+% margins.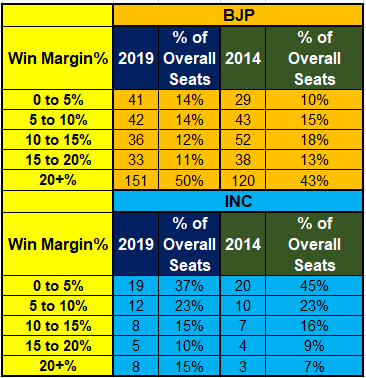 BJP has now upped the number of seats it wins by 20+% from 43% to 50% while INC has more than doubled it from 7% to 15%. On the lower end of the spectrum the % of seats won by < 10% for BJP has slightly increased from 25 to 28% while for INC the seats won by <10% has reduced from 68 to 60%.
Position:
Next breaking down the positions where the candidates from the various major parties stood in 2019: 1st place (Winner), 2nd place (runner up), 3rd place, 4th place & 5+ place (5th position & beyond)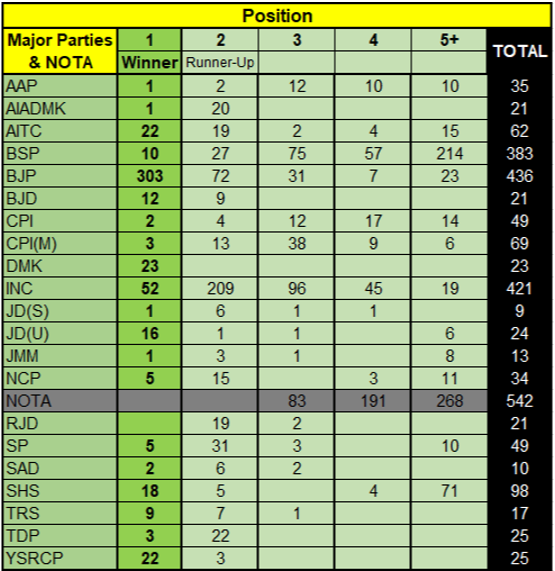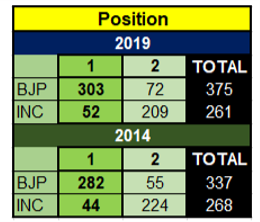 BJP in 2014 won 282 seats while being a runner-up in 55 seats (i.e. #1 or #2 in 337 seats). This time around they won 303 seats while they were 2nd in 72 seats (i.e. #1 or #2 in 375 seats) This 375 number where they were either in 1st or 2nd place shows the potential for the BJP in the next election cycle if their popularity remains high or possibly even rises further.
INC did manage to win 8 more seats in 2019 vs 2014 (52 vs 44) but they finished runner-up in 15 fewer seats vs 2014. One has to do a more detailed analysis on a state (& probably seat by seat) as to why this has occurred. But this is a worrying trend that the number of seats where they were either in 1st or 2nd place is shrinking versus expanding for the BJP.
The often debated & maligned NOTA has finished in 3rd position in 83 seats (most likely bipolar contests) & in 4th position in another 191 seats.
Margin of Victory < 2nd + 3rd place votes
BJP has benefited to an extent from the opposition votes being splintered among the various opposition parties handing them victories in most of the elections since late 2013. A part of the discourse during the election season was the formation of a united opposition front to defeat this BJP juggernaut. Some even went to the extent of pitching for a single opposition candidate in all seats against the BJP to defeat them. States like Bihar, Jharkhand, Tamil Nadu, Maharashtra, & Karnataka saw INC forming alliances to take on the BJP led NDA alliance. The results from these states show a mixed bag of results where it worked in some states while it was an utter failure in others. Other alliances like the one in Delhi, Punjab, Uttar Pradesh, etc. never materialized and there is a question of "what if" in these cases.
The question is whether pooling together of the 2nd & 3rd place votes would have made a difference in defeating the winner? Note: We have seen multiple cases including this election where there is not a 100% vote transference (without leakages) among alliance partners. But for the sake of this discussion let's keep that aside for the moment.
Let's look at the seats where the 2nd + 3rd place votes < Margin of victory [Winner – 2nd place votes]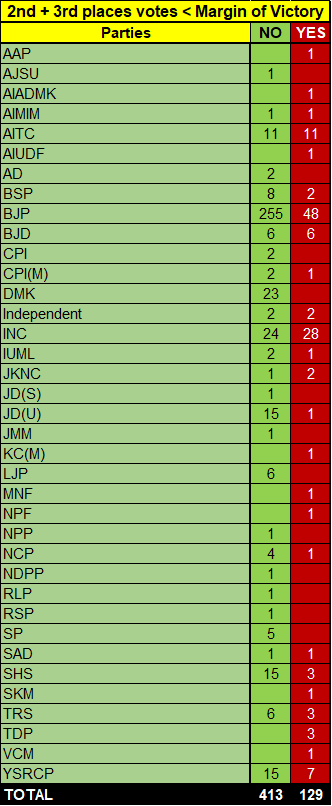 On 412 (~76%) of the seats even a "simple addition" of the 2nd & 3rd place votes wouldn't be able to overcome the margin of the victory. BJP would still end up with a 255 seats even if there were alliances between the 2nd & 3rd highest opposition vote getters across all seats in the nation! INC would only win 24/52 seats if the two highest vote getting opponents would have joined hands.
Below is a state wise breakdown of the 129/542 seats where pooling together the 2nd & 3rd place votes might have made a difference in the final outcome.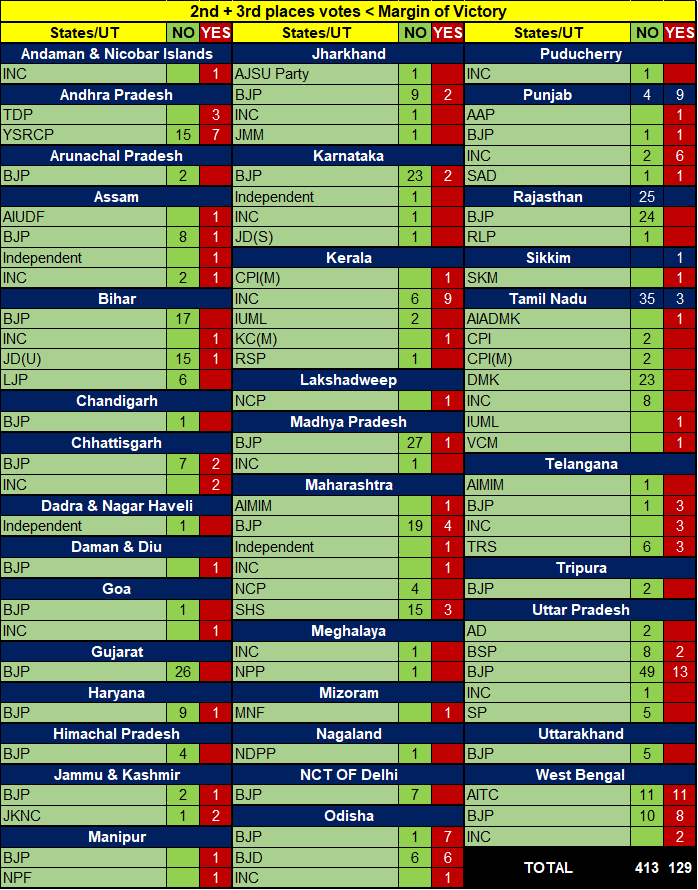 Out these 129 seats, 3 seats had NOTA as the 3rd place finisher where 2nd + 3rd place votes was > margin of victory: 2 for BJP & 1 for INC
Bastar (INC) Chhattisgarh
Kanker (BJP) Chhattisgarh
Khunti (BJP) Jharkhand
I plan to cover some of the states in detail in the next part of my deep dive into the 2019 LS election results.
P.S.: I want to thank Vivek Madani for helping to pull the data for all 542 constituencies individually from the ECI website.
Disclaimer: The opinions expressed within this article are the personal opinions of the author. MyIndMakers is not responsible for the accuracy, completeness, suitability, or validity of any information on this article. All information is provided on an as-is basis. The information, facts or opinions appearing in the article do not reflect the views of MyindMakers and it does not assume any responsibility or liability for the same.
Comments