In my previous article, I discussed what BJP does not understand about lawmaking. In this article, I will discuss what other Hindu institutions get wrong. All this is in the context of the fact that Hindu institutions see their rights trampled upon and finances choked while the party they actively supported has won a historic mandate. Right to education act has permanently castrated Hindu societies ability to control educational institutions and hence pass their values to future generations. Hindu temple wealth was usurped long back and hence their capacity to fund any pro-Hindu initiatives nipped in bud. All this while everyone else gets full freedom to run their educational institutions and religious places.
As I talked to people about this asymmetry, I was surprised to know that it is hard for most people to understand the consequences of these unequal laws. Many people nodded in agreement that it is a shame that minority institutions do not have to comply with the RTE law. But the same people had trouble understanding why it is a critical issue. Thinking more about this I realized that many of these people think that to be fair and equal before the law is better but do not comprehend the result of an unequally applied law. For them, an unequally applied law is bad because it is being applied unequally. They do not comprehend the secondary consequences of this bias in laws.
A secondary consequence of any policy is beyond the comprehension of most casual observers but they are evident to people with either skin in the game or have a soul in the game (deep personal interest). Equality of law is not a dubious virtue like celibacy which is a virtue because some people think it is a virtue but has no practical consequence. Equality of Law is a principle we are supposed to uphold because it is extremely practical and critical for a healthy unoppressive society. I think people have a problem understanding this.
Government laws put restrictions on people. Objectives of any law are irrelevant, irrespective of how noble and moral the objectives are (like helping the poor) the restrictions on people are real. It makes all of us less free. If the law is not applied equally, what it means is that restrictions are applied on only a few people. Now the society can be split into two groups. More free people and less free people. Free people always do better than less free people at least in areas where they have more freedom. The less free people are then forced to negotiate with the more free people to obtain the same advantages that free people have. The free people have an upper hand and will thus use this to subjugate the less free people.
Sounds preposterous? The existence of NCMEI (National Commission for Minority Educational Institutions) gives minorities a simple way to get minority certificate and hence exemption from all horrible edu related legislation. By law, this body can not have a Hindu member. This is a good example of how non-Hindus are given more freedom than Hindus. Apparently, in some 8 states Hindus are a minority. Hindus now plead before the NCMEI to grant them minority status. The same body which can not have a Hindu member.
There is never "your government" there are only "your issues".
One sad feature of Hindu voters is that that they think electing "their people" in power is sufficient to take care of all Hindu issues. There is no understanding that "your people" does not mean competent people. You need some filter using which those competent enough to address your issues rise to the top.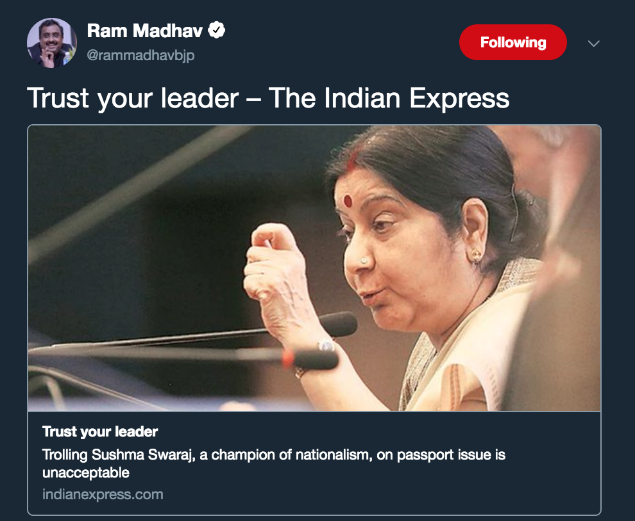 This is precisely the kind of outsourcing of political activism that eventually leads to the trap where all the supporters end up justifying whatever the leader did using extremely convoluted arguments. Sometimes the leaders themselves employ smart men who provide these convoluted arguments as op-eds which can be retweeted by their supporters.

The arguments that Mr. Ram Madhav provides under the title "trust your leader" reach some bizarre levels. They are devoid of basic logical consistency.
Ram Madhav writes: Trust is the basic Indian virtue that we all should imbibe. Trust our own leaders; they have attained leadership positions because of that.

If those leaders have already become leaders because of trust why do they have to employ intellectuals writing op-eds asking their own supporters to renew that trust? Also if the author suspects that the trust is going down does that not mean by his own argument that the leader might have lost credibility and stopped being a leader? Should we also use the basic Indian virtue to trust Sonia Gandhi and Rahul Gandhi too?
He writes further:
The golden rule for social media activists should be, "Don't do unto others that you don't want done to you".
That rule makes sense only when there is symmetry of power. The government can make a honest law abiding citizen visit the passport office several times over minor spelling mistakes (as I have). The government can take over your temple and school. The government can tilt the quota so your caste has only 5 seats available in medical college. The government has such massive power against ordinary people while all they have is twitter and whatsapp to complain. The trolling and vitriol on social media especially from your own voters should be an alarm bell for course correction and not an opportunity to virtue signal.

The trolling and abuse needs to be talked about too. A lot of Hindus who abused Sushma-ji over Tanvi Seth passport issue were her own supporters. These were the very people who went out on a holiday and stood in line to vote for BJP. Some of them perhaps convinced even more people to vote for her party. The fruits of power that Sushama-ji and Ram Madhav are enjoying are because of them. When your neighbour abuses you, you shut your window. When your own child abuses you, question your own parenting.
These people have to resort to abuse and trolling because that is the only way they get heard. There is no shortage of independent bloggers analyzing the entire Tanvi Seth passport issue fiasco and I have not seen any attempts by either Sushmaji or Ram Madhav to address the entire issue explaining to us the prevalent law and how they gave due process to the transferred officer and Tanvi Seth both. (Ram Madhav in his article, for example, conflates keeping of Hindu name as the keeping of the Hindu faith. Which is completely false and ignorant. The very existence of Nikahnama tells you that she converted to Islam and agreed to change her name. There is nothing omnitheistic about the issue.)
Interestingly BJP establishment has spent countless hours addressing the trolls rather than other non-abusive sane supporters who criticized her move. This sends a signal to people that abuse is heard while sensible criticism is not. Example: the Swarajya Magazine that PM Modi recently spoke to has over 300 articles on Right to Education and a sensible abuse free criticism of government. I have not heard any government official/minister responding to this criticism ever even in a passing remark.
Abuse and trolling is impotent rage when it comes from your own erstwhile supporters. It comes out when there is no effective channel to express your displeasure at your leader's incompetence. Had there been any major Hindu institutions criticizing government, people would rather express their displeasure by donating to these organizations or supporting them on social media instead of abusing the leaders. In the absence of such outlets abuse is all they can do. (Example: In USA after every school shooting which is then used by progressives to propose horrible gun legislations, the gun lover instantly rally behind NRA raising millions of dollars to fight these legislations.)

Things could have been different. Traditionally Hindus have organized well around their temples and mathas. But the Congress as well as the BJP governments have taken over temples, their funds and their management. Educational institutes could have been the second vanguard, RSS itself has used schools and school teachers to place their pracharks and conduct shakhas. Congress government was inch closer to illegalize all RSS affiliated schools, something that Mamata Banerjee has already done. But BJP wants to keep Hindu run schools under its thumb for the same reason. Some Hindus think that "our government" running Hindu schools/temples is not a bad idea but it is always a bad idea. It prevents these institutions from encouraging independent issue focused efforts. Instead they become mistresses of those who are currently in power. Each government wants to twist these institutions for their benefit and not for the benefit of people who donate to them.
Of course the real difference between BJP and Congress is that Congress is more competent at playing these games as they have smarter people. They have people who can take away Karnataka from BJP (despite being the largest party) with the same ease with which you can take candy away from a 2 year old kid.
Small but organized groups win in politics over large but unorganized groups.
Lack of small but organized groups with institutional backing is a big problem for Hindu society. Some of the stalwart Hindu intellectuals such as Arun Shourie, Sita Ram Goel or Ram Swarup mostly worked as lone wolves. Nevertheless they have left a huge body of work that inspires other Hindu scholars. They could do this because they were scholars of very high caliber and willing to face risks. On other hand if they had institutional backing like how Vajpayee backed Shourie, they could achieved lot more. Institutional backing magnifies strengths and hides weaknesses in individuals.
Just the way there is institutional backing there are also institutional sinkholes where good ideas and competent people go to die or retire. All BJP leaders remember Shyama Prasad Mukherjee and Deen Dayal Upadhyay on their birth anniversaries but hardly anyone remembers their ideas. Upadhyay was very articulate on what should be the role of state in our society. Something that BJP has entirely forgotten.
MM Joshi is on the Margadarshak Mandal but rarely you see his ideas reflected in how the current MHRD is functioning. MM Joshi despite constant hounding achieved 10x more than what "Indian Humboldt" P Javdekar is going to achieve.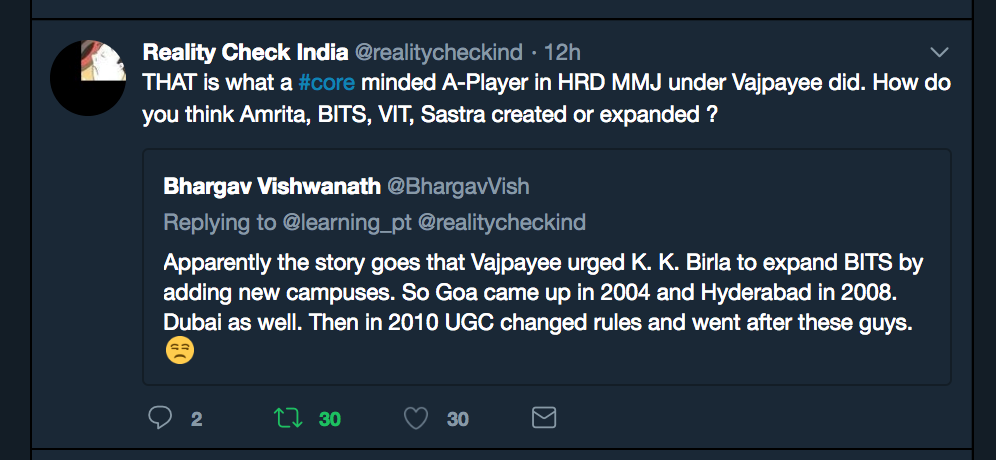 In United States great examples of small but organized groups are NRA (National Rifles Association), Planned Parenthood, Teachers Union etc. While Trump continues to bullshit around all issues and flip-flop without remorse you will notice that his stand on Guns and Abortions is absolutely clear. He plays by the rules set for him by NRA and Pro-Life groups. For his education secretary he has no option but to appoint an anti-Teachers union person Betsy Davos who is hell bent on breaking the monopoly these Unions have over edu policy.

Why do these small groups achieve more and wield so much power? Because of focus. Focus comes from people who have either skin in the game or soul in the game. Religion typically means soul in the game. These motivated individuals keep their eyes on the ball all the time. They can not be bullshited through verbal sophistry. They can not be bought with money or promotions. They are less interested in clicking photos with celebrities. They are less interested in badges of honor and awards of peace-makers. There are not interested in pleasing their opponents to earn the badge of statesman. They won't compromise. Once a leader engages with these groups he gets caught. He has no option but to take a clear stand which then forces all his blind supporters to rally behind that cause.
Part of the reason why BJP or Congress refuse to even talk about sectarian nature of laws or engage with core-minded people is because they know that they will be exposed for their illogical arguments. People are ignorant about the sectarian nature. Once it becomes common knowledge no amount of verbal sophistry will be able to support it.
On other hand there is no shortage of large right-wing, nationalist or (self proclaimed) classical liberal think tanks in the country. These people are more obsessed with South China Sea conflicts, what would Nehru say about Modi, vocabulary of Nehru, how should Trump counter North Korea, how blockchain can transform Indian judicial system and so on. They are blissfully ignorant about what is happening in their own backyard. This is because these are not focused groups.
These are organizations where people incharge are seeking donations from rich people who might see RTE as a non-sexy idea compared to South China sea. These people want to get invited to literary festivals and travel to Davos at someone else's expense in business class. All this is possible only by bullshiting around sexy, non-consequential but important sounding items.
Church or various Muslim groups are effective for same reason. They are not angry when you make fun of Rahul Gandhi but they are quick to respond to any proposed law and ask "how does this benefit us?". Their religious trusts are free from government control and hence put the money and institutional support behind any young activist type person. Just observe how many RTE activists are Christians or Muslims who harrass Hindu schools while their own schools are exempt from that law. Notice how some Padre is always on a committee that advises governments on all educational policy matters. These are small but very organized and connected groups.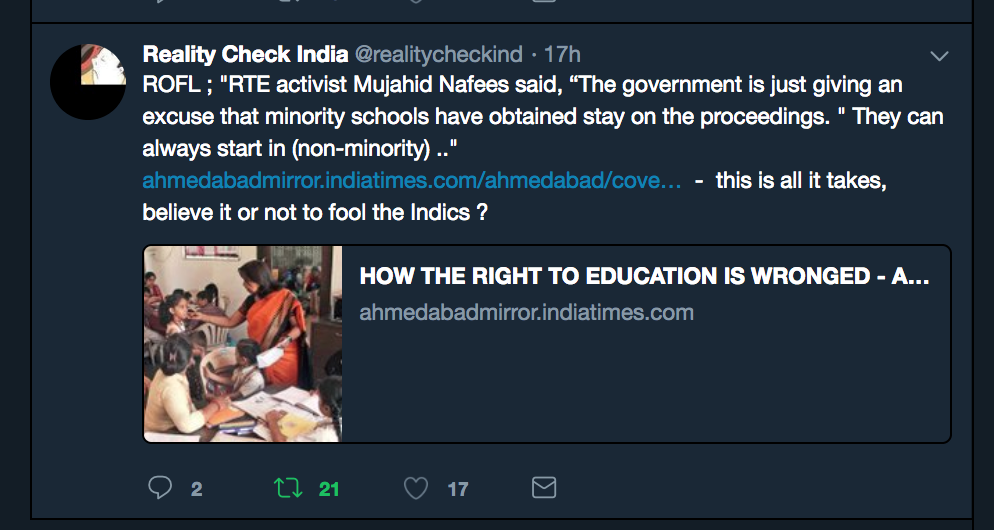 The brighter side
There is indeed a silver lining to all this. The kind of majority that PM Modi has won was seen as Hindu victory. This has encouraged a lot of people to step out from their comfort zone and fund various groups that take up Hindu causes independent of political affiliation. While Congress was competent at going after any Hindu organization, BJP is not so good at it. This has resulted in proliferation of many small groups focusing on single issues. People feel comfortable in taking stand and donating to these causes.
There is TeamCore that focuses on just handful but high impact issues. Analyses every law, every court judgement and news item. SwarajyaMag has published over 200 articles on RTE alone with one special dedicated issue. I see that an individual like Vivek Agnihotri taking on Urban Naxals and various institutions actively supporting him and promoting his book.
While today these groups might seem insignificant they are slowly snowballing. Eventually they will become big and when today's invincible government loses its shine they will turn to these groups for support.

Of course these small groups face constant ridicule and criticism from the establishment for pointing out flaws in "their government". Let us call them TeamVikas for the sake of simplicity because they tell us that building toilets and distributing LED bulbs is more important than repealing RTE and freeing temples.

In my opinion these people are irrelevant. Mr. Ram Madhav who can write a very fluid article on why we should "Trust our leader" is equally competent to write an even longer article on "Why RTE is bane of India's pluralistic society" if there are enough incentives for him to write that. The TeamVikash people will then rally behind him claiming they were only waiting for the right time to take up this important issue.

That day will come when the small independent Hindu groups will get mass following and their ideas will be discussed by people at family gathering. Today BJP and Modi can simply pull wool over their eyes on issues like RTE and the issue disappears; but once large number of ground level workers learn and understand the issue they will see silence of their leader as symptom of incompetence. At that stage the leader is forced to engage on these issues and express an opinion. The mere opinion then sends signals to the TeamVikas to align with their leader's newly expressed opinion who then argue why LED bulbs can wait but RTE must be dealt with first.

One must remember the Ram Janmabhoomi issue. People who had extensively written and collected evidence on this issue were not RSS or BJP people. These people were independent scholars like SR Goel or Koenraad Elst. People not really on the radar of large Hindu organizations. But when push came to shove not only the big leaders like Advani had to quote them, their inputs played major role in subsequent public debates and court cases.
Another important point to note that sectarian laws do not survive long after people are woke. American Civil war, Civil rights movement, gay rights movement, violent fall of communist regimes all etc. show that even the most oppressive and powerful regimes face violent end when they stick to sectarian lawmaking.

The darker side

One of the Taliban commanders said to American soldiers "You guys have the watches, we have time" (actually an old African proverb). That suggests that while it might appear that you have technological superiority and power, we have a long time horizon and we can simply wait out till you grow old, weak and die.

Sadly with the tricks like RTE and Temple control, Hindus don't have time on their side anymore though they might appear to have "their government" in power. The argument that we have survived Islamic invasions for 1000 years hence will survive these new threats does not apply here.

Each passing year more Hindu schools close down and remaining have to stick to mediocrity forced on them by activists and government babus. Each passing year the brighter kids and their parents scramble to find the best school which all happen to be the Christian run schools.

Christian run schools don't convert their students. They make sure their students see Hinduism is uncool. These students when pass out frown on traditions like Mehndi, polytheism, attend no-water in holi programs and retweet news items about how Diwali is a festival of pollution. A formal religious conversion can be undone but this kind of propaganda infested minds can not be reclaimed they are forever lost to the other sidEach passing year the challenge before Hindu society grows bigger because not only you have to reclaim your institutions but also reclaim your young minds that have been perverted by the other side. Wouldn't this hurt BJP or RSS who rely on pro-Hindu voters in the long run ? It won't because RSS and BJP themselves will align to these changing mindsets and will preach us why Diwali is polluting. You will see BJP leaders giving pledge to students as to how not to celebrate Diwali. They will get their votes by pandering to the younger generation of new values and you will keep wondering what happened to the Hindu identity of your childhood.

Only time will tell how this plays out.
Disclaimer: The opinions expressed within this article are the personal opinions of the author. MyIndMakers is not responsible for the accuracy, completeness, suitability, or validity of any information on this article. All information is provided on an as-is basis. The information, facts or opinions appearing in the article do not reflect the views of MyindMakers and it does not assume any responsibility or liability for the same.
Comments