Three terrorists including a self-styled commander of terror outfit The Resistance Front (TRF), wanted in the recent civilian killings in the city, were shot dead by security forces in an encounter on Wednesday, the officials said.
"Acting swiftly on our own specific input regarding the movement of terrorists in Rambagh area of Srinagar, a small team from Srinagar Police signalled a suspected Santro vehicle to stop," the officials said as quoted by TOI.
While trying to flee from the spot, the terrorists inside the car, started firing indiscriminately on the police. The firing was effectively retaliated by the forces, leading to a gunfight.
In the ensuing gunfight, three terrorists got killed, who were later identified as terrorist commander of Lashkar-e-Taiba (TRF) Mehran Yaseen Shalla, a resident of Jamalatta Srinagar, Manzoor Ahmad Mir, a resident of Babhar Pulwama and Arafat Ahmad Sheikh, a resident of Nikloora Pulwama.
As per police records, the killed terrorists were part of a group involved in several terror crime cases including attacks on security forces and civilian atrocities.
"Mehran has been identified by his family members and he was involved in the killings of five civilians, including that of pharmacist Makhan Lal Bindroo," said Jammu and Kashmir top cop Dilbagh Singh as quoted by NDTV. "Mehran has been identified as of now. It seems that one of them was a foreign terrorist and the third was from Pulwama," he added.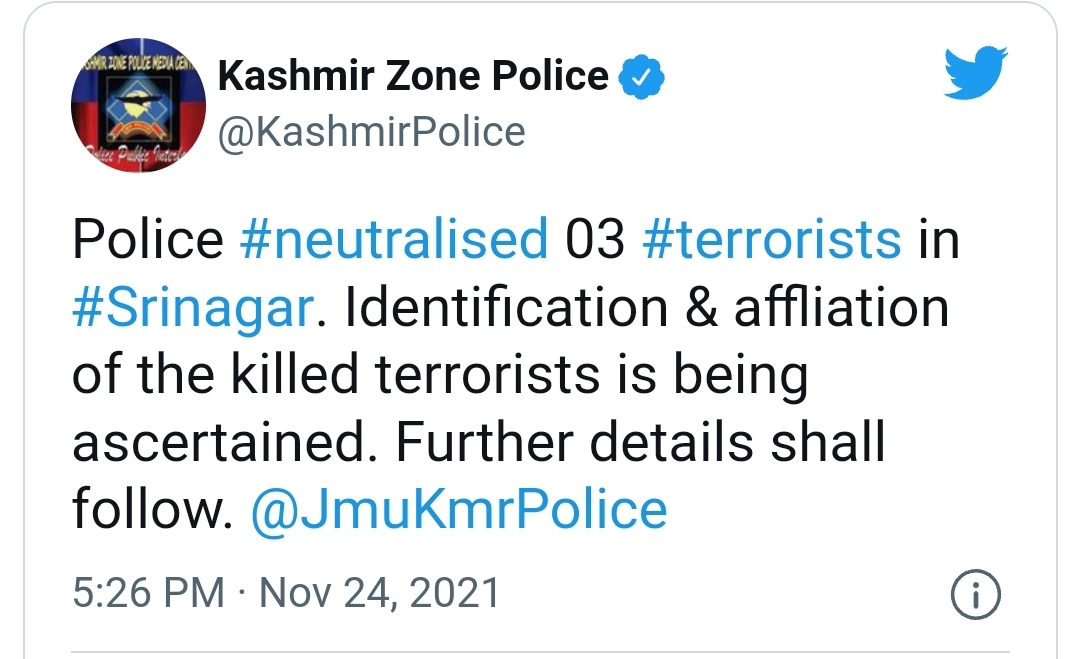 Mehran Yaseen was wanted by law for his involvement in several terror crime cases including a grenade attack at Barbar Shah Srinagar on June 26, 2021 in which one civilian namely Mudasir Ahmad Bhat resident of Hanjigund Beerwah got killed and three other civilians got critically injured.
He was also involved in killing of Meeran Ali Sheikh at Bulbul Lanker Nawa Kadal on July 27 this year.
He was also wanted by the security forces in connection with the killing of PSI Arshad Ahmad at Khanyar on September 12, 2021 and killing of School Principal Supinder Kour and teacher Deepak Chand of Government Higher Secondary School, Khankah Noorbagh Sangam. Several cases regarding his involvement in stone pelting incidents are also registered against him.
Arafat Ahmad, was also involved in several terror crime cases including killing of a non-local labour at Litter area of Pulwama on 16 October 2021.
Image Courtesy: PTI
Comments