The Tirumala Controversy over the proposed auction of properties
The TTD, or Tirumala Tirupathi Devasthanam, the government-controlled trust that manages the Sri Venkateswara temple at Tirupathi in Andhra Pradesh, has always been embroiled in its fair share of controversy. The TTD board's recent executive order for the auction of 50 devotee-donated properties across the country, including plots in AP, TN, and one in Rishikesh has since been stayed, and subsequently retracted by YS Jagan's government after national outrage and backlash. TTD Board had approved the base price for public auction in their resolution for the disposal of 50 devotee-donated immovable properties worth an estimated ₹23.92 crore, through online public auction.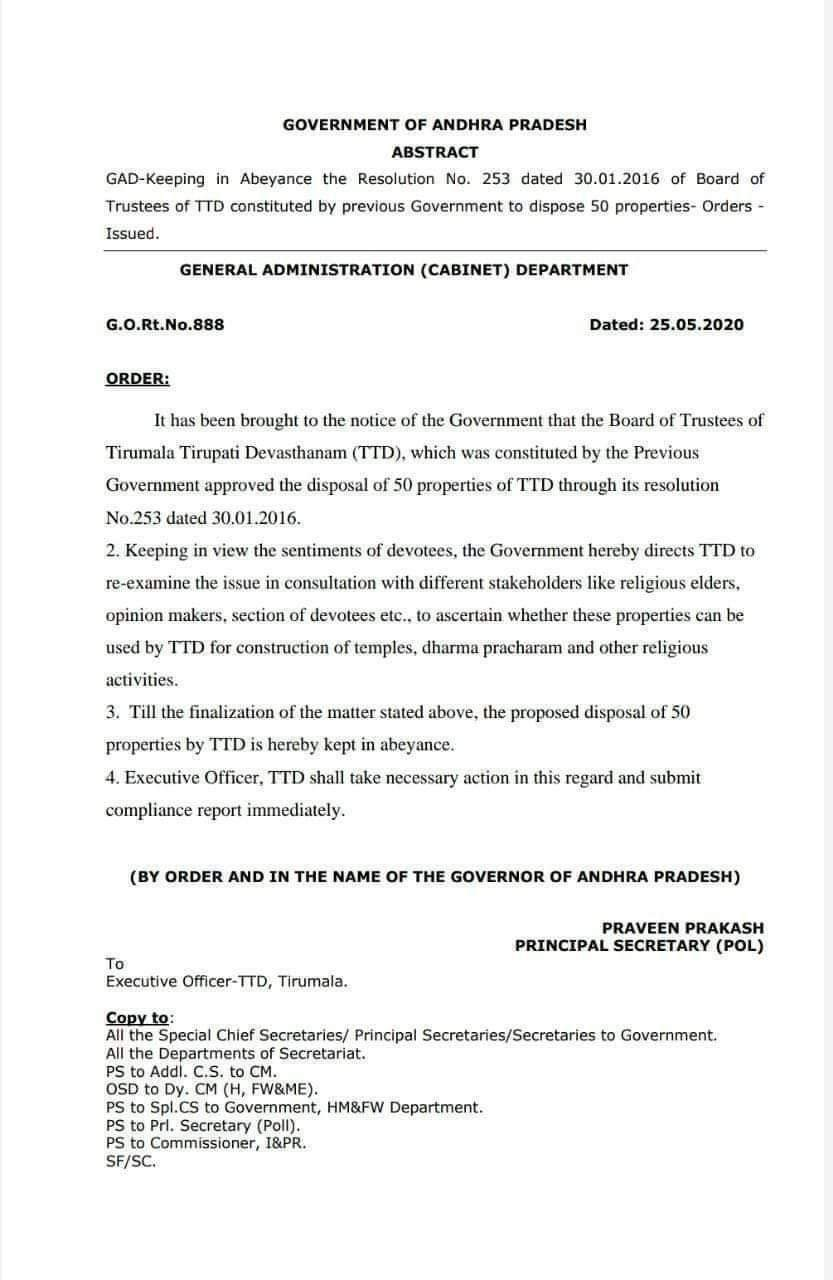 While the TTD Board claims that decisions taken are their own, unrelated to the AP Government and especially unrelated to the current chief minister, in reality, that is not the case. The AP Government's role and absolute control of TTD is undeniable – it plays more than just a supervisory role in the management of TTD. In his recent statement Y.V. Subba Reddy justified the TTD's decision to sell land donated by devotees by claiming that this is not out of the ordinary at all by the new YSRCP Government, but rather, carrying out of protocol, which has remained the same since 1974. He clarified that such auctions are "normal", with the TTD having disposed of 129 such other properties from 1974 to 2014. He also said that this decision is solely that of the TTD board which is empowered by the act of 1987 that allows the TTD to do whatever with immovable properties as they please. While it may be true, albeit objectionable, that the board is indeed well within his rights to do so, his claim that this decision is in no way connected with the AP government is entirely false, since the board of trustees along with the financial advisor, executive officer etc. are all government appointees. In fact, the AP government must approve all financial decisions taken by the board before their implementation, and this alone discredits all claims of independence of the trustees.
While devotees and the public at large are relieved at the temporary suspension of this sale, we must note that it is too little, too late. Countless properties have already been auctioned, properties that devotees had intended for the TTD to preserve as Hindu spaces to undertake charities or other dharmic activities. Y. V. Subba Reddy, TTD Chairman outlined in his recently issued statement that 120 properties donated by devotees to the trust have been disposed off in the past in a similar fashion, and this justifies their current intention of auctioning 50 more. The auctioning of these properties during a real estate crash due to covid-19 when they may not sell at a fair price is also suspicious. Reading between the lines clearly coveys a much more deceitful objective at play. Private players, due to the ongoing national financial crunch, are obviously not in a position to bid on these properties and hence any sale of land will inadvertently fetch lower prices, and leave them prey to bad actors such as corrupt public servants, lobbyists or businesspeople that may ostensibly not have dharmic interests in their minds at all.
Another problematic aspect of this sale is the blatant dishonor of devotees' dana to their beloved deity; it is an unwritten code of ethics that donor intentions must always be upheld as strictly as possible. If a devotee wished to donate cash, they could have done so. Similarly, with respect to gold donated to the temple, as per tradition, it must be kept as gold, either to make ornaments for the Lord or kept as fixed deposits for the generation of revenue. But much of the TTD's annual hundial collections of gold and the gold donated to various other temples administered by the TTD sits on safety deposit boxes and they are not utilized to generate extra income, according to a 2014 CAG audit.
The TTD, administered by the government of Andhra Pradesh, has a long history of systemic corruption, financial scandals and maladministration. Recently, the TTD Board came under fire for the abrupt laying off of more than 1300 Facility Management Services (FMS) workers engaged both in Tirumala and Tirupati. The TTD administration chose not to renew their contract with a manpower supplier after the existing agreement expired on April 30th.
The move was criticized as 'inhumane' by the Centre of Indian Trade Unions (CITU) Chittoor District (East) Committee. The workers, mostly from the sanitation, health and maintenance sectors, were laid off when most vulnerable to financial difficulties caused by Covid-19. "Though the human resource suppliers kept changing over the years, the workers were always retained by the successive contractors for nearly two decades, but this time, the decision to sack 1,400 workers, 700 each at Tirumala and Tirupati, was taken in the guise of removing the contractors appointed during the TDP regime," said activists. There were protests across the state from opposition party leaders and labor unions. After the lockdown, the government has clarified that they will issue tenders for the replacement of this manpower to the Andhra Pradesh Corporation for Outsourced Services (APCOS), which was established by the new YSRCP Government to provide the required manpower to all the government offices/departments 1.
In December 2019, the TTD was criticized for increasing the annual contribution of TTD to AP government to the CGF (Common Good Fund) by 2000%, from 2.5 crore to 50 crore after the introduction of amendments to The Andhra Pradesh Charitable and Hindu Religious Institutions and Endowments Act, 1987 (Andhra Pradesh Act No. 30 of 1987).
In August 2019, the AP government went under fire for advertisements for Jerusalem and Hajj pilgrimages on the back of Tirupati bus tickets. In 2009, the AP government announced a subsidy for Jerusalem pilgrimages, despite the fact that there is no such religious obligation for Christians. Like the current CM Y.S. Jaganmohan Reddy, his father, Y.S. Rajasekhara Reddy, former CM of AP, was famously hand-in glove with Christian evangelists who were given free rein in Tirupati to carry out proselytization and other expansionist activities. Then, in November 2019, despite the AP government lacking funds in their treasury, the Jerusalem pilgrimage funding was increased by 50%, from Rs. 40,000 to Rs. 60,000 per person.
In 2018, Deputy Executive Officer Ms. Hemalatha got caught attending a church prayer using an official TTD vehicle. Following this, 40 other non-Hindu employees working in the institution were identified. The AP HC issued a show-cause notice allowing them to continue to work in the TTD, while Communist CPI(M) and Christian organizations demanded that minorities should have "job security". In December 2019 it was revealed that at least 15-20% of employees of TTD-run Educational Institutions and hospitals are Christian/Crypto-Christian, despite the clause that non-Hindus are not allowed to be hired by temple funded organizations 2.
Prior to this, an audit carried out between August and October of 2016 revealed that precious ornaments belonging to Sri Venkateswara were missing, including a 5.4 kg silver crown ring, two gold rings and two gold necklaces, an estimated worth of 6.5 lakh rupees, but with their antiquity rendering them priceless. An inquiry into the theft found AEO Treasurer M Srinivasulu responsible for the missing ornaments, and the TTD resolved to deduct Rs. 25,000 per month from his salary every month to recover the full cost. NO attempt was made to recover the ornaments, that have a market value much higher than the paltry estimated 6.4 lakh rupees. These jewels, the property of the deity, are worth infinitely more than their weight in precious metal, and must be valued by professional antiques/artefacts appraisers, and not simply listed on paper by amount of gold/silver.
In addition to the increment in the direct transfer of cash to the AP government's coffers, the TTD also contributes 7% of annual income for "services rendered" by the AP government and an additional 1.5% in audit fees. Another 5% of assessable income is paid to the Common Good Fund (CGF), Endowments Administrative Fund (EAF) and 3% to the Archaka Welfare Fund (AWF). Earlier, apart from the annual contribution of Rs 1.25 crore to CGF, the TTD would contribute Rs.16 crore annually towards the 'Dhoopa-Deepa Naivedyam' scheme, with a total contribution of 17.25 Cr until date. Apart from this, the government also requested the TTD to provide financial assistance renovation and upliftment of all endowments-controlled temples across the state to the tune of approximately Rs. 30 to 50 Crore annually. Besides spiking the TTD's annual contributions, the government proposed to further hike the contributions by 10% every five years. The Times of India has reported that several members of the board had expressed concerns over this amendment to the act and the alarming, exponential increase in the contribution of Temple funds to the government of Andhra Pradesh3 .
The Revenue (Endowments) Department is one of the most corrupt departments within the state government of AP and Telangana, and I daresay a plaguing issue especially in the Southern states. In November 2017, the Anti-Corruption Bureau seized several hundred crores worth of assets from Mr. Medepalli Vijayaraju, who was the Joint Secretary of the Endowments Department in the AP Government.
The Tirumala Tirupati Devasthanam continues to be systematically exploited and drained monetarily at every level, regardless of the government in power. It is used as a veritable cash cow for governments, corrupt officials and employees alike. Hindus donate money to the temple for Hindu Dharma Prachar (propagation of the Hindu faith) and for the maintenance of temples, but most of this money is diverted to the exponentially increasing salaries of its various employees. Whether trustees, civil servants, Government officials, auxiliary staff, or the staff of the various educational/charitable institutions, a whopping 30% of income is spent on bloated salaries and pensions. The entire institution is vastly overstaffed, with a manpower of over 20,000 employees. Ordinarily, much of the work be managed through volunteer work by devotees, that are more than happy to render their services for free-especially for charitable activities such as the running of the Goshalas and Annadana kendras etc. A significant portion is also diverted to the Common Good Fund (CGF) and subsequently used for secular purposes by the AP Government. It is a well-known fact that several Hindu temples in Andhra Pradesh disappeared in the last 10 years, with hundreds of crores of rupees in temple money unaccounted for/misappropriated and temple lands misused, encroached and/or illegally sold/leased.
Hindu rights are being brazenly trampled upon. It is an absolute travesty that Hindus do not have control of their own institutions, while the people of every other religion in India are allowed the same. It is a completely unconstitutional infraction upon Hindu rights. State governments took over temples citing Hindus as too corrupt to govern their own institutions, walking in the greedy footsteps of an archaic colonial-era law inherited from the British Raj. State governments then go on to charge temples an ungodly administrative fee that even a corporate company couldn't dream of, an approximate 20% total. There is also zero transparency – in AP, the TTD files are EXEMPT FROM RTIs (Right to Information inquiries by common citizens – normally applicable to any and all government activities/accounts unless otherwise classified for national security purposes). This effectively means that although Hindu devotees from across the world humbly and faithfully donate to their temples, Hindus have no say in how the government utilizes their money. The state has zero accountability when it comes to temple wealth management. For public tax-payer money, it is the responsibility of the central/state governments to publish all data regarding expenditure and conduct audits on a yearly basis. All of this information is subject to public scrutiny, while private Hindu temple revenue accounts are withheld from Hindus in absolute secrecy. Is this secularism? If government wishes to declare itself a secular state, it must exit all religious affairs immediately, irrespective of religion. If our government wishes to retain control of temples, then it must declare itself a Hindu theocratic state.
Hindus must rally to free temples from government control. It is the need of the hour, and the suppression of Hindu rights and hoodwinking of Hindus under the guise of "corruption-free" administration and temple management has gone on for long enough. Kerala's temple lands have already been seized by communist government citing the excuse of agrarian reforms. Endowments Departments of Tamil Nadu, Telangana and AP governments, apart from being insanely and immeasurably corrupt, actively looting temple wealth, jewelry, and lands before our very eyes.
The separation of state and religion, while a basic tenet of our constitution, seems to apply only to "minorities". Surely, Hindus should be accorded the same freedom, and allowed the basic fundamental right to manage their own religious institutions. It is hardly any different from running a corporate company, which so many successful Hindus already do. A centralized system could be set up in such a manner that would make sure Archakas were at the core, ensuring adherence to all temple traditions, and teams of Hindu lawyers, CAs, administrators and youth could be hired to take over temple administration. There is so much modern technology and so many qualified professionals across the country at our disposal. Coming to finances, yearly external audits could be sanctioned from renowned private corporations, who would report any errors, missteps, or discrepancies which would be dealt with in a timely and efficient manner, unlike the current system that only seeks to cover up financial crimes rather than rectify them. Most importantly, all accounts, audit information and activities of every temple in the state could be published clearly on their website, exercising utmost care and transparency. Handing over temple administration to Hindus would mean access to unlimited resources for all sorts of charitable, cultural and dharmic activities for Hindus, and Hindu youth in particular. The untapped potential is endless.
Disclaimer: The opinions expressed within this article are the personal opinions of the author. MyIndMakers is not responsible for the accuracy, completeness, suitability, or validity of any information on this article. All information is provided on an as-is basis. The information, facts or opinions appearing in the article do not reflect the views of MyindMakers and it does not assume any responsibility or liability for the same.
Comments