Self-styled leftist "intellectuals" issue clarifications after being called by Social media
Leftist economists, activists and intellectuals proposed a Seven Point Economic 'Action Plan' to revive pandemic stricken Indian economy. Titled as "Mission Jai Hind", the set of seven recommendations endorsed by 22 intellectuals and economists grabbed the headlines after Ramachandra Guha, renowned historian distanced himself from the plan. Following a backlash over clause 7.1 which stated, "All the resources (cash, real estate, property, bonds etc) with the citizens or within the nation must be treated as national resources available during the crisis" Guha took to twitter to clarify that he hasn't approved this clause. This recommendation which called for nationalization of private property and appears to have been lifted straight from the red book was widely criticized.
Yogendra Yadav, founder of Swarajya Party, who headed the mission, changed his position following an intense debate on social media. Similarly, Ashutosh Varshney, distanced himself from the original recommendation of nationalizing private property.
The recommendations which garnered attention for its inherent flaws raised more apprehensions about the intentions and ideological moorings of this intellectual cabal. Mounting criticism forced the intellectuals to revise the clause which has been subsequently amended as "The government must explore emergency ways of raising resources going behind the usual set of taxes and levies to cope with the problem of funding large relief packages".
Stating that stimulus package announced by the central government "virtually ignores the urgent need for economic support to ordinary citizens whose livelihoods have been shattered by the pandemic". The Economic Action Plan put forth following proposals.
Seven moot points proposed under Mission Jai Hind
Migrants must be helped to go back home within 10 days
Universal and free health care for all Covid patients
Universal access to expanded ration for six months
Enhance the job guarantee in rural and urban India
Cash compensation for loss of job or livelihood
Three months interest waiver for farmers, small business, house loans
National revival mission not to be constrained by lack of resources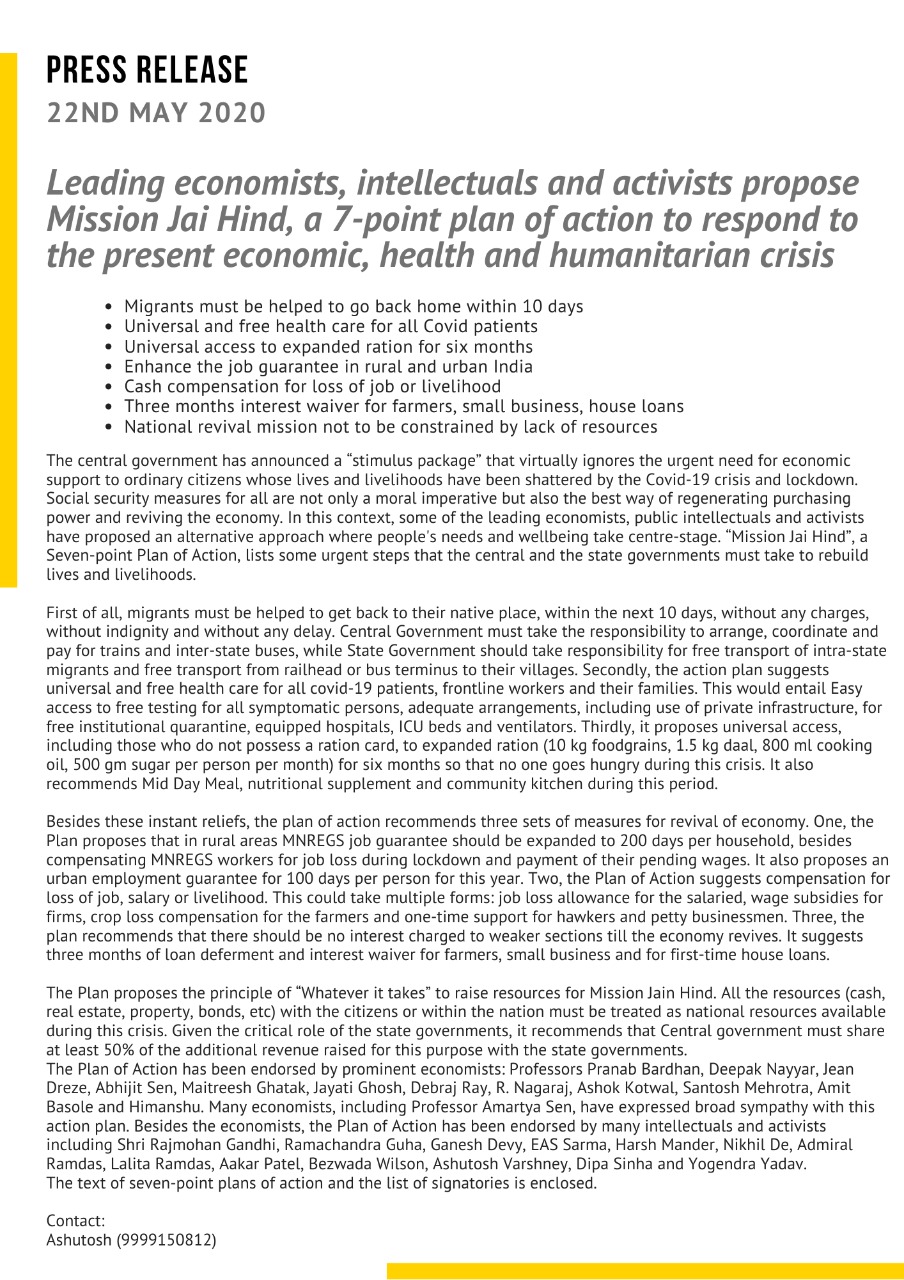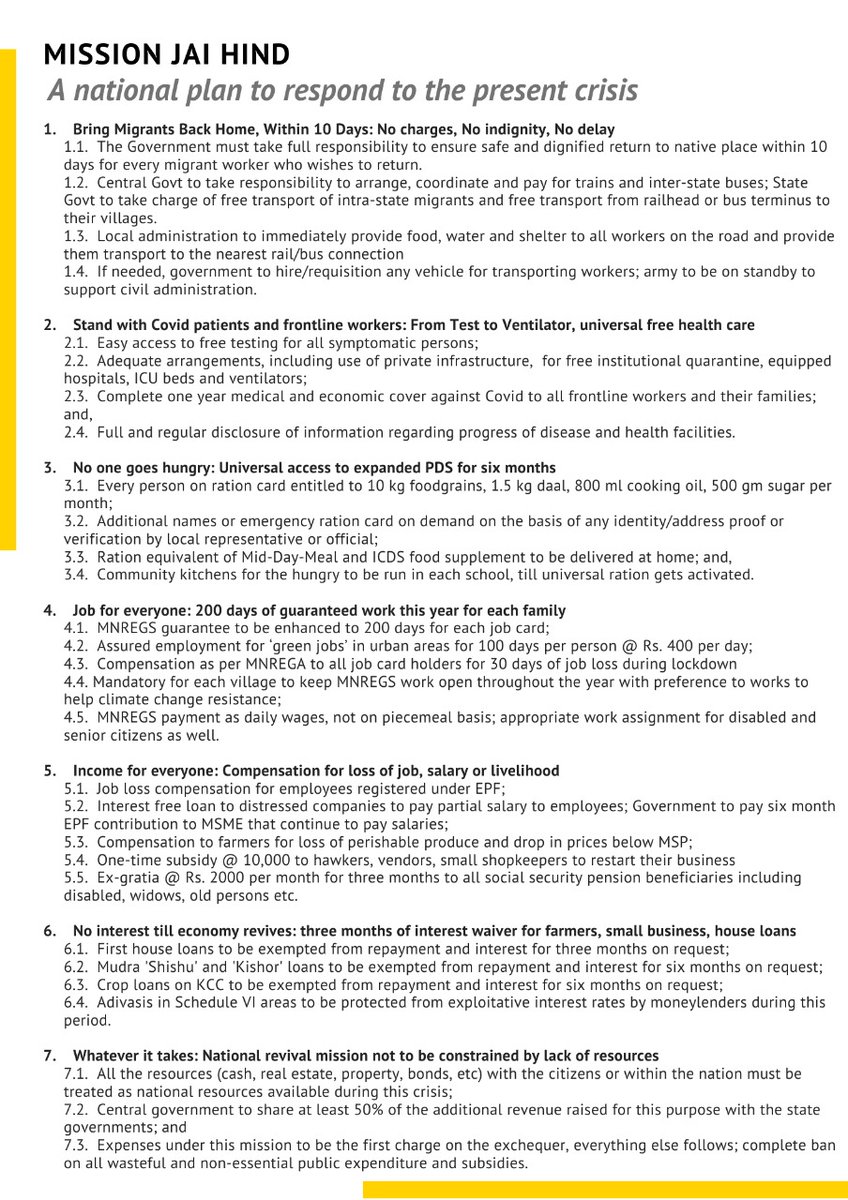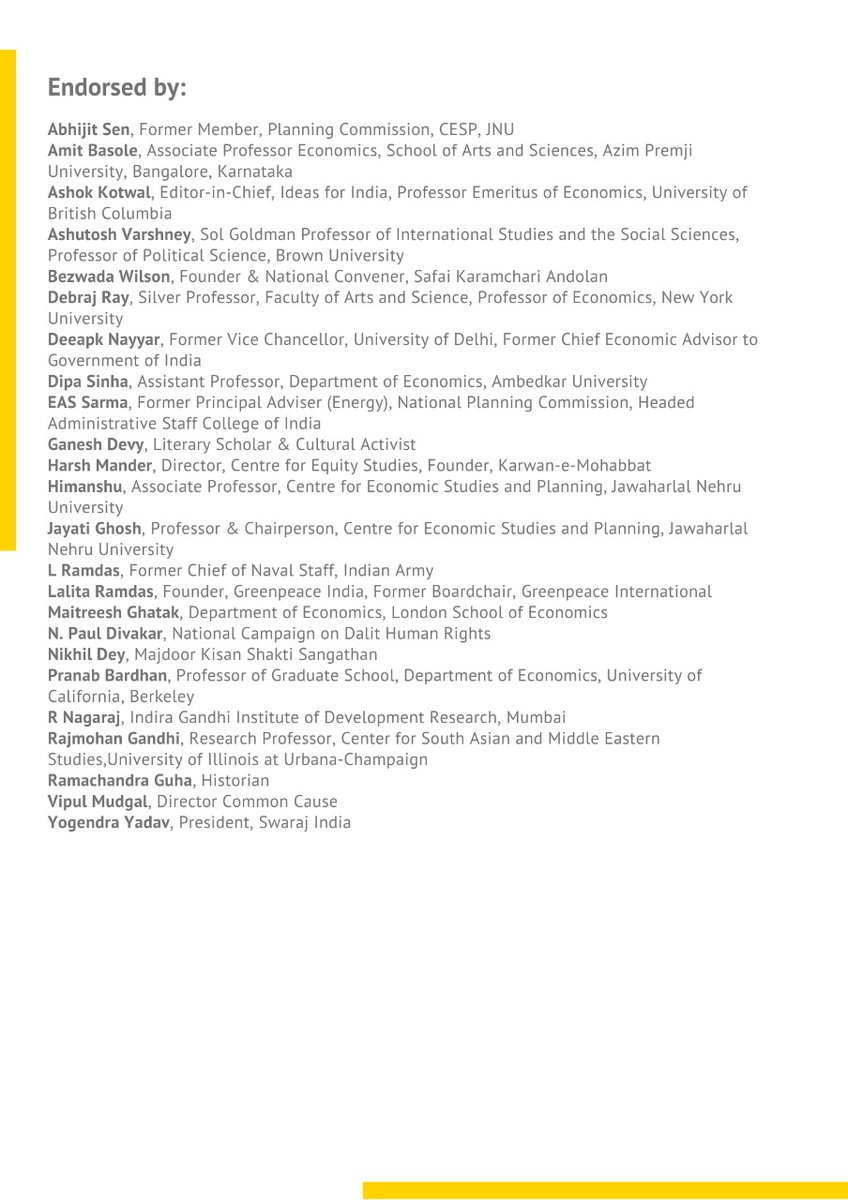 Image Credits: Twitter
Disclaimer: The opinions expressed within this article are the personal opinions of the author. MyIndMakers is not responsible for the accuracy, completeness, suitability, or validity of any information on this article. All information is provided on an as-is basis. The information, facts or opinions appearing in the article do not reflect the views of MyindMakers and it does not assume any responsibility or liability for the same.
Comments