Narendra Modi's popularity remains undiminished but numbers throw up a mammoth challenge
The Indian political history has always been kinder to the winners. We remember all the big wins and the massive mandates given to a political party at some points in history, but we rarely recall what happened to the same party in the subsequent election. This, of course, has been more of a trend in the last three decades since these were the times when a challenger rose to become the primary party of the 70s and 80s, Congress.
Let's start with 1984, from 430+ seats, Rajiv Gandhi's Congress was reduced to 197 in 1989. Similarly from 230+ seats in 1991, Congress again went down to 140 in 1996 and 114 in 1999. Similarly BJP dropped from 182 in 1999 to 138 in 2004 and 116 in 2009. And most recently Congress had one of its steepest drops, from 209 in 2009 to 44 in 2014. These figures show what the incumbent is always up against when it comes to general elections in India.
Only TWICE, in 1998 and in 2009 have the incumbent single largest party increased their seats in the last 35 years of Indian politics. That too because BJP was at 162 in 1996 and Congress was at 145 in 2004. The scope for them to gain seats was bigger because what they had not maximized their gains in the previous elections. In 1996, BJP was on the rise and same for Congress in 2009. Amidst all this, Narendra Modi led BJP to a stupendous win in 2014, with BJP getting a simple majority on its own with 282 seats. The NDA together had 340 seats.
4 years since, Modi is the most popular leader in India. BJP has won in 19 states and expanded its geographical footprint massively. Even in states where it has minor presence, BJP has increased their vote share and in states like UP, BJP has stormed back to power after being in opposition since 2003. They have lost majorly only in three states, Delhi, Punjab and Bihar. I'm not counting West Bengal, Kerala and Tamil Nadu because they aren't serious players there. In Kerala and West Bengal their vote share has significantly increased. In Bihar, they are back in power since Nitish has pulled out of the UPA and joined the NDA.
This would seem that BJP might be on course for bettering if not matching their 2014 performance. But that is not what the recent trends have indicated. It started with the 2017 Gujarat Elections, you might recall how I had pointed out in several columns and tweets that BJP will end up around 95-105 (later refined it to 100-105 seats), but there was no way that they could cross 120. BJP ended up with 99 seats, got a historic 6th term which was a very commendable performance, but it came with a significantly reduced mandate. Rajasthan where 2 Lok Sabha seats went to polls, BJP lost both of them and an assembly seat as well.
Both Gujarat and Rajasthan were states where BJP had won all the 51 seats and even if the polls were to be held today it is tough to see them repeating the performance. In Gujarat, they might but it looks very tough in Rajasthan. The situation in UP and Maharashtra is similar too. They have maxed their gains in UP and if Shiv Sena for once sticks to its claims then they may end up fighting alone in Maharashtra. BJP can potentially repeat its performance alone but it is hard to see them going beyond 25 in Maharashtra. Thus the number of 282 looks very difficult to get and 300+ looks like a near impossible target. This is how the numbers stacked up in 2014: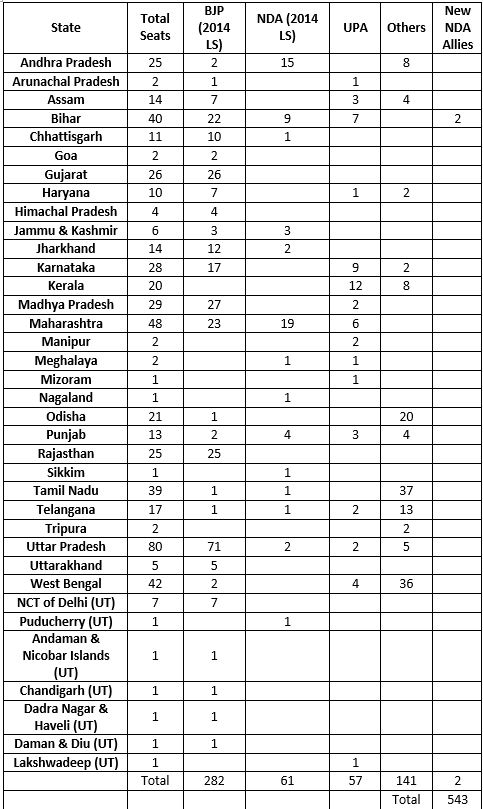 There are many states like Madhya Pradesh, Uttar Pradesh, Chhattisgarh, and Rajasthan where it is expected that BJP will lose some seats from the phenomenal numbers in 2014. Those gains might be partially offset by West Bengal, Odisha and a few seats from Tamil Nadu & Kerala but it won't enough to get to the 300 number. Now these losses could be due to a variety of reasons from local to central to policy based and some disenchantment. But it is almost certain that BJP will need allies to repeat their 2014 performance. The only state where they can be guaranteed to do that is Bihar. Even though they might not get 22 on their own, with Nitish as an ally, the NDA can easily get to the 31 mark that they managed in 2014.There is a lot of chatter amongst many people how BJP might get to 300 on their own. Let us look at the possibilities of the states where they can gain. Upon analyzing the numbers, I can only think of two states: Odisha and to some extent West Bengal. In Odisha they have slowly but surely come up as the primary challenger to BJD. If they can recruit leaders like Jay Panda then they may have a chance there. In West Bengal, BJP has overtaken CPI (M) as primary opposition party as was evidenced in the by poll results where BJP got the no 2 spot in both the seats. Even if they outperformed that what they did in 2014, they will not get more than 25 seats. To get to 300, they will need to almost equal their 2014 performance and add more to it to get to 300.
States like Andhra Pradesh offer interesting possibilities. The TDP has been trying to have a blow hot-blow cold approach with the BJP for a long time and although they have said that for now they are with the NDA, nothing can be taken for granted. One year is a long time in politics and even if BJP were to tie up with YSRCP, not only would it be a huge ideological blow to the faithful cadres there, it would not dramatically improve their seats in AP. In Telangana, BJP is ambivalence towards TRS might hurt it. It has the potential to be a no 2 party in Telangana, but it is also seen by many as having a convenient understanding with TRS as it needs the support in Rajya Sabha.
Having said all of this, we can be rest assured that BJP is still the number one political party in India. And PM Narendra Modi continues to be the most popular leader in India. This will definitely help swing the marginal voter towards the BJP. So far that swing looks unlikely to be huge. Hence the challenge to cross the 272 mark is even tougher. BJP will undoubtedly benefit from a quasi-presidential style election with Rahul Gandhi pitted against Narendra Modi. Not only is the Gandhi scion not ready, their allies are unsure about him and that's why they want Sonia Gandhi to continue as the UPA chairperson.
With that being the current situation, a figure of 300+ seats seems like an impossibility, unless and until the allies align around one leader. Leaders like Mamata and Naveen Patnaik are unlikely to ally with Rahul and oddly that will hurt BJP, because now it is suddenly a 3 sided contest, where the regional parties might hold an edge. If this continues, then it would be prudent for BJP not to set an outlandish goal like they did in Gujarat but to have a reasonable number for 2019. 300 or as some are saying 350 is an impossible target with the way the things are. Many folks before Gujarat had started believing a 140-150 number and became extremely complacent in the process. It would be unwise to repeat that in 2019.
A lot more is at stake the next year. PM Modi at great risk to his personal credibility, has rolled out tough reforms, the benefit of whom will only be visible in the next few years. If he doesn't win in 2019, we might be witnessing the same mistake of 2004. Of course, there are several areas where this government needs to improve especially on the economic and the cultural issues. It is a given that Modi's reign has been significantly better than 10 years of UPA. India won't want to repeat the UPA fiasco. But the issues with some of the government's policies have led to some erosion in support. It is better that BJP recognizes this, addresses this and sets a realistic goal for 2019. Setting an unrealistic goal and assuming everything is hunky dory will only lead to complacency that led to defeats for incumbent governments in 1989, 1996, 2004 and 2014. Here is this one occasion where I hope that history does not repeat in 2019.
Disclaimer: The opinions expressed within this article are the personal opinions of the author. MyIndMakers is not responsible for the accuracy, completeness, suitability, or validity of any information on this article. All information is provided on an as-is basis. The information, facts or opinions appearing in the article do not reflect the views of MyindMakers and it does not assume any responsibility or liability for the same.
Comments