MyInd Interview with a Hindu Human Rights Activist Dr. Omendra Ratnu.
Pakistani Hindus are probably one of the most persecuted religious minorities of the later half of the 20th century.
It was the unwillingness of the majority of the Muslim population to be potentially living in a Hindu majority democracy that resulted in the partition of India supervised by the British colonial masters. India won its independence from Britain in 1947 but not before it was geographically and psychological dismembered and scarred. The Muslim majority part of the undivided India became the Islamic Republic of Pakistan (out of which Bangladesh was born in 1971). Hundreds of thousands died and many more were displaced in one of the biggest human migration of modern times.
Hindus in Pakistan live under the threat of persecution. There is hardly a day goes by when we don't hear about young Hindu girls being kidnapped and forcefully converted and them married off to Muslim men. Their only hope, both for survival and prosperity, is their immigration to India. Avatans Kumar (AK) spoke to Dr. Omendra Ratnu (OR), a surgeon by profession, who runs an NGO that helps these Pakistani Hindus immigrate to India. Besides providing basic amenities, his organization also provides these immigrants legal, and other logistical support. Here is part of AK's conversation.
AK: Namaste Dr. Ratnu. Please tell us about your background. I am told you are a surgeon.
OR: Yes, I am an ENT (Ear, Nose, & Throat) surgeon and I have been running my own hospital for past 15 years. I was born in a Kshatriya family in Jaipur, Rajasthan. My grandfather was a renowned poet of Rajasthani language and filled my being with love for my land and Dharma. My father was a very famous Nephrologist and he too was a very proud Hindu.
AK: Wow, that's great. From poetry to highly specialized medical science, you have a great legacy. And I also read somewhere that you are a musician as well. But coming back to the main topic here - how did you get involved with Pakistani Hindu refugees?
OR: Being in Rajasthan, I would keep coming across Hindu refugees from Pakistan and would often hear their horrible stories. Initially, I would help them financially. But 2014 changed everything when Bharatiya Janata Party (BJP) under the leadership of Sri Narendra Modi put the issue of Pakistani Hindus in its election Manifesto. That helped me work fearlessly for my Hindu brothers and sisters from Pakistan.
AK: Do you believe India is the natural homeland of all Hindus, especially persecuted Hindus?
OR: Certainly, Bharat is the natural home for persecuted Hindus. All Hindus are children of the Vedic Civilization and it is the birth right to every persecuted Hindu to seek safety and love in the land of his/her ancestors.
AK: By your response, it would appear that you also support Modi government on NRC. Do you?
OR: Yes, technically I do support NRC. However, I am still learning about it.
AK: What kind of needs do these Hindu refugees have?
OR: Hindu refugees from Pakistan have legal and police verification as their primary need. They lose all their money, movable and immovable assets, in migrating to Bharat. Hence, finding them jobs and meaningful employment to help their economic empowerment is the next in priority.
AK: What is the mental state of these refugees? Can you describe?
OR: Two words -- scared and broken. Constant harassment at the hands of Jehadi Islamists and the entire state machinery of Pakistan run by the ISI and the Pakistan military hollows their sense of security and makes them very suspicious of any and every one.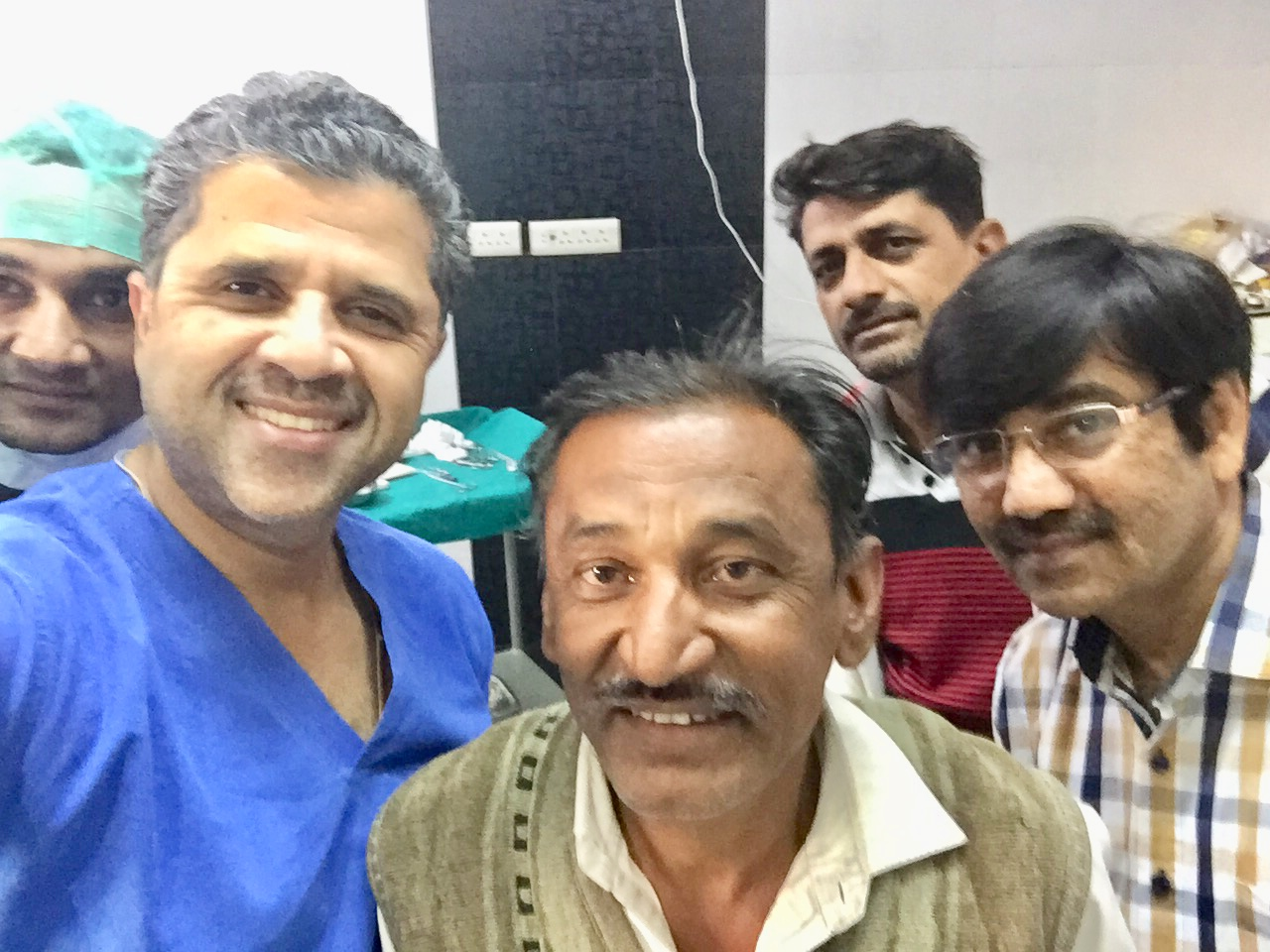 AK: What does the name of your organization mean?
OR: Nimittekam (निमित्तेकम) means to be an instrument for divine work. I took it from the Bhagwad Geeta where Lord Krishna says to Arjuna "Nimitta Maatram Bhav Savyasaachin" (निमित्तमात्रं भव सव्यसाचिन्). Meaning - Be my instrument, O Arjuna. When one is merely an instrument of the divine, there is no crystallization of ego as things happen around us.
AK: This is really beautiful, inspirational, and profound. Let me ask you this - why just Pakistani Hindus? Why not Bangladeshi Hindus as well? Is there a difference?
OR: Difference is primarily operational and logistical. Geographical proximity, Rajasthan being closer to Pakistan than Bangladesh, helps. It is a very sensitive and dangerous proposition to work for foreign nationals, especially if they happen to be citizens of an 'enemy' nation. With my limited bandwidth, it is a physical impossibility for me to set up something for Bangladeshi Hindus.
As for other differences, consider this fact - Bangladeshi Hindus are still 8 % of that nation, numbering 1.5 crore, whereas Pakistani Hindus are 2 % or 50 Lakhs. Pakistani Hindus are on the verge of extinction. Additionally, the state of Bangladesh is still softer towards Hindus, compared to Pakistan where the state has turned on Hindus and is out to annihilate them.
AK: That's a really scary and stark picture you present. What is the general mental state of kids and women? Do they have any kind of trauma? Do you run into people suffering from PTSD?
OR: Kids are scared and timid. Women are tense and very anxious. They are all witnesses to various kinds of traumas that they suffer in Pakistan.
AK: You already have a day job, have family. How do you find time?
OR: When one is fortunate enough to chance upon such people and literature that helps one understand the severity of the clash of civilizations going on in the Bharatiya subcontinent, then one can't sit back and live a mundane life.
Living with Pakistani Hindus has taught me about the horrors of life for a Hindu in that land. The most moving was the knowledge of the fact that three Hindu girls are kidnapped every day, raped by entire village and converted to Islam in that nation. I used to get nightmares about the agony of these children that wouldn't let me sleep for days. Then I chose to fight this evil, and Nimittekam was born.
As for time, twenty-four hours are enough to do justice to your profession, passion and family, if one is free of idiotic pursuits like Bollywood and Cricket.
AK: What is the response from the government, both central and local?
OR: The central government is the only reason we are able to work for these unfortunate Hindus. I have penned a booklet on the issue of Pakistani Hindus. Every Hindu must read it. I have outlined the crucial notifications issued by the GOI. State government during both Congress and BJP has been indifferent to the plight of these forsaken Hindus.
AK: Has there been any qualitative change in dealing with bureaucratic hurdles in the last few years?
OR: None! It is only the BJP central ministers who have pushed all the notifications to bring relief to these Hindus. Bureaucracy is still fossilized.
AK: How can other get involved? How can they provide financial support?
OR: Those out of Jaipur and Jodhpur can help us spread awareness of this silent genocide of Hindus going on everyday in Pakistan. Every project needs funds to run. We call it Dharmaansh. Give small amounts of Dharmaansh every month to Nimittekam .Our website is Nimittekam.org.
AK: You will be speaking on the issue of Pakistani Hindus. How can people attend your talk?
OR: I will be speaking in Chicago. Here are the details. Those who are interested can register for the event by following this link.
Chicago Welcomes Gen. GD Bakshi and Dr. Omendra Ratnu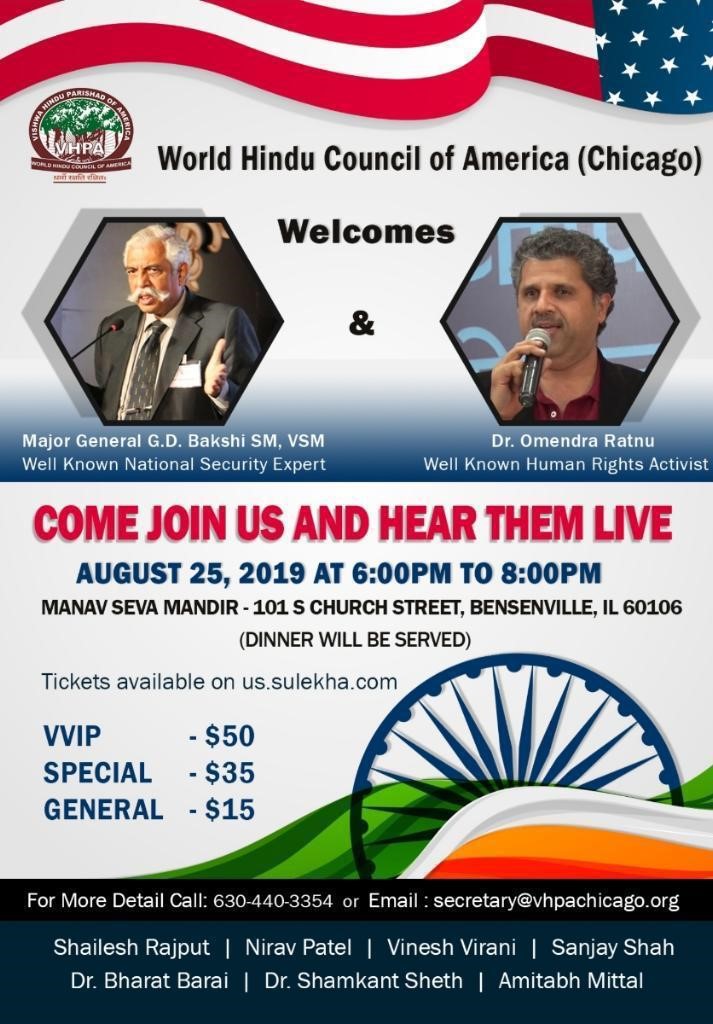 Comments