Is Economic Leadership Underpinned by a Social-Cultural Evolution? – An Indo-China Perspective
India and China – The Major Economies of Pre-Industrial Revolution world, are two of the oldest civilizations which enjoyed a very long period of economic leadership strongly underpinned by their Social-Cultural Evolution.
Long-term economic growth of a nation/region has its roots very deep into its culture and its socioeconomic characters. There are many times when sociocultural boundaries have proven stronger than political boundaries that are drawn by comparatively shorter-term objectives (many times to satisfy personal objectives of individuals). Such boundaries have often failed to curb cultural threads that transcend across such boundaries. However, over a longer period of time, political realities gradually seep into sociocultural fabric and hence become a part of it in long term.

The cycle of rise and fall of cultures is much longer than cycles of rise and fall of economies. Societies have absorbed many economic ups and downs and have continued to march forward on a developmental path. And, a steady and stable sociocultural development surely has its reflection in its economic development.

The point I am trying to drive home here is, long term growth of society will have two components – economic change and a much deeper sociocultural change. And as discussed above, my understanding is that, while economic ups and downs, appear cyclical; there will be a deeper trend of overall growth triggered by culture, participation of all strata of society and distribution of economic benefit to all strata of the society.
Economic changes could often be due to temporary stimulus and could initially provide in-equitable benefit to a few. Slowly, society adopts relevant changes to reap its longer term benefits. Pace of such adoptions is (obviously) slower than pace of economic changes. We also must notice that, at times, society do reject economic benefit if it does not appeals to the larger good of the society. Yet slower but more important aspect is the pace of assimilation of these learning elements (of economic growth) into ethics/culture of the society. Economic growth is sustainable only when matched with social preparedness and passes the cultural/ethical/spiritual test.

Slower and steady growth allows economic change to seep into social fabric and gives more time for society to digest the change and key elements of the changes which ultimately become part of culture to be sustained for longer time horizon.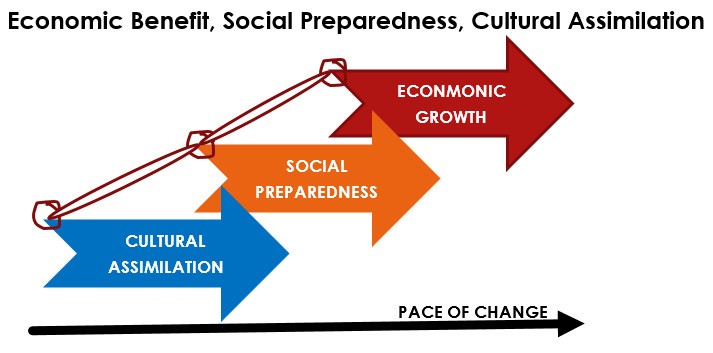 Greed to reap economic benefit without social preparedness is likely to see bottlenecks in medium/long run. There was hardly any story of economic slowdown when economic activities were aimed at meeting natural demand of society; which, in turn, was very well underpinned by the social/cultural need to develop. In fact, we started to see stories of successes and failures after greed started to come into the picture and many times (though temporarily) overtook the natural demand of the societies. Greed to acquire more than what is needed for consumption, or greed to produce more to get more wealth in return than actually needed.
Thankfully, (historically) we had very few cases of producing more; primarily because of limitations of manual labor. But yes, later on, in history, we have seen many invasion stories where greed wanted to forcefully take away what others produce to meet their natural demand. Sad, but true!

In long run, however, we have seen that such invasion never resulted in sustained economic benefit. And, the societies that worked for their own growth and welfare continued to steadily grow in longer run. We thus have, stories of great civilizations.
Interestingly, if you look at recent resurgence of India and China especially China, it is hard to understand how these two countries missed out on Industrial Revolution.
The British East India Company used the huge revenue generated by the provinces (India, China among many others) it controlled for purchasing raw materials, spices and goods. As East India Company increased its influence, foreign trade stopped altogether. In short span of 80 years (1780-1860 AD) under Colonial rule, India changed from being an exporter of processed goods (for which it received payment in bullion), to being an exporter of raw materials and a buyer of manufactured goods. This exploitation under British colonial rule completely devastated India's economy. As per British economist Angus Maddison, India's share of the world income went from 27% in 1700 AD (compared to Europe's share of 23%) to 3% in 1950.
The industrial revolution pushed European and North American productivity far ahead of China and India, the former giants whose combined share of global output plunged from nearly half to under one-tenth between 1820 and 1950.
The need to produce more with limited resources (say Labor to start with) was the key driver for Industrial revolution. Innovation in machine quickly reduced demand for manpower and immediately shifted focus on where to get abundant raw material from. This phase saw colonization (forcibly) control natural resources/raw agricultural produces wherever possible. Once colonization was on full swing, colonizing forces quickly realized the need for market, as industrialized Europe was producing more than what was needed there. And, this was achieved through destruction of market for locally produced goods. Colonies just ended up with being raw material supplier and depending on European masters for consumption goods. The Tactics were same for India and China.
I think Gandhiji did realize this; and the promotion of locally produced goods (read Khadi) was his key focus. Indigo movement also is an indication that people wanted to produce what they would consume and not just for supplying raw material (indigo) at grossly unfair prices.
China never had a problem of Labor. They had an abundance of labor available at the right cost. Hence, they did not feel need to industrialize to cut on labor cost. Growth was surely there and that was extensive – the country as a whole was growing not necessarily focusing too much on per capital income/GDP. After about 1800 this changed, and growth became (increasingly) "intensive", focused on an almost continuous growth of GDP per head.
I think this was a significant shift in the way one started measuring development. This philosophy was not indigenous, I believe that, such thinking was the worst side effect of industrialization. People started to think this (GDP per capita)) as a key growth objective. Most agree that this change in growth pattern initially started in northwestern Europe, and later on gradually spread to western and, after a lag, rest of the world.
For me, I strongly feel that society in India and China was not prepared to digest such a swift change in growth philosophy. From a society/culture of holistic focus and contentment with what they have; to a fire to produce more and more, focus on labor productivity and passion to increase per capital income was a quite a big shift. Although at higher level it might look generally acceptable; percolating this down into society and imbibition of its key elements into culture surely deserved time and; this is what happened if you see recent numbers post end of colonial rules.
Economy is about human and activities by human – It is about wining with demographic leverage.
It might be difficult to numerically prove that investment directed towards development of human capabilities (like skilled and healthy human being) will be primary driver of economic growth. But, is the economic growth the only/supreme goal? I think, we must include a bit subjective/spiritual angle (underpinned by culture) to define what gives fuller satisfaction to a nation, a society or even the world overall.
There are many studies on the premise that human resources cause growth. On 19 July 2011, the United Nations approved a Bhutan-sponsored resolution 65/309, titled "Happiness: Towards a Holistic Approach to Development", which was co-sponsored by 68 countries. It stated that:
"Happiness is fundamental human goal and universal aspiration; that GDP by its nature does not reflect the goal; that unsustainable patterns of production and consumption impede sustainable development; and that a more inclusive, equitable and balanced approach is needed to promote sustainability, eradicate poverty, and enhance well-being and profound happiness."
Take an example of a traditional agricultural society, survival has been primary need and, such a society would responds to any technological change by increasing population, and not the living standards. Contrary to this, post industrial revolution, productivity has increased many folds, survival is taken for granted and as dependency on agriculture is declining, modern/advanced society(?!) responds to improvement in productivity by increasing quality/standard of living.
Many countries have gone through demographic transition: starting with increases in population growth, followed later on by decreases in population in case income continues to rise. Japan and some parts of Europe are examples of such scenario. Although people in these economies can afford large families, they do not choose to do so. Such economies are characterized by high per capita income (which will keep on increasing as more wealth is shared by less people), declining population, and lesser people in younger age group. Increasing per capita income in such societies do not augur very well in longer run. For such societies it will be tougher to communicate accepting lower per capita income and a more sustainable population growth. And, countries are facing such issues.
Contrast this with developing economies – for example India having over two third population below 30 years age group. Similar stories with China, Indonesia and many other Asian countries. Part of society is (to an extent) responding to development by increasing population, other parts are focusing on improving quality of life. Diversity and exposure of these economies are key asset- have people at different level of development in the same society. Covering two third of global population these economies are poised to be the market for the future. Challenges for these countries lies in providing constructive engagement to human capital. It's challenging, but at the same time it's also progressive.
In the two worlds, we have seen extremes of Socialist and Capitalist movements. And, we have also seen failures on either end of the world. Cultures have always strived to give power to larger population. In this light, I think, instead of focusing on "Equal" or "Unequal" distribution (synonymous with of Socialist and Capitalist thoughts respectively) of outcome, it should be about ensuring equitable participation of masses in the growth activities (overall growth, not just economic). Thoughts of focusing more on equal/unequal distribution of outcome without ensuring equitable participation is very likely to lead to resistances. Equitable participation in growth will anyway drive equitable distribution of the outcome.
A high consumption growth being observed in Asia is going to be an integral part of the solution to the world's demand deficiency problem as growing consumption will propel Asian economies in profound ways, - housing, consumer goods healthcare to name a few. Growing consumption in fact helped Asia ex-Japan recover from the "great recession" of 2008 faster than their western counterparts. Not only recovered, but have broken above per-crisis levels.
Disclaimer: The opinions expressed within this article are the personal opinions of the author. MyIndMakers is not responsible for the accuracy, completeness, suitability, or validity of any information on this article. All information is provided on an as-is basis. The information, facts or opinions appearing in the article do not reflect the views of MyindMakers and it does not assume any responsibility or liability for the same.
Comments