Iran conducts surgical strike deep inside Pakistan last night, freed two soldiers
Iran becomes the third country to conduct surgical strike operations deep inside Pakistan targeting terror groups. The operation was conducted last night without the knowledge of Pakistan Military units in the region. Several Pakistani soldiers were killed during the operation who were giving cover to these terror groups sources claimed.
Reportedly Iran's Elite Revolutionary Guards have done an intelligence-based Special Ops Deep in Pakistan. Iranian elite Revolutionary Guards (Special Forces) covertly freed two of its soldiers in an intelligence-based operation inside Pakistan controlled territory.
The Islamic Revolutionary Guard Corps (IRGC) affiliated sources claiming that Iranian troops conducted an operation in Pakistan's illegally occupied Balochistan to free kidnapped IRGC troops from Jaish al-Adl.
"A successful operation was carried out on Tuesday to rescue two kidnapped border guards who were taken hostage by a terrorist group."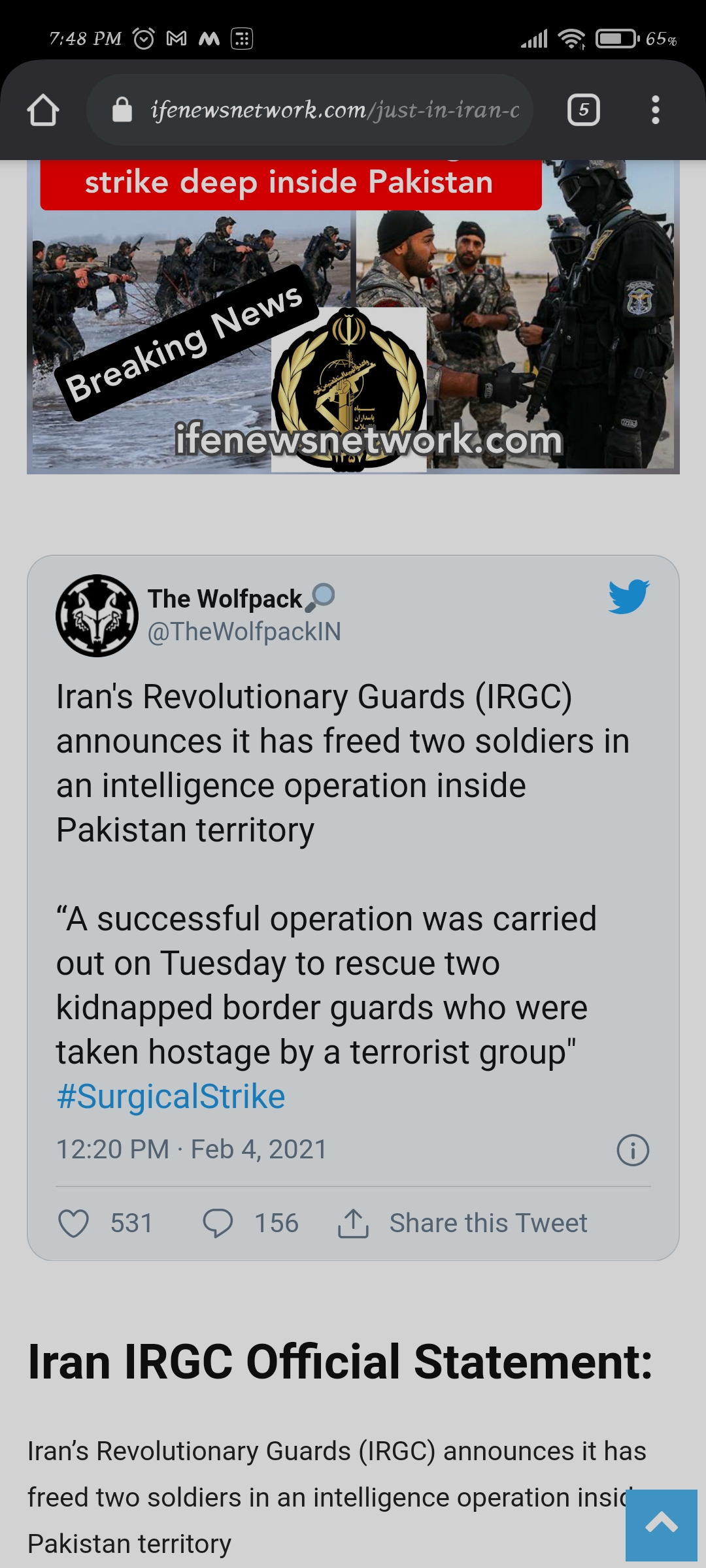 Jaish ul-Adl, or Jaish al-Adl, is a Salafi jihadist militant organization that operates mainly in southeastern Iran, where there is a substantial concentration of Sunni Baluchis and a porous border with Pakistan. The group is responsible for several attacks against civilians and military personnel in Iran. It gets full support from the Pakistani Army to commit genocide on innocent Balochistan people.
Allegedly, IRGC sources statement said, "IRGC intelligence units rescue two remaining Iranian border guards who were kidnapped in 2018 and held in a neighboring country by a Pakistan and Saudi-sponsored terror group".
Social Media Reports are flooding with Iranian Surgical Strikes on Pakistan
The United States special forces conducted surgical operations to neutralize the world's most wanted terrorist Osama bin Laden, later in recent times Indian Armed Forces conducted two surgical strikes operations targeting terror groups trained and sponsored by the Pakistani military. As per our sources, Iran joined the US and India to conduct military operations deep inside Pakistan's territory.
Image Source: IRGC
Comments