India's Blue Economy Initiatives: Establishing New Growth Nodes and Helping to Address Regional Imbalances
The term Blue Economy refers to utilization of a country's coast-line, inland waterways, and sea connectivity globally for more sustainable and broad-based economic development.
Until recently, Indian policies did not give sufficient weight to promoting the Blue Economy. This has resulted in low awareness about its benefits. But the the PM Narendra Modi-led government has taken several Blue Economy initiatives, which have the potential to create new growth nodes, help lessen regional economic imbalances, provide new sources of productive livelihoods, help sustain the environment and ecology, and enhance community and social resilience.
The decision by the 4th BIMSTEC (Bay of Bengal Initiative for Multi-sectoral Technical and Economic Cooperation) Summit held in Kathmandu, Nepal, to include the Blue economy in its work agenda suggests greater awareness among the policymakers of the important role it can play in the member countries.
There is no standardized definition of the scope of the Blue economy; nor are data on contribution to Blue Economy regularly published.
The World Bank and United Nations include the following in the discussion of the Blue Economy. Fisheries, Aquaculture, Coastal and Maritime Tourism, Marine Biotechnology and Bioprospecting, Extractive Industries: Non-Living Resources, Desalination (freshwater generation), Renewable Marine (off-shore) Energy, Maritime Transport, Ports and Related Services, Shipping, and Shipbuilding, and Waste Disposal management; While the supporting Activities include Ocean Monitoring and Surveillance, Ecosystem-based Management and Activities Supporting Carbon Sequestration (Blue Carbon). https://sustainabledevelopment.un.org/content/documents/15434Blue_EconomyJun1.pdf
The Indian government has initiated O-SMART (Ocean Services, Technology, observations, Resources Modelling, and Science) program with a budget of INR 16.2 Billion.
It will provide scientific and technological inputs for various aspects of the Blue Economy. The inputs include information about fish potential and local weather conditions. It is hoped that the program would also assist in seaweed cultivation and Mangrove growth. It is hoped that this project will also include systematic and regular data collection and dissemination on various aspects of the Blue Economy.
The Blue Economy Initiatives
The Sagar Mala Program:
This program, initiated in July 2015, is among the most prominent initiatives to benefit from the Blue Economy. Under the Sagarmala program, about 580 projects with an estimated project cost of INR 8700 Billion (USD 124 billion) have been identified for implementation over 20 years. projects worth over INR 135 Billion have a been completed by July 2018, and another 424 projects worth over INR 4100 billion are under various stages of implementation and development. The above costs do not include indirect investments spurred by the Program.
The Sagarmala Development Company (SDC) has been set up to identify port-led development projects under the Sagarmala Program, provide equity support for the project Special Purpose Vehicles (SPVs), and implement selected projects.
Given the large number of projects, proficiency in structuring, in selecting appropriate financing-mix, and in implementing the projects would be crucial. Each project should consider constituting a strong Project Management Office (PMO), with requisite skill-sets and authority for successful completion of the project and its handover.
According the 2016 CLSA Report (file:///C:/Users/mukul/Downloads/Coastal%20Revolution%20by%20CSLA.pdf, this program is expected to cut the country's share of logistics costs from 14-17% to 6-8%, in-line with globally competitive countries. One of the key drivers of cost-cutting is expected to be moving substantially more cargo via sea and river routes versus the ~5% now compared to the global average of ~40%. The Report estimates cost savings of 37-43% due to the shift to coastal shipping and rail/road as compared to only rail transport.
This program complements the Bharat Mala Pariyojana, whose investment proposals for the first phase were approved by the Indian cabinet in October 2017. Under this phase,34,800 km of National Highways (NHs), with an outlay of INR 5350 Billion (USD 76 billion) over a five-year period from 2017-18 to 2021-22.
It is complementary because under it, roads involving port connectivity are also included. Moreover, as with the Sagarmala initiative, Bharatmala Paryojna also aims to significantly reduce logistics and transport time and costs.
The main Components of Sagar Mala program are:
Port Modernization & New Port Development: De-bottlenecking and capacity expansion of existing ports and development of new green field ports
Port Connectivity Enhancement: Enhancing the connectivity of the ports to the hinterland, optimizing cost and time of cargo movement through multi-modal logistics solutions including domestic waterways (inland water transport and coastal shipping)
Port-linked Industrialization: Developing port-proximate industrial clusters and Coastal Economic Zones to reduce logistics cost and time of EXIM and domestic cargo
Coastal Community Development: Promoting sustainable development of coastal communities through skill development & livelihood generation activities, fisheries development and coastal tourism.
India has a coastline of 7500 km with 12 major ports and around 200 notified non-major ports. India has 14500 KM of navigable waterways. India is also strategically well located on maritime routes.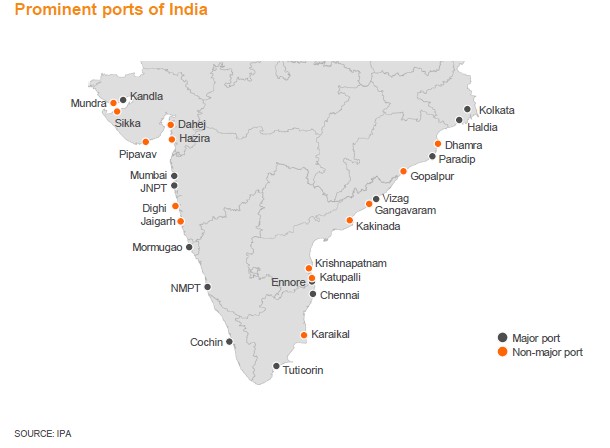 Source: http://ipa.nic.in/
Utilizing Inland Waterways: One of the components of this project is utilizing the inland waterways for commerce and passenger traffic, and to promote tourism. Inland Waterways Authority of India (IWAI) (http://iwai.nic.in/)
Plans substantial infrastructure development like multi-modal and inter-modal terminals, Roll on - Roll off (Ro-Ro) facilities, ferry services, and navigation aids.
One of the multi-modal hubs is being developed in Varanasi (expected to be operational by end 2018). it will be linked to the eastern dedicated freight corridor.
Select examples of how inland waterways can contribute to the goals of the Sagarmala program are provided below. There are many more examples from across the country, which generating large benefits, including encouraging more companies to be formed to benefit from the potential business in this area.
First, a consignment involving two barges of fly ash bound for Guwahati's Pandu port on the Brahmaputra in Assam sailed from Kahalgaon on the Ganga river in Bihar, a distance of 2085 kilo meters, in late August 2018. This journey also involves using Indo-Bangladesh protocol. This is the first time that the NTPC (National Thermal Power Corporation) is moving its products on the waterways to Assam.
Fly ash is in huge demand as raw material in cement and brick industry and is also used for the purpose of land filling. More such journeys are planned, benefitting particularly the north East region of the country.
The second example concerns transporting trucks from Chennai Port to Mongla port in Bangladesh by Ro-Ro cum general cargo vessel. (http://pib.nic.in/newsite/erelease.aspx, October 28, 2017). This route of 1500 KM has saved 15-20 days of travel time as compared with current road route while saving on fuel.
Chennai Port has also been shipping cars in Ro Ro vessels to Pipavav port in the State of Gujarat, saving time and fuel consumption.
Third, India dispatched its first consignment of wheat via Chabahar Port in Iran to Afghanistan in late October 2017. Six more such consignments are planned by April 2018. (https://www.voanews.com/a/india-opens-new-afghan-trade-route-via-iran/4091915.html).
he fourth example is the Gogha-Dahej Ro-Ro Ferry Services. ( http://thetruepicture.in/). It has the capacity to ferry passengers and vehicles. It will reduce the distance from 360 km by road reduced to 31 km by sea, and time from eight hours to one hour. There are plans to extend to Surat and to Mumbai. Gujarat Maritime Board (GMB) is setting up the necessary infrastructure.
Promoting Tourism: There are many opportunities to utilize the India's 7500 Kilometre coastline and inland waterways to promote tourism. Two examples are provided.
India's first cruise line service between Mumbai and Goa is to begin from October 1, 2018. A cruise terminal is being set up in Mumbai at the cost of INR 10 Billion. The Shipping Corporation of India is to receive INR 8 Billion to purchase the requisite equipment. India receives around 80 cruise lines per year. The target is to increase it to nearly 1000 before 2025.
The second example involves a 125-seat cruise ship, Alaknanda, making Central Salt and Marine Research its first trip in Varanasi on September 2, 2018. It enables watching Ganga Aarti over a two-hour journey on the Ganga river throughout the year. This would encourage domestic and international visitors, benefitting the local economy.
Both these initiatives (and other similar ones) provide additional livelihoods and business opportunities by encouraging domestic and international visitors. Potential for generating additional livelihoods, and business formation is also significant.
Seaweeds, Mangroves and the Blue Economy
Utilizing India's coastline, cultivating seaweeds could generate several benefits.
First, seaweed is particularly appealing carbon sink due to its rapid growth rate, about 30 to 60 times the rate of land-based plants. This rapid turnover rate also makes it ideal for decentralized production. Some species of seaweed have high potential for long-term carbon storage.
Second, seaweed can be harvested and used to produce biofuels, whose use is being encouraged in India.
Third, seaweed farming can also produce safe sites for breeding fish populations, as well as reversing ocean acidification. This would help livelihoods and income generation among the coastal communities, many of whose members also engage in traditional farming.
Fourth, seaweeds are highly nutritious and they can be eaten by vegetarians. Therefore, their cultivation could be one of the instruments to help address nutritional deficiencies.
Fifth, seaweeds have many uses in health care products, an area holding promise given India's rich tradition in traditional medicine systems such as Ayurveda.
Aided by the research efforts of CSIR (Council of Scientific and Industrial Research), and Central Salt and Marine Chemicals Research Institute (CSMCRI), and their collaboration with the industry, India in progressing towards knowledge-intensive farming of seaweeds, instead of relying on seaweed gathering from natural beds.
The India Seaweed Summit held in Mumbai on February 2016, and organized by the Indian Chamber of Commerce had participants from research organizations, including from other Asian countries government officials, and business firms to help promote seaweed farming in India. Countries such as Japan. Indonesia, the Philippines, and Vietnam have exhibited high level of proficiency in cultivating seaweeds, and creating newer and wider uses for them including in export industries. Knowledge sharing and learning from them will be of considerable benefit to India.
: They grow very near to the sea coast, act as 'Shock Absorbers' in situations such as Tsunami, and thus help prevent/ reduce coastal area damages. They grow very fast (like seaweeds, and thus, have an important role to play in carbon sequestration, and thus, in helping to address adverse effects of climate change.
Mangroves also have an important role in fish breeding.
The above suggests a strong case for making seaweeds farming and growing mangroves as an integral Part of India's Blue Economy initiatives.
Concluding Remarks: India's Blue Economy initiatives are expected to help in generating new growth nodes, help lessen regional imbalances, provide sustainable productive livelihoods, help address nutritional deficiencies, and facilitate managing climate change. They also could encourage new business formation.
These initiatives are also consistent India's Act East policy as there is substantial potential for knowledge sharing and learning by cooperating with Japan, Indonesia, Philippines, and Vietnam which have high level of competency in several areas of Blue economy, including seaweed cultivation.
India should consider collecting and publishing data on the Blue Economy which should be harnesses for policy- relevant research to assist the policymakers and to those implementing the blue Economy program.
Disclaimer: The opinions expressed within this article are the personal opinions of the author. MyIndMakers is not responsible for the accuracy, completeness, suitability, or validity of any information on this article. All information is provided on an as-is basis. The information, facts or opinions appearing in the article do not reflect the views of MyindMakers and it does not assume any responsibility or liability for the same.
Comments