In search of India's biggest pre-historic "City of the Dead"
In Travel
12:00 PM, Jan 31, 2023
Hampi—the land of the Gods, better known as Vijayanagara—the land of the emperors, previously called Kishkinda—the land of Hanuman has a very special place in the hearts and minds of Indians. This is the place that gave a turning point to Shri Ram's quest for Seetha in Ramayana and this is the city that stood as a beacon of India's resistance to medieval barbaric invasions. For close to 300 years, this city was the epicentre for all major political, cultural, and military decisions involving South India. This is a tale that most of us have already heard. But how many of us know that the history of this land actually predates history? That the land which has narrated the aitihasic story of Ramayana, and the splendours of Vijayanagara, have a pre-historic story to tell?
I had previously explored the pre-historic site at Aihole when I visited there for my Kali Yuga research. I could hardly identify one or two pre-historic structures there. This time I planned on exploring one of India's biggest pre-historic megalithic sites, a prehistoric necropolis, at Hirebenakal—The Moryar Hills.
The pre-historic site at Hirebenakal has been criminally overlooked by the majority of history enthusiasts. In fact, the situation is far worse since even most of the local folks just 10 km from the Moryar Hills have no idea/information about the place. Hirebenakal is around 40 km from Hampi and takes around 1-1.5 hours to reach. There are very few direction boards put up by the government and hence GPS is your best ally. There are two routes to reach the site, one is through Anegundi and the other is through Gangavati. The latter route is better if you are traveling in a rickshaw or a four-wheeler.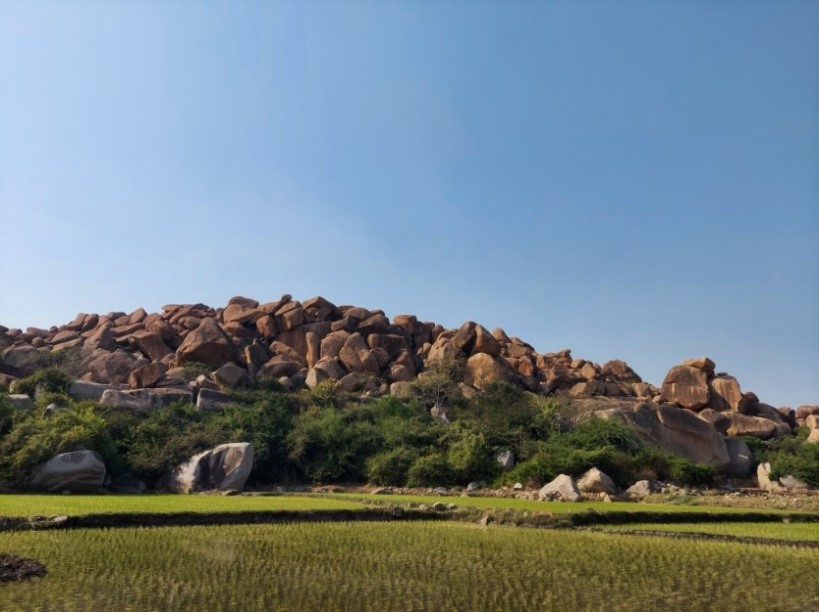 The Pre-historic site
Once you have reached Hirebenakal, the journey to Moryar Hills involves a 2-2.5 hour trek. The trail can get confusing, so it is better to ask any locals in Hirebenakal to accompany you to the site. I found the locals very cooperative and a young man readily agreed to join me on the trek. It's also wise to buy your refreshments or snacks well in advance because Moryar Hills or even Hirebenakal for that matter is a very isolated place and you won't find any hotels or shops nearby.
Enough of the preamble, let the journey begin…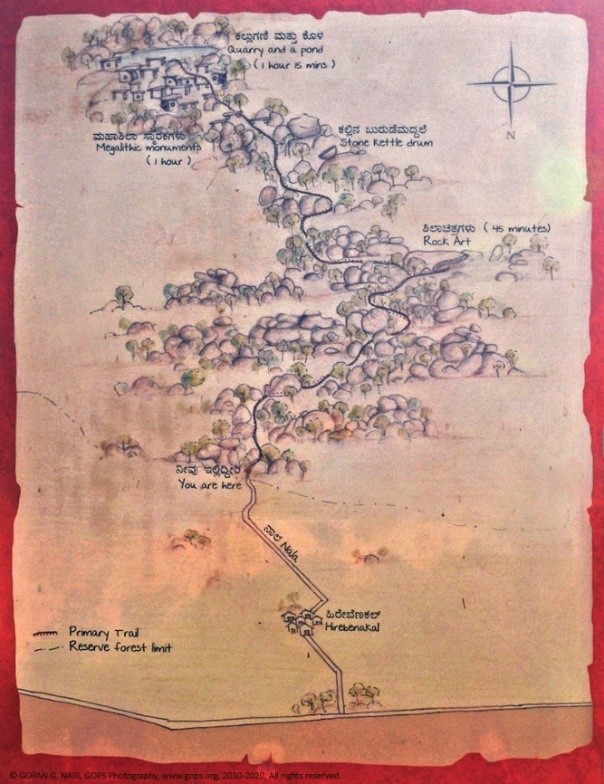 The trek starts from the paddy fields at the foothills of the site and the trail is moderately challenging that involves walking through vegetation and climbing a few boulders. The government has made some attempts to lay proper steps, but it is not all the way through. For the first 45 min of the trek, nothing much happens. After which, you arrive at the site of pre-historic rock shelter art.
Rock paintings:
These paintings vividly depict scenes from the lives of the people who produced them. Hunting is a recurring theme, many paintings show people carrying spears, axes, and bows while hunting deer and antelope. For example, the painting below depicts a hunting expedition where two men (1,2) riding an animal have encircled a cattle or antelope (3). It is also interesting to note a hunting dog (4) accompanying the hunting party!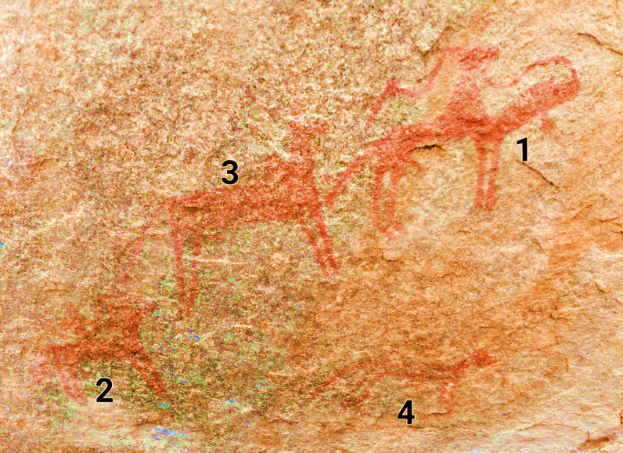 These paintings were made using red ochre, a pigment that is still used to dye clothes and color pottery. It is made by mixing powdered haematite (an iron ore) with water. This painting below depicts a pre-historic man wielding his weapons, what appears to be a spear and an axe.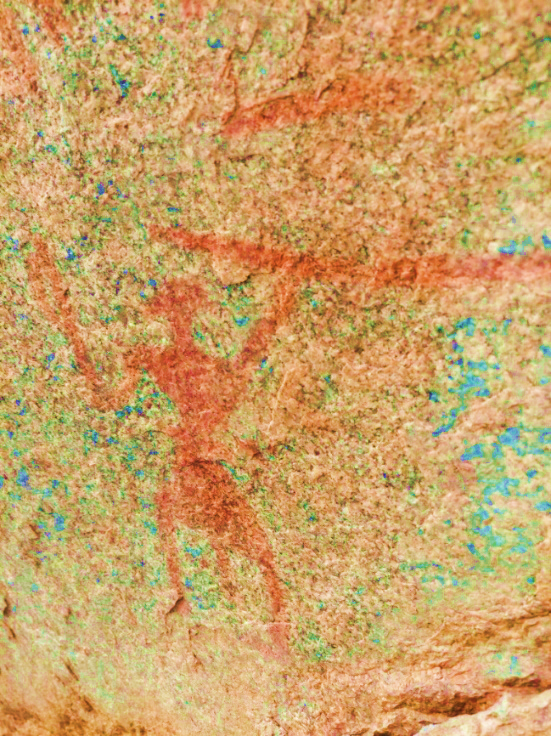 Hirebenakal's paintings have not been dated using any direct methods like radiocarbon dating. Based on styles and themes scholars believe that paintings showing the horses were built by megalith-builders whereas, paintings showing cattle are older, which I find as just lazy, ridiculous, and an indirect endorsement of AIT/AMT.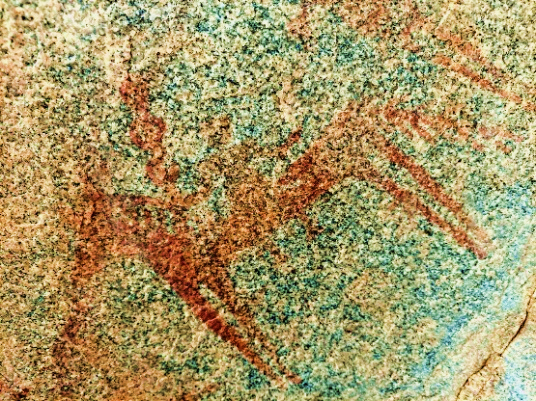 Pre-historic man on a horse
There are numerous rock art paintings on a single boulder here depicting the lives of an ancient era. The painting below depicts a human chain comprising many individuals of which these three are very distinct. This looks like a group participating in some sort of entertainment. Right?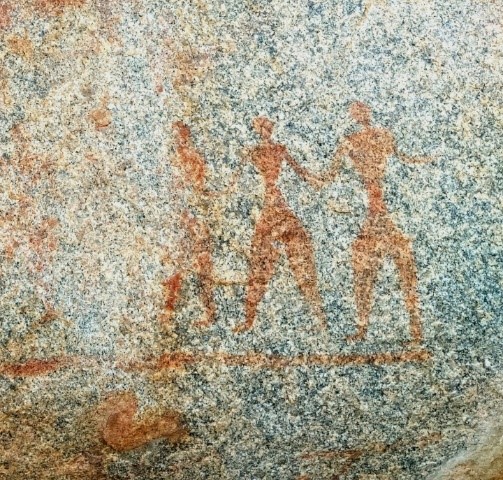 I thought so too until I noticed something very strange. The human chain is actually facing what looks like the depiction of a giant being! Now the painting looks as if the pre-historic men worshipping this giant.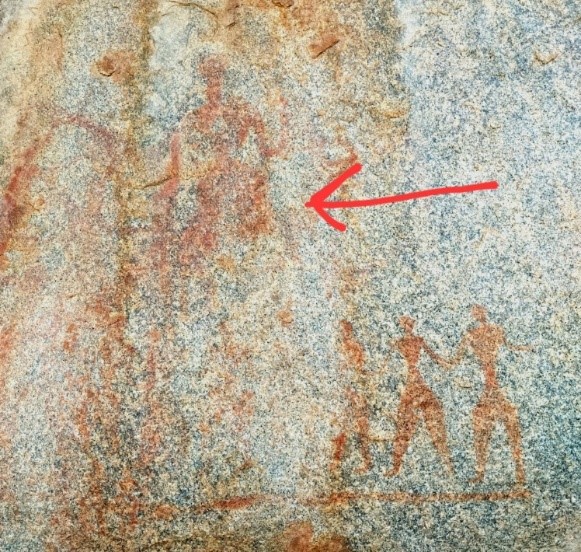 If the pre-historic man only depicted the events of his daily life in the paintings, what can be the meaning of this formation? Who possibly could be this giant creature?
As I continued the climb wondering about these things, I came across a very interesting piece of work done by the ancient dwellers. A stone Kettledrum!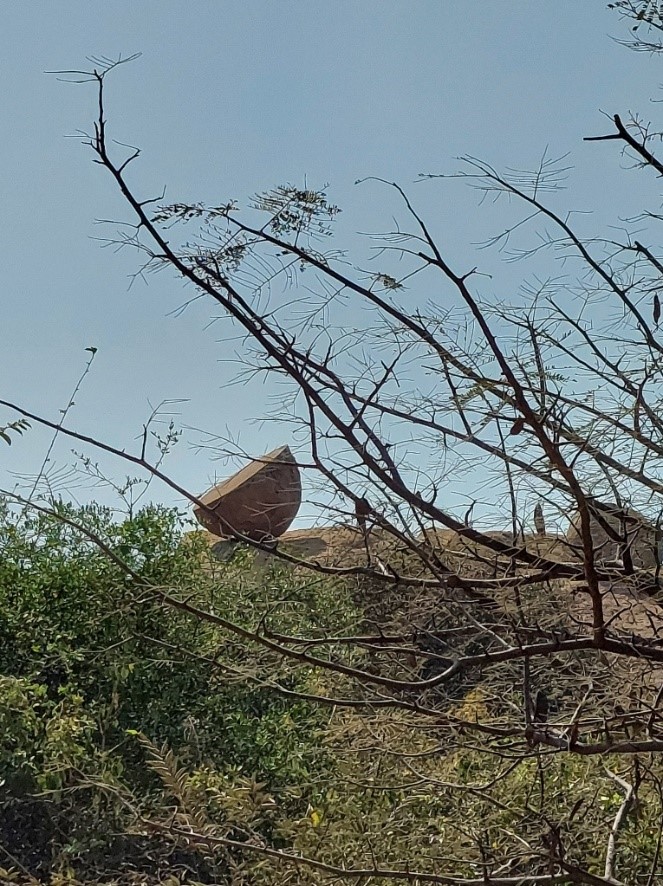 This is a solid stone structure that is 2 meters in diameter and is placed on a very high boulder. Locally, it is believed to be an instrument that was struck with a stone/metal staff to signal rituals or invaders. The sound produced is claimed to have been heard till a kilometer away.
City of the dead
A walk up the hills from here will lead to one of the largest and most impressive megalithic sites. Ancient graveyards had massive stone monuments called megaliths that were erected to commemorate the dead. Hirebenakal's prehistoric megalithic site is spread over an area of about 3 square kilometers. Within this, one can see a variety of megaliths like small and large dolmens, stone circles, and stone chambers. There are close to 400 megaliths in this place, making it one of India's largest necropolis!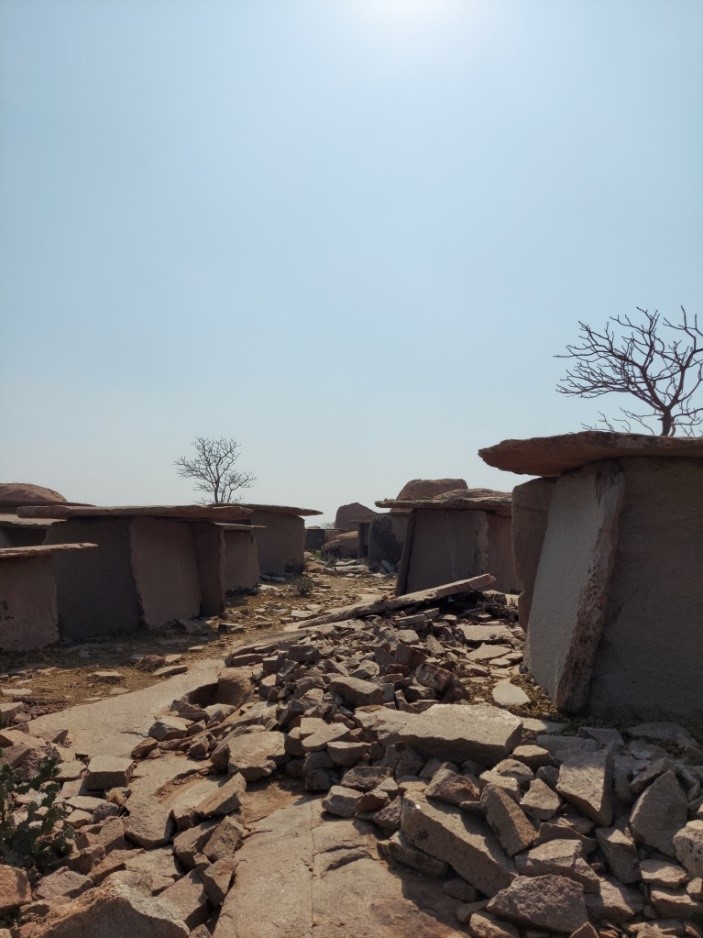 The tall, hut-like structures on both sides of this street are called dolmens. A dolmen is a type of single-chamber megalithic tomb, usually consisting of two or more upright megaliths supporting a large flat horizontal capstone. The dolmens here were built along the contours of a hill. The dead were not buried as a whole in these dolmens. Usually, their body was allowed to be decomposed or eaten away by birds and only the bones were buried in these sites, much like the tradition followed by the Parsis. However, the burial rituals also varied. Some graves have only a few bones of a body, while others have more than one person buried in them. Often, people were also cremated and their ashes were buried. Scholars think different types of burials and megaliths reflect social hierarchies in society.
The below image shows the interior of a dolmen that has been opened by some miscreants. This is a recurring problem in this location as locals break into the dolmens in search of gold and treasures. But all that will be present inside this pile of mud will be the bones of the departed and a few surviving pieces of food grains or strands of clothing.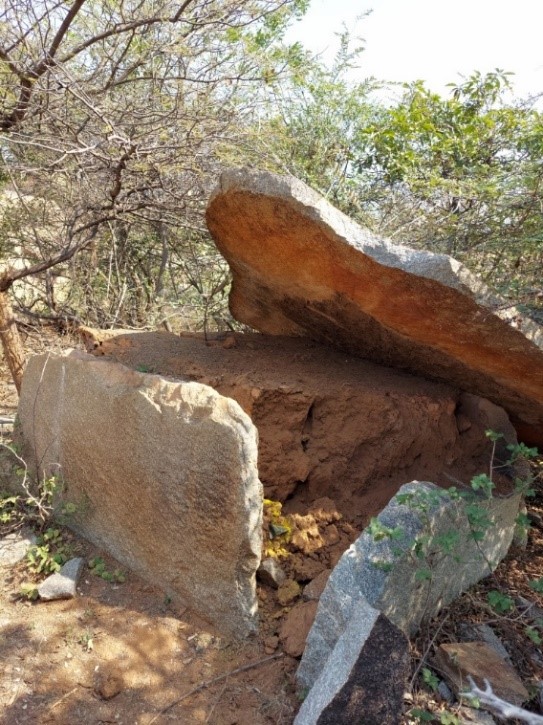 On top of the hill, the dolmens are scattered everywhere. Quite literally. Each piece of stone that you see in the below image has been from a dolmen that has disintegrated either naturally or due to treasure hunters. It is fortunate that in spite of so much time lapse and damage, we still have around 400 megalithic dolmens in the area.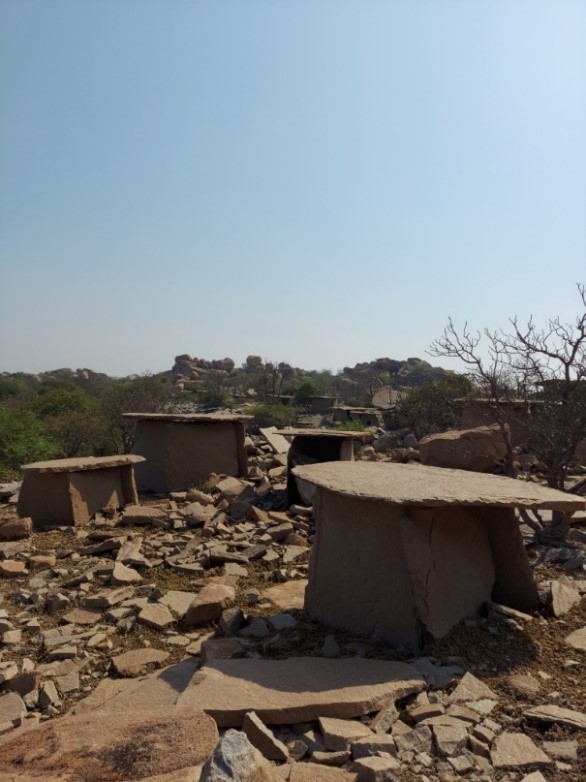 Most burials found here are of adult males. The scholars do not know what happened to women and children. They are not even sure of how these huge monuments were built. However, clearly, these held great meaning to prehistoric man. Why else would a community plan and put in such effort to cut, transport, and carefully erect stones that weighed several tons each?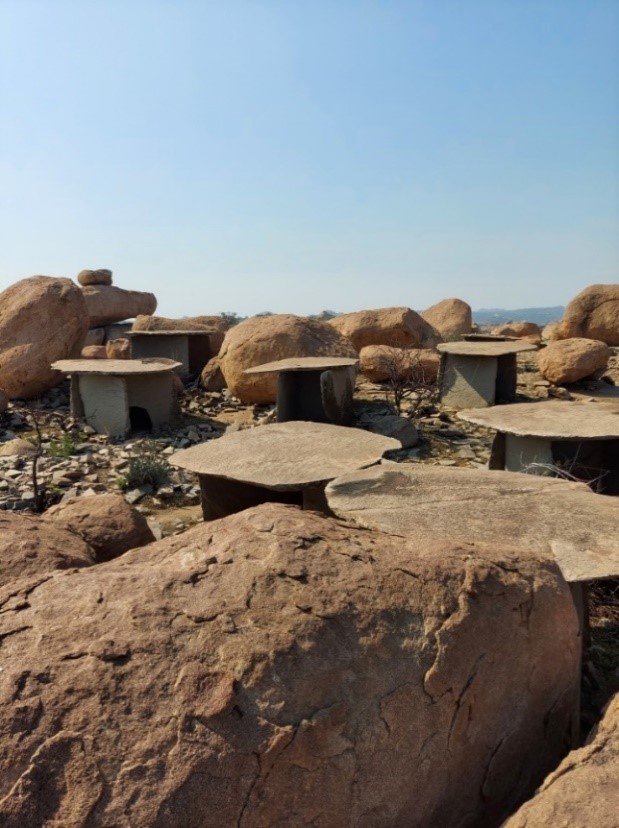 Mind you, these structures are not small by any standard of measurement. Some of the dolmens are actually as tall as 9 feet. The capstones of these dolmens span several meters in diameter. Interestingly, the ancients have not used any binding element like cement or mortar to construct these dolmens. It seems like they have relied on the technique of balancing the centre of gravity for these megalithic structures.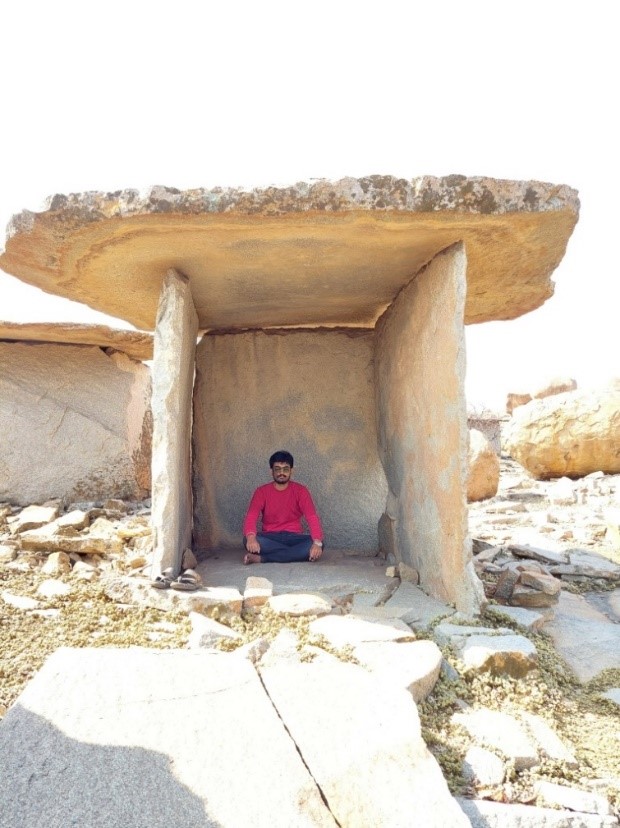 These granites were probably cut using pegs and hot water, i.e., by drilling holes in the granite boulders and pouring hot water in them, and later by tapping them with a solid tool. This leads to the cracking of the granite. Sheets of granite were then carried apart using wedges.
Where did these pre-historic people live?
You may have noticed that except for rock art, everything in Hirebenakal is associated with the dead. Archaeologists have found evidence that they probably lived on the "Durgada Dadi" hill which is half a kilometer away. This makes Hirebenakal one of the very few megalithic sites with an associated habitation site.
Why the name Moryar Hills?
Moryar Hills or locally known as Moryar Gudda literally means "The Hill of the Dwarfs". In Kannada, "Morya" means "Dwarf" and the dolmens in this site are called "Moryar Mane" by the locals i.e., "House of the Dwarfs". Notice the hole in the dolmen below?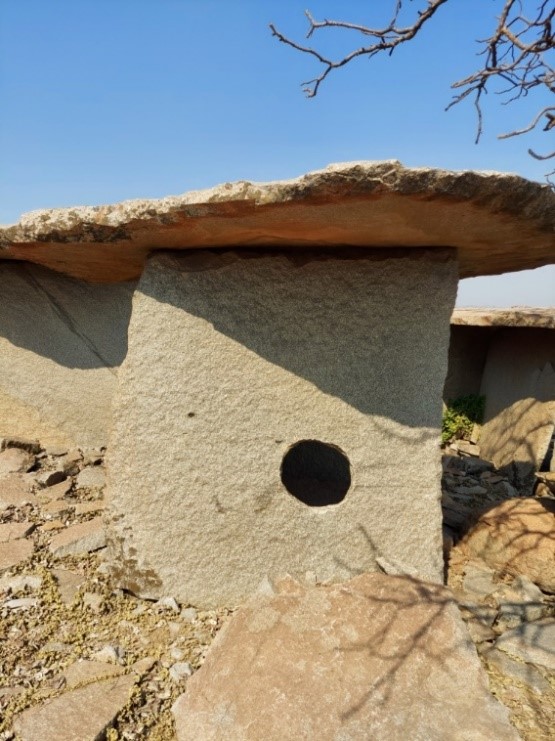 This is a characteristic feature of pre-historic dolmens. Some dolmens are also found to be half-buried like the one shown below.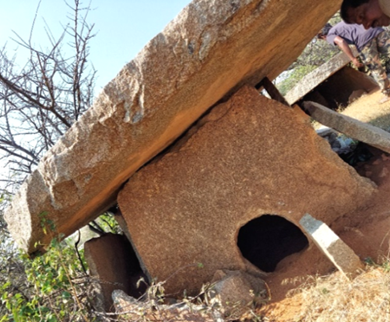 Quite naturally, the locals have come to believe that they were dwellings of strong, dwarf-like people who lived here thousands of years ago. This is the reason for the names "Moryar Mane" and "Moryar Gudda". Although these rows of port-holed dolmens do resemble houses with windows, they were actually constructed as burials and memorials for dead people. Usually, these holes were used to perform yearly ceremonies for the dead, where food grains and other stuff were offered through this hole for the departed once a year—much like the contemporary traditions of Pitru Kaarya or Punya tithi.
Strange formations:
As I started to return to the base after visiting the prehistoric quarry/pond at the top, I noticed some very strange rock formations. Like the ones that can be seen below.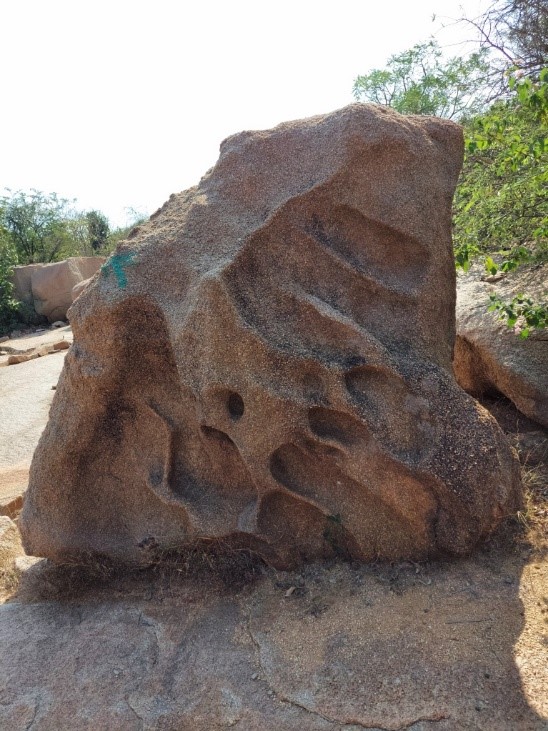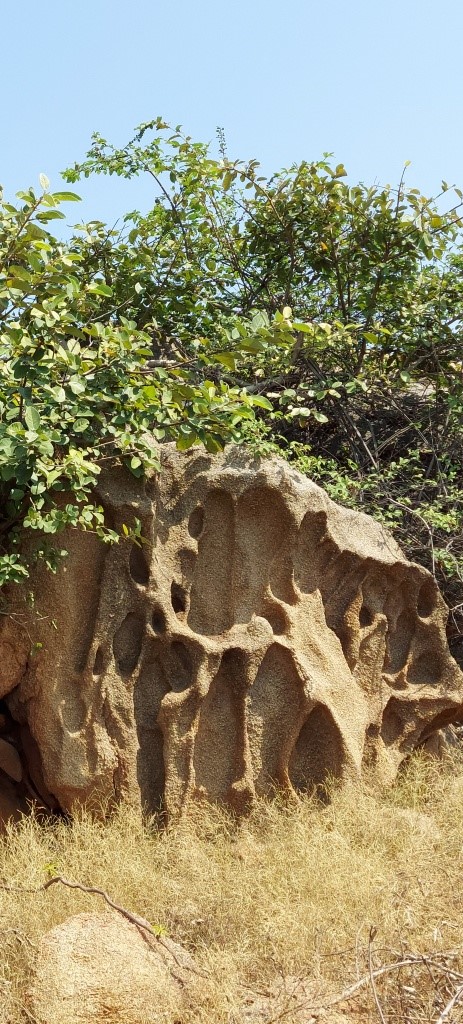 These rocks look like they have been eroded by the flow of water. But surprisingly, there is no flowing water system anywhere near these rocks in order to affect erosion. I found this really mysterious. One more curious thing that I noticed is, throughout the hill, there are mysterious white lines along the rocks, which look like some sort of filling. What's interesting is, almost always, the rocks/boulders have broken exactly along those lines. One such filling can be seen below.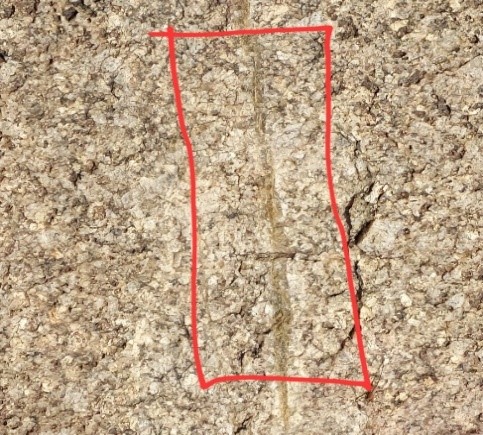 So that was my journey in search of a pre-historic city of the dead. The whole trek took about 2.5 hours and it really helped that I had a local guy to show me around. On my way back, I also read about another pre-historic settlement which is just 4 km from Hampi. This one is comparatively well-known among the locals and it's casually known as just cave paintings, however, the official name is "Onake Kindi".
Onake Kindi:
This place is about 2 km from Chikkarampur Cross on the Gangavati-Huligi road. This land is one of the oldest plateaus on earth with rock formations as old as 3 billion years. The ancient paintings found in settlements give glimpses into how prehistoric people lived. There are hunting scenes, and paintings of ox, bull, deer, and dogs. This early human settlement goes so back in antiquity that, scholars believe that the rock face was painted over and over again by generations of dwellers reflecting the time periods in which they lived. Even in archaeological excavations, the layers of the mounds reveal different time periods and cultures.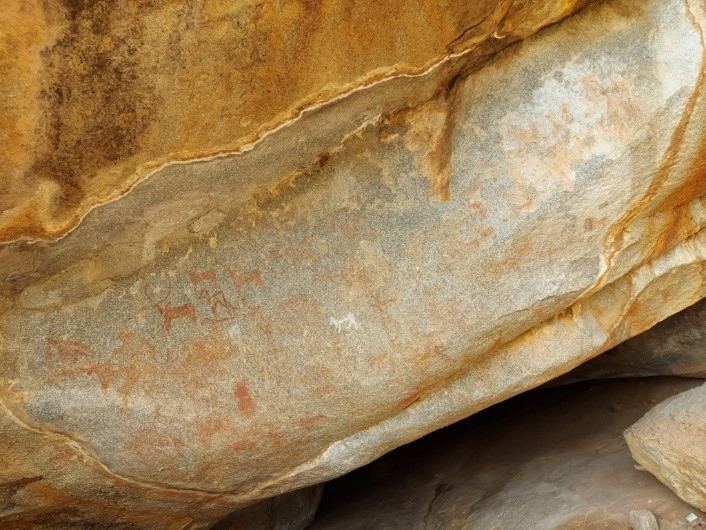 This cave has a picture of a circle on a rock with lotus leaves, crooked lines, twelve small circles on the inside of the circle, and a human figure in the center. This painting is known as "The Stone Age Tomb". However, few claim this to be a sketch of the site plan.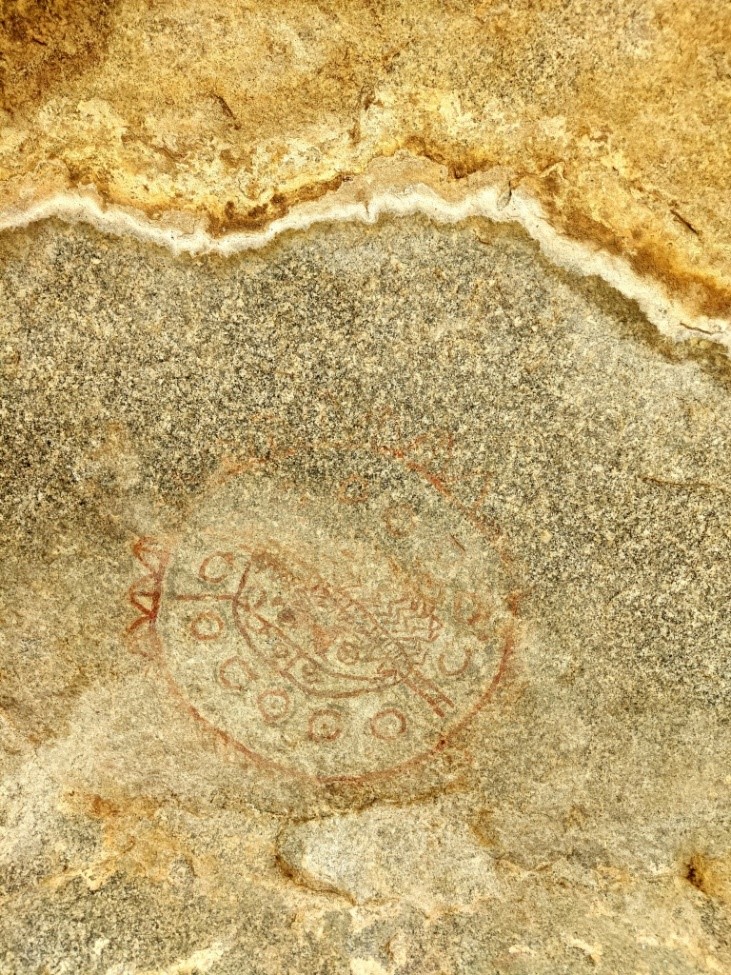 The Stone Age Tomb
There are also a couple of framed paintings of perhaps a man and a woman together. This might be the world's first wedding photo frame! (I have highlighted the features here in this image because much of the paintings have corroded)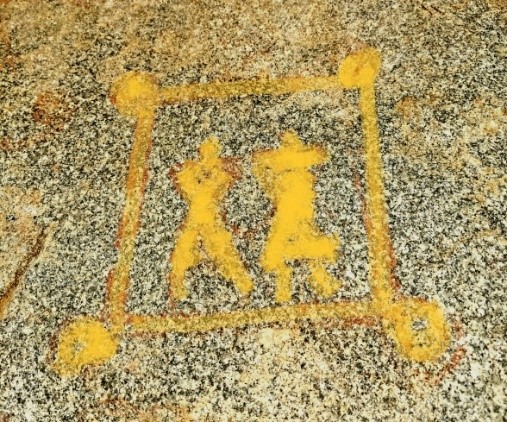 This place has not one but three caves/rock shelters with pre-historic paintings. In one of the innocuous-looking caves, our pre-historic man has painted a hunting expedition with what appears to be a clear depiction of a horse. Take that Aryan Invasion Theory!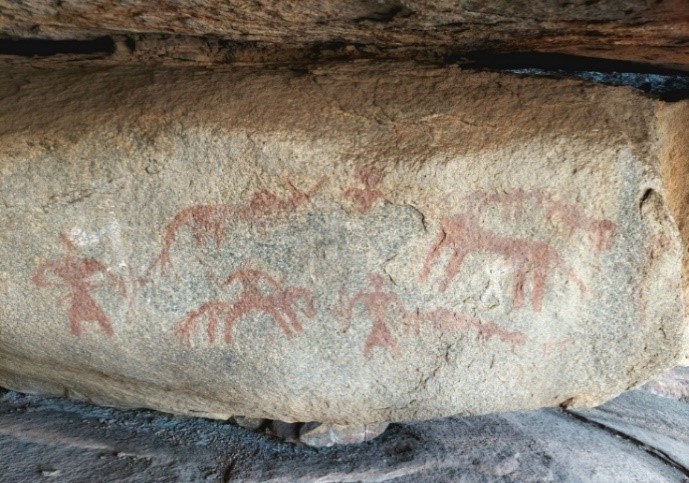 I will end this write-up with an interesting anecdote that I encountered during my visit to Hirebenakal. Recall that the site is called "Moryar Gudda" by the locals because of the dolmens, well that term had a sort of metamorphosis when it reached the folks near Hampi. My rickshaw driver and his associates know this place by the name "Mauryar Gudda" which they have come to understand as "The city of Mauryan Kings"!! This "Morya" to "Maurya" change is not all, a few locals also know this site by the term "Murari Gudda", named after Shri Krishna. I was lucky enough to get Murari's blessings while I was returning back from the site!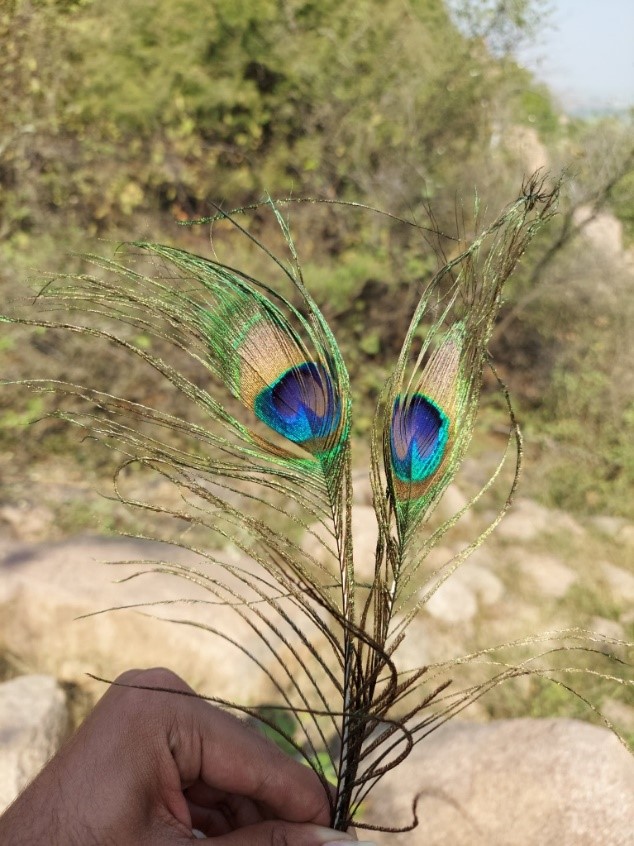 All the images are provided by the author.
Disclaimer: The opinions expressed within this article are the personal opinions of the author. MyIndMakers is not responsible for the accuracy, completeness, suitability, or validity of any information on this article. All information is provided on an as-is basis. The information, facts or opinions appearing in the article do not reflect the views of MyindMakers and it does not assume any responsibility or liability for the same.
Comments