Hypersonic Weapon Systems: Wunderwaffe of the 21st century
Every fifty years or so along comes a new technology that has the potential to completely tip the scales of war. Something that makes very major power worth its name scramble to get a "piece of the action" in a manner of speaking. If the last century saw a rush to acquire tanks and aircrafts followed by missile and nuclear technology, this century has begun with a rush to acquire the next great "Wunderwaffe" namely Hypersonic weapons.
Plainly speaking any object traveling at over 5 times the speed of Sound (Mach 5) can be said to be moving at Hypersonic velocities. In essence every ballistic missile warhead on reentry is a hypersonic projectile. But ballistic missiles are not considered to be true hypersonic weapons as they travel in a predetermined parabolic Ballistic curve where they are vulnerable to interception by missile defense interceptors.
In the current age the predominant military technological superiority of the USA is under threat from the rapid development of Hypersonic weapons not only by China, but by Russia and more recently by North Korea as well. The sheer technological leap China in particular had achieved over the USA in this regard was explained in so many words by General Mark Milley, the chairman of the Joint Chiefs of Staff. On 27th October in a Bloomberg interview, he likened China's suspected tests of a hypersonic weapons system in summer 2021, when it launched a Hypersonic Glide vehicle that circumnavigated the globe before hitting a target in China to a "Sputnik moment," a reference to the Soviet Union's pioneering launch of a satellite in 1957.
Hypersonic weapons as they are understood today are basically of two types. First, we have Hypersonic glide vehicles which are shaped lifting warheads launched into space by a ballistic missile. They are similar to other warheads of regular missile warheads that travel in parabolic arcs. Meaning their position at any point on their path can be predicted and that is not possible to change that trajectory beyond a certain point.
A Hypersonic glide vehicle on the other hand glides through the upper layers of the atmosphere. It can use control surfaces to boost itself out and into the atmosphere numerous times for immensely long distances before finally gliding down at hypersonic speeds through the atmosphere to strike its target.
Hypersonic cruise missiles use Scramjets or Supersonic ramjets. These fly at very high speeds much like regular cruise missiles though for shorter distances than their glider cousins before they hit their targets. Apart from these, there are Hypersonic Air launched ballistic missiles and pseudo ballistic missiles which have a gliding warhead that does not leave the atmosphere. But they fly within the atmosphere unlike true hypersonic gliders.
Hypersonic weapons are extremely difficult to defend against primarily because of their ability to maneuver at extremely high speeds but also because any object traveling at Hypersonic velocities tends to ionize the air around it as it moves creating a sort of plasma cloud due to the immense heat generated as it moves, this plasma acts as a radar absorbing shield making hypersonic weapons nearly invisible to radar. Even then, infrared trackers should still be able to see them.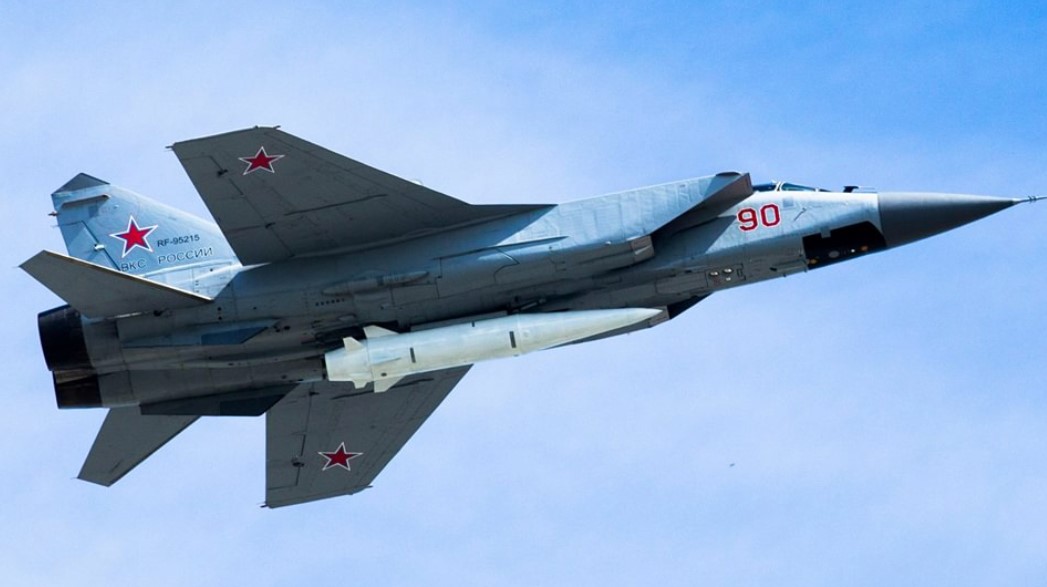 Russian Airforce MIG-31 with Kinzhal Hypersonic missile
Russia has arguably the most advanced hypersonic missile capability currently deployed with the AVANGARD ICBM Hypersonic glider, the KINZHAL air launched hypersonic Ballistic missile & the TSIRKON Hypersonic Cruise missile. The latter is already in service across its ground, air and naval forces respectively.
China has so far apparently deployed the DF-17 hypersonic missile which has a hypersonic glider warhead atop a regular ballistic missile. More ominously China has also displayed prototypes of the LingYun-1 Hypersonic cruise missile. It has apparently also test flown the Starry-skies 2 intercontinental Hypersonic glider numerous times. The starry skies was apparently the craft that was earlier mentioned to have circumnavigated the globe.
The USA is moving ahead with its own hypersonic glider and missile programs and has recently awarded Lockheed Martin contracts for the development of two systems- the Hypersonic Conventional Strike Weapon and AGM-183A Air-launched Rapid Response Weapon.However, the USA has apparently not been able to achieve any major success with Hypersonic platforms yet.
Australia and Japan have also made their intention to develop and deploy Hypersonic weapons public. Australia is working on a propulsion-launched, scramjet-powered, precision strike missile able to reach Mach 5 under the SCIFiRE program. While Japan is currently developing two classes of hypersonic systems- the hypersonic cruise missile or HCM, and the hypervelocity gliding projectile or HVGP with a planned budget of $2 billion.
It would be prudent to add here that due to Chinese and possibly Russian proliferation of Missile technology to North Korea, the DPRK has in the past few days tested a Hypersonic missile which achieved a top speed of Mach 10 and a range of 700km. Pakistan, the other beneficiary of Chinese missile proliferation has apparently started its own hypersonic missile project under the name P282.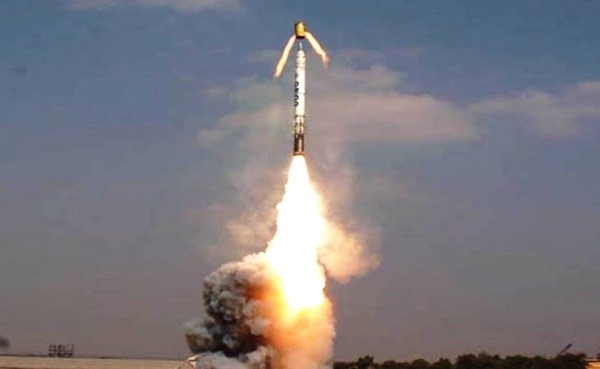 Shaurya missile- India's only operational Hypersonic weapon system
India became one of the three nations apart from Russia and China to have a declared deployment of hypersonic weapons with the induction of the SHAURYA into the SFC in October 2020. The Shaurya missile uses a two stage rocket to launch its warhead to 50km altitude at a velocity of over 7.5Mach. The warhead then follows a pseudo ballistic flightpath and actually behaves much like a hypersonic glide vehicle gliding onto its target at Hypersonic velocities.
Apart from the Shaurya missiles, India has at least four other Hypersonic weapon development programs underway and at various stages of development. First, amongst these is the HSTDV.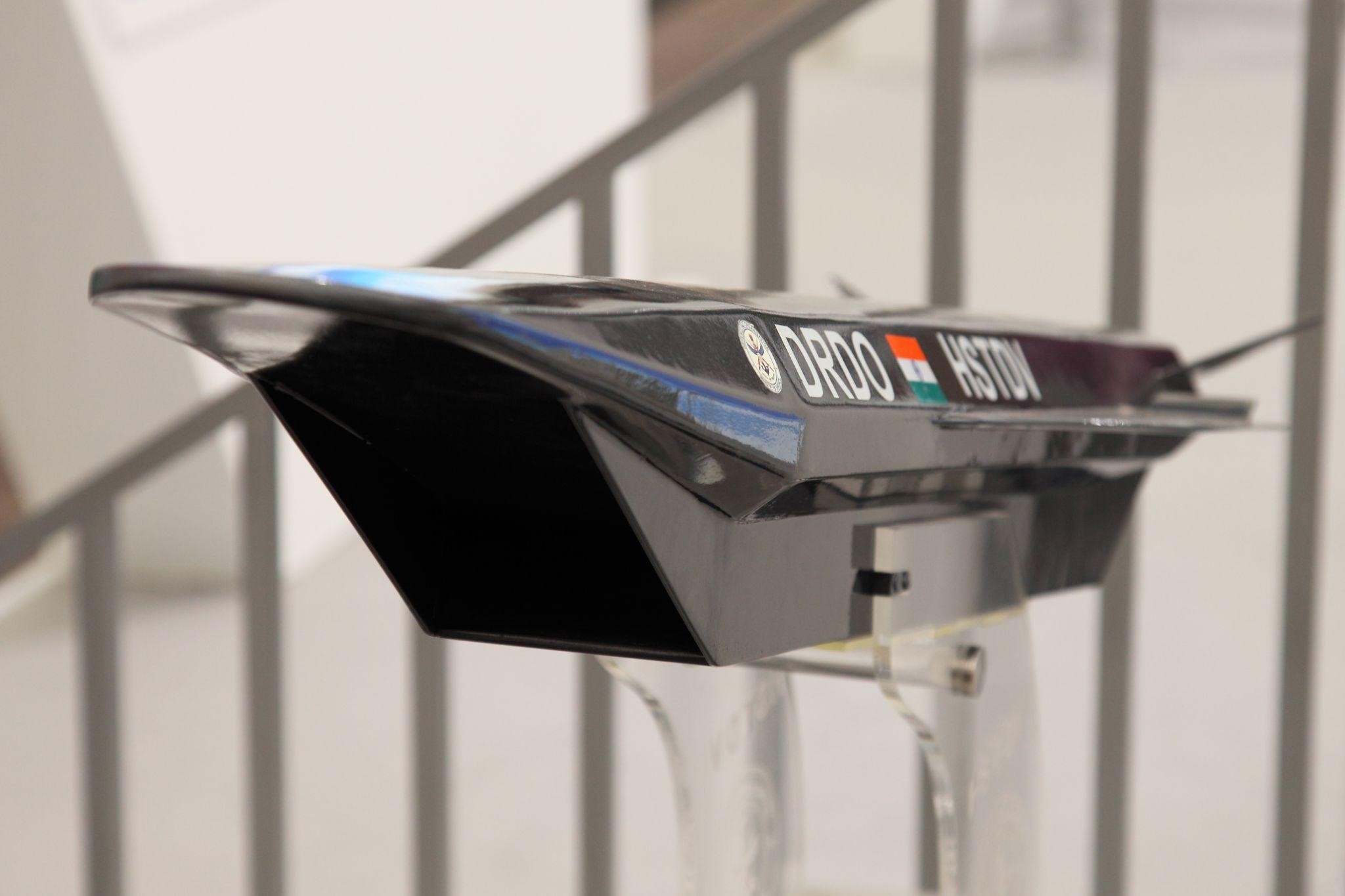 HSTDV Hypersonic air breathing technology demonstrator from India
India has been testing the HSTDV as a technology demonstrator and using it to fine tune critical technologies. During a test in 2020, the HSTDV was launched using the first stage of an Agni -1 missile which took it to an altitude of 30km where the missile ignited. Its scramjet engine accelerated to Mach 6 maintaining altitude and speed for 24 seconds achieving all operational parameters. The HSTDV project has achieved all operational requirements. It has now moved on to a strategic long-range Scramjet powered Hypersonic cruise missile with the first prototype slated to fly no earlier than 2025.
The second Hypersonic project under development in India is the Brahmos 2 project. It is being pursued as part of the Brahmos Corporation JV with Russia to develop an Air Breathing scramjet powered cruise missile with a 1000km range and a top speed of Mach 7-8. There have been suggestions in media that the Russian TSIRKON missile technology will likely be repurposed for the Brahmos 2 project by NPO Mashinostroyenia which is the Russian Partner for the Brahmos project.
Apart from these, DRDO is also developing the RUDRAM-3 which has been rumored to be a Hypersonic Air launched ballistic missile not unlike the Russian Kinzhal. The details on the Rudram-3 remain under wraps.
The fourth Hypersonic weapon development in India happens to be a Hypersonic glider called the HGV202F which is being developed by a startup called HTNP industries. Not much is known about the HGV202F apart from it being developed to have a range of over 5500km & a velocity of Mach 20. HTNP industries presented a mockup of the HGV 202F at Aero India 2021 as well.
The development of Hypersonic projectiles is merely a reaction to the development of integrated ballistic Missile defense systems that defense against traditional ballistic missiles a plausible possibility. In fact, even as Hypersonic weapons are developed, several nations are developing directed energy weapons and Hypersonic interceptors to defend against them as well. At the same time, there is a talk of developing a Hypersonic technology denial regime on the lines of the MTCR to ensure that Hypersonic missile technology does not spread to nations that have not already developed such systems.
The development of Hypersonic systems should be pursued in earnest as a national imperative to ensure that India remains at the crest of this wave and acquires a seat for itself at this high table whenever such a regime is created.
All the images are provided by the author.
Disclaimer: The opinions expressed within this article are the personal opinions of the author. MyIndMakers is not responsible for the accuracy, completeness, suitability, or validity of any information on this article. All information is provided on an as-is basis. The information, facts or opinions appearing in the article do not reflect the views of MyindMakers and it does not assume any responsibility or liability for the same.
Comments