How to Become a "Zero-Waste -Village"? A case study of Khanderaopura Village
A "zero-waste village" (ZWV) essentially involves processing solid and liquid waste of the village in a scientific, technology-assisted manner, and turning the processed water and other waste as economic products for more sustainable agricultural practices.
Water scarcity is a major challenge and climate change is making this challenge even more acute in India. The process by which decentralized villages and small towns, especially in rural and para-urban communities, achieve the ZWV outcome is thus of relevance for sustainable development.
This article presents a case study of how Khanderaopura Village in India's Gujarat State achieved a ZWV goal. Key steps in the process of attaining the ZWV goal be the village are identified. This could facilitate faster diffusion to other villages.
Background and the Context
Khanderaopura Village is a part of Dabhasa Gram Panchayat in the Padra taluka of Vadodra District of the Gujarat State. Its population comprises 185 families, about 1500 persons.
The village and its surrounding areas primarily grow a variety of vegetables. These have ready market throughout the year. The challenge is to increase productivity and yield in harmony with nature to enhance sustainability; and to realize higher share of value from the value-chain for their products
The proximate turning point for the decision to embark on a process of achieving the ZWV goal by the village leadership was the outbreak of cholera in 2016 due to the contamination of the water pipeline with the drainage line, and prevalence of vector borne diseases. Adverse consequences of these were compounded by poor sanitation and bath facilities within the households.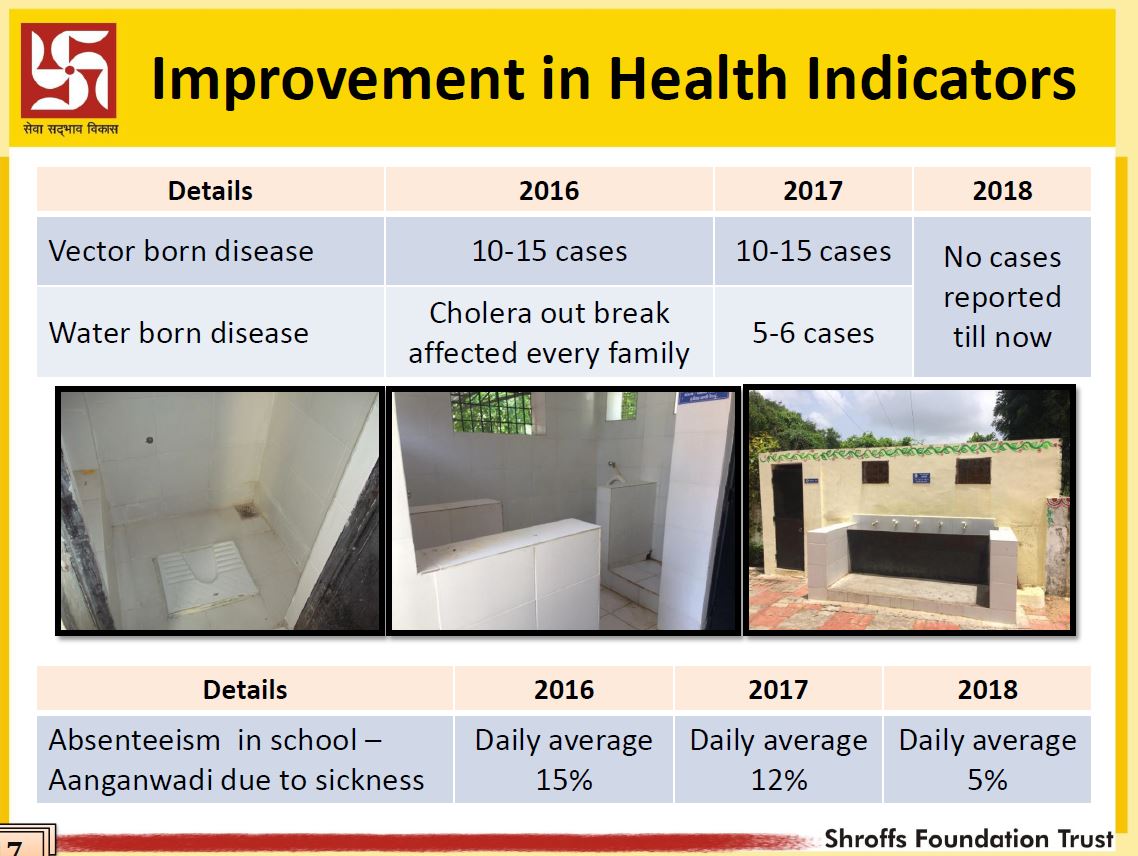 The Process
Achieving the ZWV goal is not a one-time event but a process which is context-specific. In the Khanderaopura village, the process of achieving the ZWV goal took about twenty-six months, from April 2016 to June 2018.
As part of the process, the village achieved ODF (Open Defecation Free) status, with 100 percent of families, and public amenities such as school, having functioning toilets which are used and regularly maintained. Most families also have separate room for taking a bath.
The village has used existing government administrative procedures and structures in the process of reaching the ZWV goal. This is important as it suggests that others can achieve such an outcome without significant reform in existing government administration procedures and governance structures. Reforms in these areas however could shorten time needed to achieve ZWV goal.
Various stages of the process by which the Khanderaopura village achieved the ZWV outcome are briefly explained below.
Need Recognition, Building Consensus
The village leadership and community recognized that changes were needed if the village is to improve its sanitation and hygiene, and overcome negative perceptions about its quality of living.
The village has been fortunate in having reform-minded, progressive, and committed leadership, who has the credibility with the community. In the literature, it is recognized that 'reform champion(s)' from within the community play a critical role if the community is to take ownership of the process, and then to sustain it.
Need recognition and building consensus are among the most crucial aspects of the process, as without them, subsequent steps cannot be effective. Local leadership matters, and an environment needs to be created in which competent and committed leadership at that level can have incentives to contribute to the community.
The Village leadership recognized that the community lacks technical knowledge and resources to undertake the changes needed. It therefore invited the Shroffs Foundation Trust (SFT) as a partner.
The SFT has been actively working on natural resource management, health, and vocational skills development in Gujarat since 1986, with proven record of effectiveness. It has established a good network of resource persons in these areas. These include industry and business supporters, technology partners, accounting and management firms, and the government officials. It is headquartered in Vadodara.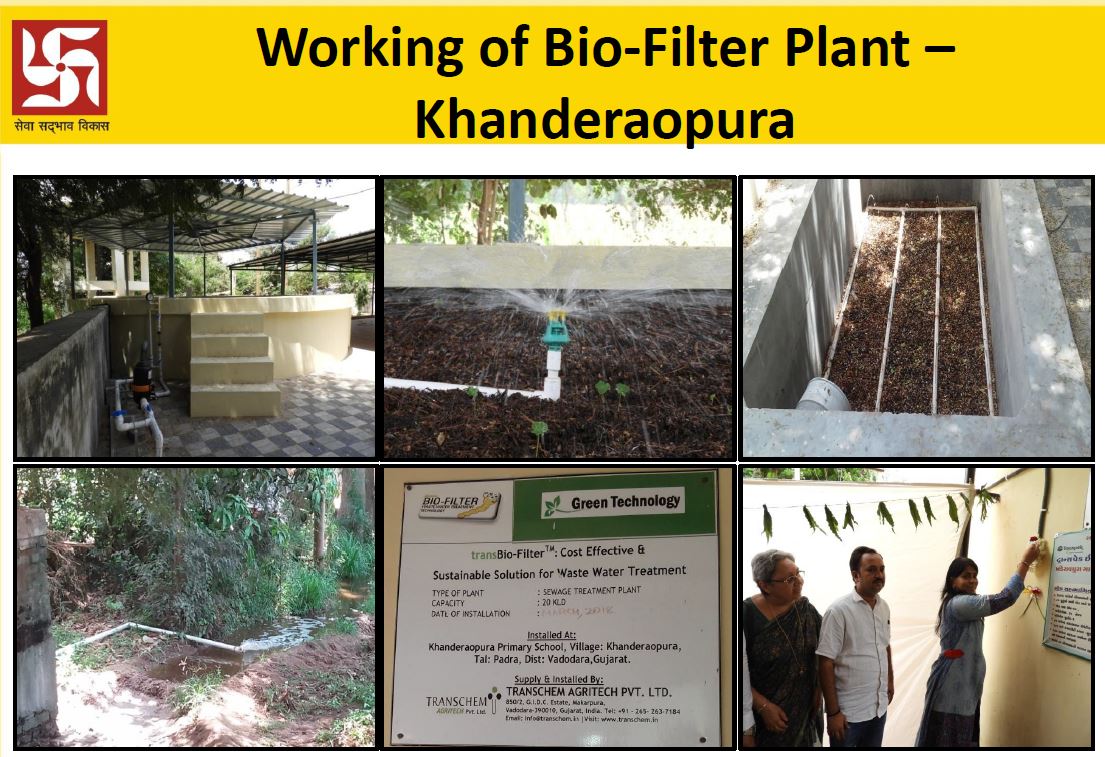 The SFT's operating method of the community taking ownership of the initiatives, its sound understanding of the development process rooted in local conditions, and its practice of requiring co-contributions from the beneficiaries, have been shown to mitigate the dependency syndrome so common in development projects.
Recognition by the community leaders that they needed a competent and committed partner with proven record of obtaining desired impact and outcomes was another important part of the process.
The SFT' Role: Its role has been as a catalyst, enabler, and as an agency which ensures that sound management and governance practices are established and become institutionalized.
This is another key aspect of the process that organizations such as the SFT are present in the local areas, and are given the responsibility for partnering with the community to achieve the desired goals. A robust network of such citizen groups, professionally managed, is essential for urban and rural bodies to achieve desired goals on a decentralized basis.
The SFT met with Panchayat officials, village leaders and community to assess needs and build consensus. It undertook the village mapping, and undertook technical feasibility assessment. It persuaded an industry organization in Vadodra to utilize its CSR (corporate Social Responsibility) funds, which are mandatory, towards attaining ZWV outcome for the Khanderaopura village.
It also persuaded technology partners to become part of the project to provide appropriate technology solutions. Thus, knowledge and technology have been an integral part of the process.
The SFT has been able to leverage the SWACCH BHARAT (clean Bharat) program of the Union government which began in October 2014. Its aim is to achieve universal sanitation coverage by 2019. (http://swachhbharatmission.gov.in/SBMCMS/about-us.htm)
The SFT has continued its role, even after the ZWV goal has been attained, with the aim of the village community taking on progressively greater financial, administrative, and operations and maintenance responsibilities
The need recognition and consensus building were the most time- consuming part of the process. It took nearly 16 out of 26 months. This was a pioneering exercise and that may help explain in part the long time period for this phase. As ZWV concept gets diffused, and success of Khanderaopura village becomes better known, this part of the process may take a shorter time. The rest of the process stages were accomplished relatively quickly.
Management of Household Waste
This stage involved sensitizing the households of the importace of personal and public hygiene. Household sanitary facilities, including bathrooms were constructed, with some co-contribution by the beneficiary households. This improved hygiene around the households, and enabled waste water recycling.
Each household was provided separate dustbins for dry and wet waste collection, thus separating organic from inorganic waste. Again, co-contributions by each household was sought and complied with.
The Panchayat has instituted door- to- door collection of segregated household waste. It has also arranged for inorganic waste, such as plastic, to be processed by contracting-out the function.
Each household pays a monthly sum for waste collection and for water. These charges are levied by the Village Swachhata Committee, whose members are from the community. The Committee has a bank account which it operates.
This makes levying of charges easier, and peer pressure can be brought to bring about for compliance with the Committee's rules and regulations. It therefore addresses unwillingness by government organizations to charge for the basic services provided.
There is evidence that willingness to pay of households for services benefitting them often exceeds willingness to charge for such services by the government organizations in India.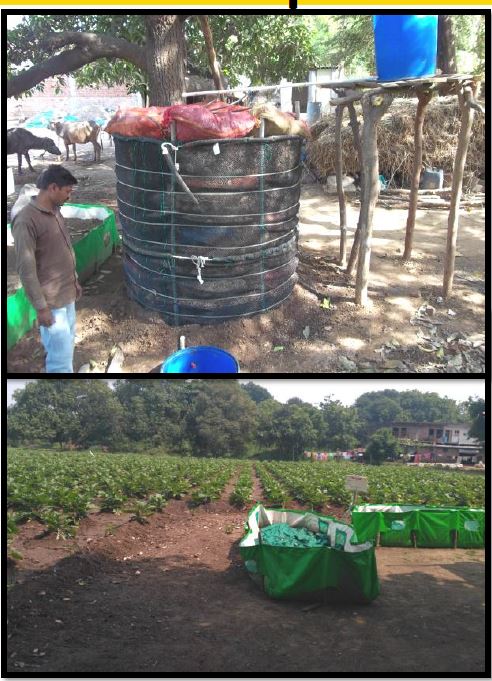 Community Waste Management
A critical first step was to repair the drainage systems which were poorly functioning. The funds were obtained from existing Panchayat institutions.
The safe water facilities for drinking were set up in cooperation with the state agency.
Another important measure was recycling of grey water so it does not pollute the surrounding environment.
A Trans Bio-Filter was installed, whose technology has been indigenously developed by the technology partners. It requires minimum electricity, and maintenance. Indeed, persons from the local community have been taught the maintenance tasks., The local community will progressively share the maintenance costs.
Trans Bio-Filter is an innovative technology that harnesses the energy, carbon and other elements of wastewater and converts it to "Bio-nutritional" products, Bio-Fertilizer and nutrient rich water with the use of hybrid earthworms, and organic and inorganic media. No unhygienic sludge disposal is required as all solids are converted to vermin-compost
The Project Cost and Its Financing
The total project cost, both capital and non-capital, has been estimated at INR 5 million (about USD seventy-two thousand). This does not include opportunity cost of volunteer work contributed by the stakeholders.
The above suggests that for a relatively small expenditure, a significant improvement in the quality of living, and in meeting aspiration can be achieved, while contributing to sustainable and high-quality agricultural production in a decentralized manner with community participation.
This cost has been met from CSR funds (about 70 percent), Panchayat Institutions (23 percent), community cost recovery charges (5 percent), and voluntary donations (1 percent).
Involvement of socially conscious and committed industrial and business firms who can provide funding and technology is essential when planning the ZWV goal.
The importance of funds from Panchayat Institutions involves leadership and understanding of how finances flow through relevant administrative structures. This is an essential skill for success of such projects.
Often, it is the capacity to spend funds effectively to obtain desired outcomes by rural and urban bodies that is the primary constraint, and not the availability of government funds.
The cost-recovery, co-contribution share in project cost is relatively small, but qualitatively and from changing behavior perspective, quite significant. The SFT has structured the project in such a way that the overtime the village community predominantly meets the operating and maintenance costs, and takes responsibility for them.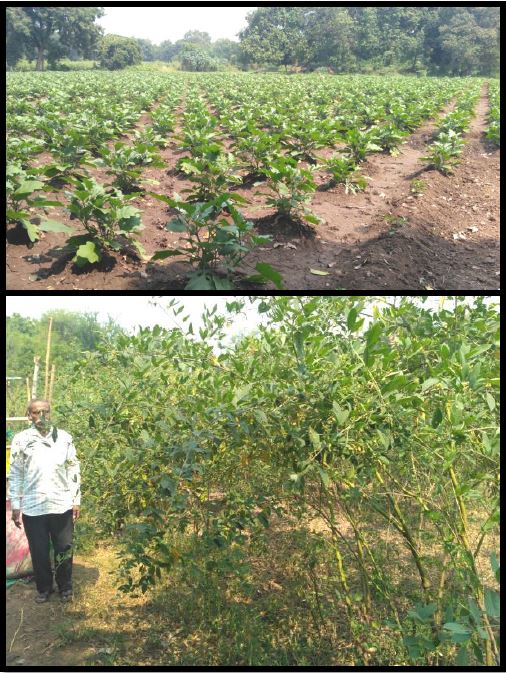 Social, Economic and Environmental Benefits
The process of obtaining the ZWV position has several tangible and intangible benefits for the village community and to other stakeholders. These are inter-linked.
The environment benefits of the ZWV process have been cleaner surroundings in the village due to the arrangements for solid and liquid waste managements in place, and regular cleaning of roads in the Village. These in turn have brought about significant social benefits, especially in terms of health and wellness status.
Thus, field studies by the SFT suggest that for both vector-born, and water-born diseases, no cases have been reported in 2018. But in 2016, before the ZWV process was fully underway, almost every family in the Village reported incidence of Cholera.
The SFT field studies also suggest that the absentee rate (daily average) in the Village School and in Aanganwadi due to sickness has been reduced from 15 percent in 2016 to 5 percent in 2018.
It is suggested that the SFT consider constructing appropriate indicators of malnutrition in the Village and track them. India has addressed food availability challenge, but a new challenge is to enhance nutritional content of the food produced and consumed. The SFT can then apply these indicators to other villages where they are operating.
The above impressive social benefits also have implications for household budget. Reduced expenditure on health care improves discretionary income of the households. Better attendance at school, with grater probability of ability to learn due to better health, would assist in improving skills and employability.
The above suggests that rapid improvements in many social indicators are attainable in a short time if the projects are designed and implemented well, and there is constructive partnership.
Another major environment benefit of the ZWV process, which translates into greater economic viability of vegetable growing for the Village producers, is the much-improved quality and sustainability of land, water, and other natural resources for vegetable production, the primary crop in the Khanderaopura village. The ZWV process has considerably reduced the usage of seeds, chemical-based fertilizers, and of pesticides by the Village producers.
Indeed, the Village leaders expect that by end 2019, they will be able to qualify for formal certification of being an Organic Village. This would require the Village to continue to practice environmentally sound sustainable agricultural practices.
Formal recognition as an Organic Village would also increase economic viability of vegetable production. This is because such vegetables generally fetch higher unit price in the market. Combined with reduced need of water and other inputs, and higher yields, incomes of the producers would increase significantly.
The ZWV process has also led to increases in income of the producers in other ways. It is this combination of income from crops and other farm incomes that is essential to realize the aim of making agriculture activities economically viable.
Village producers and families are able to earn significant additional income from conversion of farm waste. The main methods for such conversion include turning farm yard manure into vermicompost; producing vermicompost directly; and Vermiwash, a liquid that is collected after the passage of water through a column of worm action and is very useful as a foliar spray. It is a collection of excretory products and mucus secretion of earthworms along with micronutrients from the soil organic molecules.
These have ready markets in the Village and in surrounding areas. Such local commercial linkages also help spread awareness and diffuse good practices.
A group of women in the village have undertaken production of Amrutpani and Brahmastra, which act as bio-fertilizers and pesticides. These have ready market locally. This is made possible due to time and energy saved by women in securing water, using sanitation and bath facilities within the household, and cooking gas, LPG, through the Central government's Ujjwala Yojna. (http://www.pmujjwalayojana.com/)
A research on the extent to which agricultural producers (individually and as a group) have been able to reduce input costs; obtain higher yield, and fetch higher per unit price over a period would assist in further finetuning the ZWV process.
Improved Local Public Finances
The process of obtaining the ZWV position is likely to improve local public finances. First, the practice of willingness to pay and willingness to charge for sanitation structures, for waste management on an on-going basis, and for water is established. This reduces the need for budgetary support, and for non-government funds.
This is of particular relevance in undertaking operations and maintenance of the water and sanitation structures as these are usually neglected in many projects. Regular maintenance also imrove the efficiency of assets and make them last longer, reducing future capital costs.
As the Swacchata Committee of the Village decides on the charges, there is an established process for high degree of compliance in paying these charges, and in adjusting them. Such flexibility helps in managing local public finances in a sustained manner.
Second, treated water through Bio-Filter plant generates about 20,000 liters (soon to be increased) of highly nutrient water for agriculture. Using existing irrigation facilities, the treated water is priced. The Swacchata Committee has set the charges at per hour of treated water supplied to the agricultural producer. This is a rough and readily understood and accepted method of water pricing.
Revenue from this source also increases locally generated revenue, which they can use according to local priorities.
It is suggested that the village consider setting up a sinking fund type arrangement under which each year a certain amount, decided by the Village leadership and community, is set aside, and accumulated. Contribution from the increased incomes generated from the ZWV process to the agricultural producers should also be considered for contribution to such a sinking fund.
These funds can be used to partly meet any unforeseen contingencies and to replace and upgrade the village facilities and amenities, such as the local school. Asset and amenity replacement costs are usually much higher than anticipated. Such an arrangement will put the public finances of the Village on a sounder footing.
Intangible Benefits: The intangible benefits to the village community arise primarily from the renewed confidence among the Village community that they can collectively, with appropriate partnerships, attain difficult targets to improve their everyday lives, and help meet aspirations of the family and the community.
This confidence and the generation of trust as social capital augurs well for the future of the Village continuity. It is the establishment of such resilient communities that is the essence of decentralized context-specific broad-based development.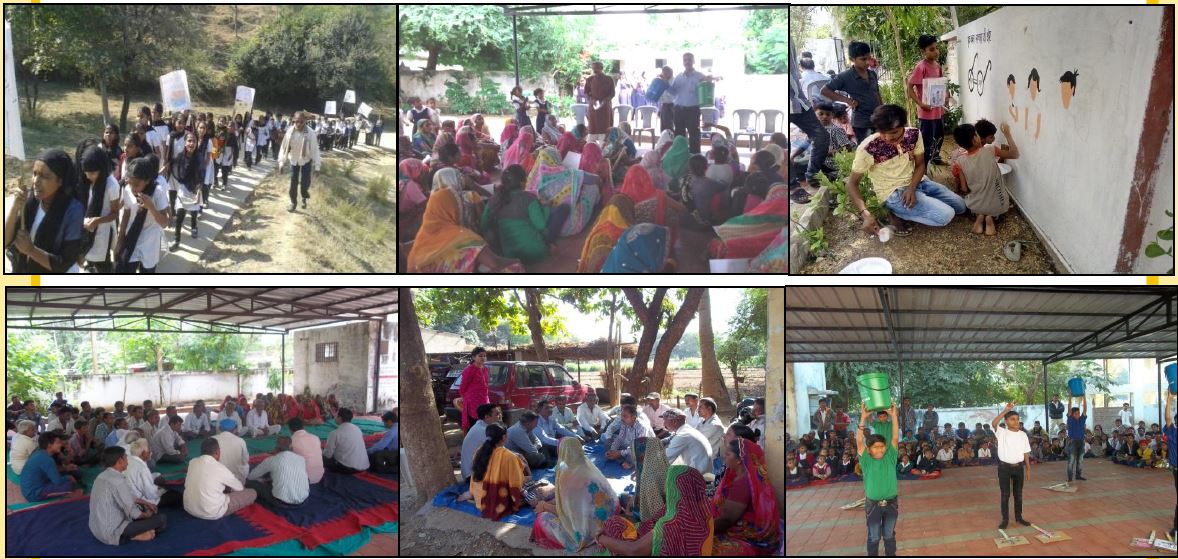 Concluding Remarks
The above analysis strongly suggests that by selecting right set of initiatives, and implementing them with competence and integrity to obtain desired goals, Khanderaopura village has in a relatively short period of about two years become a "Zero-Waste-Village".
Its experience has several implications for sustainable development, improving incomes of agriculture households, pricing water rationally, local public finances, improving health and wellness status of the households, and channeling the energies of the community towards improving quality of everyday living, and in preparing to meet aspirations of the community members, i.e. improving quality of life. It also suggests that appropriate local technology could address some of India's agricultural challenges in an affordable way, while creating a pool of technical persons from the community.
This process requires coordination and cooperation of among many stakeholders, including social enterprise\civil society as a catalyst and a partner nudging the community towards effective outcomes; village leadership and community participation; willingness to undergo behavioral change; government organizations at higher than the village level, particular district level officials; and businesses who recognize the value of such efforts, and extend financial and technology and other support. CSR funds could be better utilized by firms for helping to attain the goals such as the ZWV.
The challenges are to sustain the focus of community leadership and consensus within the community; improving local capacities to assume more and more financial, and operational responsibilities; setting up accountable and transparent organizational and institutional structure; and further behavioral change to use natural resources, such as water, and human and natural waste to create wealth and promote sustainable agricultural practices. Sustaining community harmony and trust will also continue to be a challenge.
The process of adapting and diffusing the processes followed by the Khanderaopura village to other neighboring villages and beyond to suit their contexts has begun. This is an encouraging sign as such adaptation and diffusion could help create a much larger impact, and help achieve sufficient economies of scale to move towards agro-industries in these areas, deepening and broadening economic linkages among local communities.
Disclaimer: The opinions expressed within this article are the personal opinions of the author. MyIndMakers is not responsible for the accuracy, completeness, suitability, or validity of any information on this article. All information is provided on an as-is basis. The information, facts or opinions appearing in the article do not reflect the views of MyindMakers and it does not assume any responsibility or liability for the same.
Comments