How Does Galwan Valley Clash Influence The India-China Ties?
Couple of weeks ago the border standoff between India & China exploded and we have had a brutal conflict at one of those places at the Galwan River Valley. As things stand today, we had official reports stating 20 Indian soldiers (including 1 Colonel) were killed. This was in addition to reports that many Chinese soldiers were also dead and/or injured in the same conflict.
The details of the conflict are still emerging and it is hard for us to analyze the happenings right away without the complete information. We however want to analyze why the conflict happened in the first place and how this was a disaster in the making for all these years.
Rules based engagement at the Line of Actual Control
India China relations witnessed an upswing from the visit of the then Indian Prime Minister Rajiv Gandhi to Beijing in December of 1988. Many low hanging fruits were earmarked as Confidence Building Measures which were taken in due course of time. One such was the 1996 Agreement on Confidence Building Measures in the Military Field Along the Line of Actual Control in the India-China Border Areas. Article IV is of special interest to us. It began by saying that "With a view to preventing dangerous military activities along the line of actual control in the India-China border areas, the two sides agree as follows:".
In where Clause (1) states "Neither side shall open fire, cause bio-degradation, use hazardous chemicals, conduct blast operations or hunt with guns or explosives within two kilometers from the line of actual control. This prohibition shall not apply to routine firing activities in small arms firing ranges".
So technically, it was right that the Indian soldiers did not open fire although they carried arms with them.
However, Clause (4) states "If the border personnel of the two sides come in a face-to-face situation due to differences on the alignment of the line of actual control or any other reason, they shall exercise self-restraint and take all necessary steps to avoid an escalation of the situation. Both sides shall also enter into immediate consultations through diplomatic and/or other available channels to review the situation and prevent any escalation of tension."
Over the years, this imposition of self-restraint led to pushing, fisticuffs, etc.
This clause then was superseded by the 2005 and 2013 agreements in which the corresponding articles stated that if the two sides came to a face-to-face situation, both sides "shall exercise self-restraint and take all necessary steps to avoid an escalation of the situation", adding that "Throughout the face-to-face situation, neither side shall use force or threaten to use force against the other".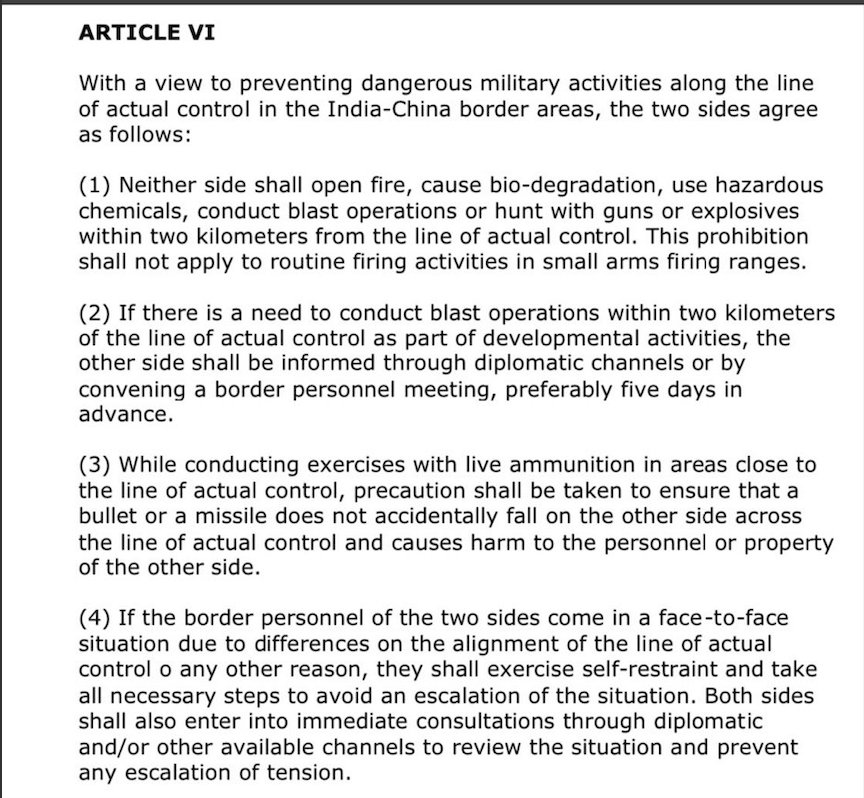 If you have been our regular listener, you will know that we have been saying often that the situation at the LAC is always vulnerable to be misused / overlooked by an angry soldier. The peace maintained at the line was never going to be permanent. So, what happened on June 15th is worth having one brief look.
On June 16th, there was an official Indian statement initially that 1 Commanding Officer and 2 jawans were killed in a violent face-off with the Chinese soldiers. Later in the night, there was an additional statement which said that there were 20 soldiers in total (including the 3 mentioned earlier in the day) who were killed in action. These statements also indicated that there were an unknown number of casualties on the Chinese side as well indicating a violent and brutal faceoff.
Be that as it may, 2 things that we had mentioned earlier continue to remain valid even now looking at all the satellite images. 1. No crossing of LAC by Chinese troops 2. Chinese didn't bring 10K troops as claimed by some alarmists.
What was the official Indian reaction?
Now, it becomes imperative that we try to understand how PM Narendra Modi explained the whole situation to both the people and also to the other politicians in the All Party Meeting. He said that 20 of our brave soldiers had made the supreme sacrifice in Ladakh but also taught a lesson to those who dared to look towards our motherland and added that the sacrifice of soldiers wouldn't go in vain. He also said "Neither is anyone inside our territory nor is any of our post captured". This ruffled a lot of feathers. Questions like if no one came inside our territory, why did our soldiers die? Are the satellite images lying that the Chinese are firmly established at Finger 4 when our claim line is at Finger 8 at Pangong Tso. When the Prime Minister is saying no one is in our territory, is he telling only the half truth about Galwan and hiding the facts about Pangong Tso? In a way, this was very unusual coming from the Prime Minister himself who is known to be very eloquent with his words. His statements actually raised more questions than answering especially at a time when national security was being discussed in minute detail.
The clarifications came the next day and surprisingly said that mischievous interpretation was given to remarks of the Prime Minister. In this clarification, it was reiterated that the PM's remarks were focused on the events of June 15th at Galwan.
PM's statement will be dissected more and more simply because three days prior to that the MEA had released a statement about Minister Jaishankar' s phone call with Foreign Minister of China Wang Yi. The statement, while making a reference to the de-escalation and disengagement along the Line of Actual Control (LAC), elaborated how the Chinese had walked back on their words. The statement continued, "While there was some progress, the Chinese side sought to erect a structure in Galwan valley on our side of the LAC. While this became a source of dispute, the Chinese side took premeditated and planned action that was directly responsible for the resulting violence and casualties. It reflected an intent to change the facts on ground in violation of all our agreements to not change the status quo."
How Did the Chinese Respond?
A few days later, the Chinese issued a statement saying that the Indians provoked the clash. The spokesperson said "India's border troops under the guise of darkness, trespassed into China's territory and provoked the incident. China's troops had to take necessary measures to strengthen their response and their management of the border areas." He also added, "In the evening of June 15, India's frontline troops went against the agreement reached at the Commander-level meeting, crossed the LAC and sabotaged the tents Chinese side set up."
How to make sense of all the varied reports of clashes?
For India it would not be acceptable to have the loss of territorial jurisdiction or make concessions in claim lines. As a democracy, audience cost makes it more difficult for India to agree to a negotiated settlement that can be even remotely interpreted as 'concessionary'. Already, Prime Minister Modi's assertion that there are no outsiders on Indian Territory nor any border post has been captured by foreign forces has been interpreted as an instance of Modi's willingness to pay a political price to avoid further escalation.
This interpretation can be contested. A careful examination of the timeline of events and detailed media accounts of the Galwan clash (read reports from Shiv Aroor and Manu Pubby report) indicate that India may have crossed over to the Chinese side of the LAC, and Modi's statement might have been intended towards giving China a face-saver and ensuring de-escalation at LAC.
He Xiangqi, deputy director general of boundary and ocean affairs, said that China did not suffer heavy casualties in the deadly brawl and has also chosen not to reveal the number thinking that a comparison could stir up hostility.
She told diplomats who had met her "Exact casualties were not publicized as China did not want the media to play it up. Now was the time for both sides to find ways to de-escalate the situation and restore stability. Comparisons may trigger antagonism on both sides, which is not helpful".
Military & Strategic Angle
What has been the trajectory of strained India-China relations influenced by the border issue?
Starting from the 1950's relations between India and China have remained strained due to deep mistrust of each other including the wounds of the 1962 war. There had been a slow but steady warming in the ties between India and China for the past few decades since the historic visit of then PM Rajiv Gandhi to Beijing in December 1988. Multiple different CBM's (Confidence Building Measures) in 1988, 1993, 1996, 2005 & 2013, combined with cooperation on common issues like climate change, more diplomatic engagement, increase in bilateral trade etc. injected more positivity in the relationship. While this didn't bring the relationship back to the level of the "Hindi Cheeni Bhai Bhai" heyday of the early 1950's it was at a much better state than in the tumultuous 1960s. This border skirmish has now virtually extinguished any remote possibility of full rapprochement between these two Asian giants for now.
The CBM's were instituted to maintain what was referred to as "peace and tranquility" at the border which was very violently breached on the evening of June 15, 2020. As we had said just a few weeks ago (in our last podcast Episode 26 India China standoff) that "The current agreements to manage the border don't seem to be working when they were drawn up years ago. A new modus vivendi will have to be reached otherwise these events will keep happening".
One doesn't know that Chinese side has fully grasped the full enormity of these bloody border clashes as seen by the piece in Global Times where Chinese experts have forecasted a "soft landing" for India-China relations. While the Chinese state media puts out bizarre op-eds very frequently this has to be ranked as one of the biggest headscratchers from the Chinese state-run media in quite some time.
What is the history of Chinese behavior during times of internal crises in the past?
Historically China has always upped the pressure on its neighbors during times of internal crisis. One has to remember that the 1962 India-China war after the disastrous Great Leap Forward and the 1979 Vietnam-China war came after the tumultuous Cultural Revolution. The state run media curiously after the 2020 skirmish has tried to downplay the incident. This has led some to believe that this is more for projecting power vis a vis its neighbors with whom China shares an adversarial relationship. The assumption here is that this doesn't seem to be for domestic consumption (to distract them from the pandemic crisis) as otherwise there would have been a flurry of over the top vitriol being published against India across multiple state run media organizations.
How do the Chinese deal with disputes with their neighbors? Is there a Method of Operation?
The Chinese M.O (Method of Operation) has been to ratchet up the pressure to enormous levels on the adversary where he thinks that China will crush them. The goal is to create doubt in the enemy's mind about their own capabilities while over projecting Chinese capabilities simultaneously. The end goal is to create a "fear psychosis" in the enemy's mind who would then think that the only recourse is to give up some "concessions" to maintain peace with China.
Tanvi Madan Senior fellow at Brookings Institution wrote "In 1967, as Chinese and Indian troops skirmished in Sikkim, Deputy Prime Minister Morarji Desai was asked on American TV about Beijing's behaviour. He said, "They are mainly angry… that we are not submitting to their pressures and their bullying… They would like us to fall in line with their strategy… of dominating Asia and, ultimately, the world, as I see it."
For the Chinese, what are the possible motivations for the current standoff?
Saurav Jha (Chief Editor of Delhi Defence Review) argues that the "ongoing intrusions are a result of a belief that this is the appropriate time for China to secure its Himalayan flank. Owing to the PLAGF's (People Liberation Army Ground Force) recent modernization, even as the IA is still in the process of the same, and the near completion of border works on the Tibetan Plateau even as India's own infrastructure development is still a work in progress, the Chinese would be forgiven for concluding that they hold certain advantages over India. Advantages that may get eroded over the next decade as China's own internal situation deteriorates and India recovers from the pandemic-induced shock. So, the Chinese strategy is simply to consolidate its own offensive potential across the Himalayas while denying the same to the Indian side as far as possible."
He further adds that "However, the PLAGF's 'activism' ultimately stems from China's perception that a pandemic-ridden 2020 is the best time for it to buy another 'thirty years of peace' to quote Mao Zedong's justification for the 1962 war which happened in the midst of the disastrous 'Great Leap Forward'."
China would want to ask part of any de-escalation step to extract a commitment from India to stop work on its border infrastructure work to thus retain its long held "first mover's" advantage in terms of infrastructure connecting to the LAC. China would like to not give up control in areas where they have intruded into while forcing India to accept the fait accompli. India on the other hand is sticking to the assertion that "status quo ante" of April 2020 has to be returned to end this standoff at the border.
China built a highway through Aksai China in the mid 1950's (currently known as G219) to develop better access between Tibet and Xinjiang. The goal during the late 1950's and during the 1962 war was to push Indian forces well to the west of the G219 highway. This was to prevent India from ever interdicting Chinese movement along the G219 highway. During the 1962 war they occupied strategic heights in Ladakh overlooking the G219 highway. Some are speculating that with the increasing ranges and accuracy of artillery and ever-increasing set of surveillance tools, China might be wanting to push India even further to the west.
Future Ramifications of this clash
What are the geopolitical ramifications of this standoff, going forward?
India now faces her biggest strategic and security challenge in many decades. This is way bigger of a crisis than the Uri or Pulwama crisis with Pakistan.
Harsh Pant (director of studies, Observer Research Foundation, New Delhi) wrote "Tragedies such as the one India has had to endure this week often lead to a clarity of vision, a vision that was clouded by the misplaced sense of our ability to manage China."
China would have tried to coerce India to accept Chinese superiority and to not challenge China all along the border. The deaths of soldiers in the process of the skirmish at the border will harden opinion about China among both strategists and the common people. Now the China "doves" in New Delhi are going to be overruled by the China hawks post this incident. Again, Harsh Pant writes "New Delhi will now be even freer to make policy choices, both strategic and economic, which will have a strong anti-China orientation. There will be costs for India. But China's actions have ensured that today India is ready to bear those costs". Not many have had illusions about the Chinese challenge faced by India since quite a few decades but there was no clear consensus on how to address it as the solutions were varied. This incident should remove some of the ambiguity towards China that various Indian administrations have held over the past few decades of strong engagement coupled with some sort of balancing. As the West, India too has found out that closer economic cooperation has not moderated Chinese behavior but it has rather emboldened Chinese bullying since they developed strong economic interdependence with the rest of the world.
Historically India has been skeptical of taking any steps to push back against China for the fear of upsetting Beijing. This has not resulted in reciprocal concessions by China towards India for this so called "good behavior" by India. This has now probably caused Beijing to assume that putting pressure on India "makes them bend to our will". India now has no option but to stand firm and resolute at the border as capitulating now will only invite more "salami slicing" from the emboldened Chinese. India will have to shed the inhibitions of history where discussion on many sensitive topics was avoided for the fear of angering China. India will have to pick and choose the right moments to put pressure back on China on issues like Taiwan, Tibet, and Hong Kong which are an absolute no-go for China.
This clash would mean that Wuhan/Chennai type informal summits meet a quiet burial. After the burst of enthusiasm post Wuhan summit there was hope that this would lead to more progress on thorny issues between the two nations. However post Chennai summit last year which we had covered in Episode 22 on Indian Rising podcast we had mentioned that a lack of tangible outcomes means that the significance of these summits is fast decaying at an exponential rate. The oft used term of "managing the relationship" i.e. how to manage the relations despite the various differences on boundary, trade, etc. would now hold little relevance as China has managed to needle India without taking cognizance of her red lines. The mantra of cooperation with competition with China now sounds hollow post the events of June 15th. Now, there will have to be a shift towards more competition vs cooperation.
How will this standoff impact India's relations with its like-minded partners?
This clash has likely clinched the participation of Australia in the annual MALABAR naval exercises done between the navies of USA, India and Japan. We had argued in the past that this was a "lever" that New Delhi was reluctant to pull for the time being and that it would be pulled if relations with China nosedived in the future. A military angle to the QUAD is possible but would remain unlikely as the QUAD would be more of a naval concept while India's primary challenge with China remains a land boundary one. The expectation is that India will grow closer to the USA even more and one could see the 3rd foundational military cooperation agreement BECA being signed in near future after signing of LEMOA in 2016 and COMCASA in 2018. Basic Exchange and Cooperation Agreement (BECA) for geospatial cooperation will help India in getting information from the USA to keep a close eye on Chinese military (and also Pakistan) to stay better informed of future incursions like the present standoff. India would look to increase defense cooperation with the USA pursuing several other opportunities also except an outright "NATO type military alliance" which is highly unlikely.
What are the lessons to learn from all these standoffs (past and present)?
On the military front looking back in 20/20 hindsight we believe that we missed something crucial from the summer of 2017. This red flag back then was not the well-known Doklam standoff at India-Bhutan-Tibet tri-junction. But it was at the stone throwing incident at the now well-known Pangong Tso in August 2017. While everyone's attention was in Doklam, in a standoff on the banks of the Pangong Tso Chinese and Indian troops pelted stones at each other which resulted in multiple injuries on both sides. This showed the propensity of the Chinese to now engage in some serious physical violence which was not common during the prior standoffs at the LAC. Fast forward to today they seemed to have upped their brutality by now graduating using wired clubs.
What are the military ramifications of this standoff, going forward?
Going forward the danger remains that during the current or future standoffs it could involve shots being fired in anger. This would then result in a 1967 Nathu La type skirmish if not outright full scale war like 1962. The pressure on both sides (given the proliferation of 24x7 news channels and social media) would be enormous to give back in kind and not seem to be backing down. This can easily lead to a cycle of uncontrollable escalation where both sides try to climb the escalation ladder with the conflict becoming much wider.
We think that the events of June 15 2020 can possibly be viewed as a Kongka incident of the modern times. On 21 October 1959 nine CRPF personnel were killed in a clash with the PLA. This event hardened Indian opinion against China and led to a chain of events which led to the 1962 India-China war. Now India of today is very different as many have attested to over the past few weeks and even years. Please note that the point I am trying to make is not that India is going to be routed in a war like 1962. The point I am trying to make here that (possibly) we are on an unavoidable path to a bigger military clash between India and China down the road in just a few years.
What kind of a bilateral relationship do we foresee? Are there any historical comparisons?
The geopolitical tug of war ongoing right now between the USA and China is often referred to as being a "Thucydides Trap". Thucydides Trap broadly refers to series of events when one rising great power threatens to displace another one leading to a conflict. We all might be talking about Thucydides trap between China and USA but it just might be that India building up border infrastructure triggers a proverbial Thucydides trap conflict between India and China (instead of US/China which can still occur in the future by the way).
Now with respect to China, India can hold its ground in a short military conflict and give China a "bloody nose" if China resorts to any military misadventure at the border. However it is of course not at the same level as China economically or militarily. Here we don't wish to make any grandiose comparisons of India being a great power at the same level as China.
However, looking at this from the Chinese side the construction by India of 61 strategic border roads by end of 2022 would be disconcerting. This diminishing "first mover" advantage (of border infrastructure) would now compel the Chinese in creating a standoff now vs doing this later when their advantage would have eroded. Chinese in spite of being a significant power has shown from time to time to have some baffling insecurities and paranoia about its adversaries/neighbors. So, a rising Indian threat in the anxious minds of the Chinese could prompt her to take steps to "put India in her place" like they feel they did during the 1962 war. This all combined with what Beijing considers a "muscular foreign policy" from the incumbent administration in New Delhi would have forced them (in their minds) to act now before it was too late in the future. We all might be talking about Thucydides trap in relation to it being between China and USA but it just might be that India building up border infrastructure (and also a rising power in other domains) possibly triggers a Thucydides trap conflict between India and China.
Frederick the Great King of Prussia in the 18th century famously said "He who defends everything defends nothing." This is something Indian strategists need to consider since defending everywhere along an extremely long (~3,488 km) and undemarcated LAC is very hard especially in face of rising Chinese belligerence. India has to start developing options of making "probes/thrusts" where the enemy is weak and least expects it. This would be necessary as either during the current standoff or during a future standoff Chinese could simply refuse to withdraw. This would force India with two unappealing options: either accept the new fait accompli or use force to evict the Chinese troops.
COAS (Chief of Army Staff) M. Naravane recently as per a report directed the troops to tighten patrolling of all the 65 points on the LAC. At the LOC with Pakistan, India has troops right at the border itself. With LAC troops remain at some depth from the LAC and then patrol up to the claim lines. A thought will have to be given to occupy some or all the strategic points along the LAC next summer to prevent such Chinese incursions in the future (maybe as early as next summer if possible). This is bound to annoy China so this will have to be a very carefully planned operation where all the counter Chinese moves will have to be "war gamed" for. This could be like Operation Meghdoot in 1984 where India outraced Pakistan to occupy the strategically important Siachen glacier.
Calls for reversing trade imbalance
Global Times in an op-ed said that "India should curb 'boycott China' voices after border clash. Blindly associating border issues with investments and trade is illogical. Both sides need to cherish precious development opportunities amid #COVID19 uncertainty."
Government has initiated steps to bar Chinese companies from using equipment made by Chinese vendors Huawei and ZTE going forward.
Given Chinese retaliation over the past few years against whole host countries: South Korea, Australia, Norway etc. one can expect that any strong steps to curb or even possibly ban Chinese imports is going to trigger a backlash against Indian companies and products in China. China has never been shy to display its displeasure with even some of its biggest trading partners and India is sure to be no exception here.
The growing trade deficit also remains one of biggest challenges in the relationship. India has lobbied vigorously for greater access for Indian goods in Chinese markets with very little success. All this while Chinese imports have surged to India ballooning the deficit to record levels. The Modi government for all its success in speeding up border infrastructure has not been able to tackle this problem of burgeoning trade deficits. For e.g. India's trade deficit with China which stood at $31B in 2013 rose over 80+% to $56.77B in 2019. The good news that after topping off at $58B in 2018 it has slightly declined to $56.77B last year.
Epilogue:
India would seriously need to introspect as it has reached a now-or-never situation to challenge China with respect to border skirmishes both in short and long terms. The only way this will be possible is by India growing at a quicker pace consistently over the next few decades. And for this the participation of the people needs to be active and they need to realize that you cannot defeat China within a short duration but need to play a longer game of strengthening yourself and weakening the opposition. People also need to realize that once you grow bigger enough, you can challenge the adversary and eventually defeat it.
We have been saying for some time that India's two primary challenges are 1) China & 2) Pakistan.
Pakistan does occupy a disproportionate amount of imagination in the minds of Indian citizens and also on some of the night time 9pm news programs. But the larger strategic challenge has always been China all along which has unfortunately worsened over the past few decades. For the comparison in the challenges that both of India's adversaries: Pakistan and China pose we would like to hark back to something we said on the podcast around the end of 2018. Pakistan is like the annoying rash that suddenly flares up from time to time. But it is manageable and can be kept in control most of the time. This rash might bother you a lot of times but it is not going to kill you. China on the other hand is like the slow-moving cancer that will stealthily spread throughout your body and slowly eat you from inside making you weak. By the time you react to it could possibly be too late and if you don't take preventive measures early on it is sure to kill you in the end unlike that annoying rash.
Even though there have been several rounds of talks for de-escalation between both sides, Chinese have been ramping up their deployment on their side of the border. This means that the standoff will last a very long time most likely longer than the 73-day Doklam standoff in 2017. This standoff could last well into the late summer/early fall as de-escalation from such a huge military buildup will take time especially when trust factor is low. This standoff could possibly follow the template of the 1986-87 Sumdorong Chu standoff (in Arunachal Pradesh) which lasted approximately for a whole year. However, one has to note that the China of 1987 under Deng Xiaoping was more of a "bide your time and hide your strength" which is not the case today under Xi Jinping which is looking to flex its muscles. Xi Jinping will not want to be seen blinking first in this standoff with India where India is standing firm at the border right now. If China is perceived (internally within CCP) to be backing down, then it will provide more ammunition to Xi's critics who are already not happy with his handling of the pandemic crisis.
Note: This was originally discussed on Episode 27 of the India Rising podcast (@indiarisingmk) hosted by Mohal Joshi (@MohalJoshi) & Kishor Narayan (@veggiediplomat). (Below are links to the episode)
Sound Cloud: https://soundcloud.com/indiarisingmk/episode-27-a-definitive-turn-in-india-china-ties-after-galwan-valley-clash
YouTube: https://www.youtube.com/watch?v=tvROxk_1kJc
.
REFERENCES:
https://www.myind.net/Home/viewArticle/time-for-india-to-call-out-chinas-bluff
https://www.news18.com/news/india/battle-in-ladakhs-galwan-valley-began-with-chinas-refusal-to-remove-tent-from-key-point-14-2673061.html
https://twitter.com/globaltimesnews/status/1273294359694319617?s=09
https://www.deccanherald.com/opinion/galwan-skirmishes-portends-for-the-future-850657.html
https://twitter.com/Cold_Peace_/status/1273429759557611525?s=09
https://twitter.com/sneheshphilip/status/1273435399621275649?s=09
https://twitter.com/horror06/status/1273260285327966210?s=09
https://www.deccanherald.com/opinion/new-delhi-must-read-the-signals-from-galwan-correctly-850885.html
https://www.hindustantimes.com/india-news/the-message-is-clear-china-pressing-forward-to-create-new-buffer-zones/story-N7yKJxeyuLV6yGPOPmrDKO.html
https://twitter.com/ananthkrishnan/status/1273477518809427970?s=09
https://indianexpress.com/article/opinion/columns/facing-the-incursion-india-china-lac-border-situation-6463920/
https://economictimes.indiatimes.com/news/defence/view-falling-off-a-cliff/articleshow/76438466.cms
https://www.thehindu.com/news/national/ladakh-face-off-chinas-peoples-liberation-army-meticulously-planned-attack-in-galwan-says-senior-government-official/article31862371.ece?homepage=true
https://www.firstpost.com/india/galwan-valley-clash-china-talks-peace-after-deadly-fight-india-is-left-with-three-difficult-options-to-reverse-beijings-fait-accompli-8495741.html
https://www.hindustantimes.com/india-news/pla-s-plans-for-an-observation-post-triggered-clashes/story-HoEL1u5Dxtv1GVH46RnUfI.html
https://twitter.com/ananthkrishnan/status/1273806054749396994?s=09
https://m.hindustantimes.com/analysis/how-the-galwan-tragedy-has-clarified-india-s-vision/story-T9gVHpuSSwiDn8O9wJtz4M.html
https://twitter.com/manupubby/status/1273842648130875398?s=09
https://twitter.com/StratNewsGlobal/status/1273848669448491008?s=09
https://stratnewsglobal.com/mind-of-the-mandarin-understanding-how-china-thinks/
https://warontherocks.com/2020/06/chinas-strategic-assessment-of-the-ladakh-clash/
https://www.brookings.edu/podcast-episode/whats-fueling-the-india-china-border-skirmish/amp/?__twitter_impression=true
https://theprint.in/opinion/brahmastra/chinese-have-changed-the-rules-of-engagement-at-lac-its-time-india-did-too/444794/?amp&__twitter_impression=true
https://telecom.economictimes.indiatimes.com/amp/news/big-blow-for-zte-huawei-india-to-bar-bsnl-from-sourcing-chinese-gear-may-also-bar-pvt-telcos/76431279?__twitter_impression=true
https://www.globaltimes.cn/content/1191924.shtml#.XuonZNrTDDw.twitter
https://www.orfonline.org/expert-speak/the-galwan-narrative-68596/
https://www.outlookindia.com/newsscroll/india-warns-china-that-attempts-to-alter-status-quo-will-have-ripples-repercussions/1878629
https://twitter.com/clary_co/status/1276587964093665282
https://www.brookings.edu/opinions/how-the-u-s-viewed-the-1967-sikkim-skirmishes-between-india-and-china/
https://www.orfonline.org/research/logistics-pact-with-us-why-lemoa-is-significant-for-india/
https://economictimes.indiatimes.com/news/defence/seven-reasons-why-comcasa-is-so-important-for-india/articleshow/65707682.cms
https://www.thehindu.com/business/indiachina-trade-record-31-bn-deficit-in-2013/article5562569.ece
https://www.livemint.com/news/india/india-china-trade-dips-by-nearly-3-billion-in-2019-11579011500398.html
https://www.indiatoday.in/india/story/chinese-vehicles-tents-boats-satellite-images-show-china-s-attempt-to-capture-pangong-lake-s-finger-four-1693070-2020-06-26
http://www.indiandefencereview.com/the-sumdorong-chu-incident-a-strong-indian-stand/
https://peacemaker.un.org/sites/peacemaker.un.org/files/CN%20IN_961129_Agreement%20between%20China%20and%20India.pdf
https://www.mea.gov.in/bilateral-documents.htm?dtl/6539/Protocol+between+the+Government+of+the+Republic+of+India+and+the+Government+of+the+Peoples+Republic+of+China+on+Modalities+for+the+Implementation+of+Confidence+Building+Measures+in+the+Military+Field+Along+the+Line+of+Actual+Control+in+the+IndiaChina+Border+Areas
https://www.mea.gov.in/press-releases.htm?dtl/32774/PM_holds_All_Party_Meeting_to_discuss_situation_in_IndiaChina_border_areas
https://www.mea.gov.in/press-releases.htm?dtl/32775/Statement_on_All_Party_Meeting_of_19th_June_2020
https://www.mea.gov.in/press-releases.htm?dtl/32765/Phone_call_between_External_Affairs_Minister_Dr_S_Jaishankar_and_Foreign_Minister_of_China_HE_Mr_Wang_Yi
https://www.hindustantimes.com/india-news/galwan-clash-china-levels-fresh-blame-against-india-says-new-delhi-provoked-clash/story-sz6W2lOTXGRRQpOZaLuofJ.html
https://www.orfonline.org/expert-speak/emperor-xi-reinvents-chinese-checkers-only-cpc-wins-68665/?amp&__twitter_impression=true
https://www.indiatoday.in/india/story/3-separate-brawls-outsider-chinese-troops-more-most-detailed-account-of-the-brutal-june-15-galwan-battle-1691185-2020-06-21
https://www.hindustantimes.com/india-news/china-official-admits-for-1st-time-ladakh-casualties-not-very-heavy/story-VmEzyJTihiOyqtLCBVXSXL.html
https://economictimes.indiatimes.com/news/defence/indian-soldiers-put-up-a-strong-fight-pla-officer-killed/articleshow/76499852.cms
https://www.youtube.com/watch?v=_0SKk7y5ZCQ
https://economictimes.indiatimes.com/news/defence/india-set-to-ramp-up-infrastructure-along-china-border/articleshow/76631962.cms
Disclaimer: The opinions expressed within this article are the personal opinions of the author. MyIndMakers is not responsible for the accuracy, completeness, suitability, or validity of any information on this article. All information is provided on an as-is basis. The information, facts or opinions appearing in the article do not reflect the views of MyindMakers and it does not assume any responsibility or liability for the same.
Comments