Chautisa Yantra: A Mathematical puzzle and Magic Square for Peace
A farmer had 16 cows. The first cow gave a litre of milk daily. The second gave two litres of milk daily, the third three litres daily and so on. Now, he wanted give away four cows to each of his four sons in such a way that the daily milk production of each of his sons is the same. Can you provide a solution to the farmer?
The total daily milk production of the farmer is given by = (16(16 + 1)) / 2 = 136 litres. So the total daily production for each son will be 34 litres.
The solution for the farmer's problem is a 4x4 magic square. Refer figure 1.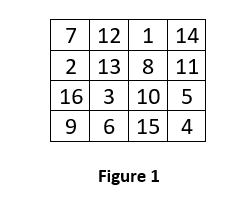 In a 4x4 magic square the sum of numbers in each row or a column is 34. Even the sum of each 2x2 sub-squares is 34. See figure 2.Figure 1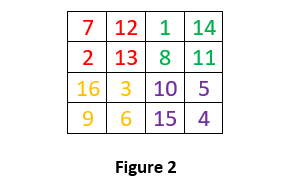 It is quite a challenge to make such a 4x4 magic square. These kinds of magic squares were being made for recreation and intellectual challenges by ancient Indian mathematicians. The magic square given in this article can be found as an inscription near the entrance of the Parshvanath Jain temple at Khajuraho. This temple was built during the 10th century AD. See the picture in figure 3.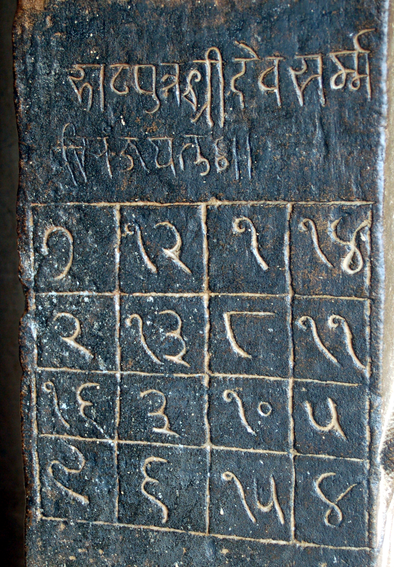 Figure 3
The other feature of this magic square is that even the sum of both the diagonals comes out to be 34. Refer figure 4.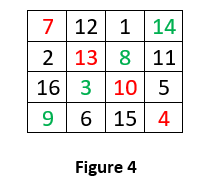 Even the sum of the split diagonals comes to be 34. Refer figures 5 (a) and (b).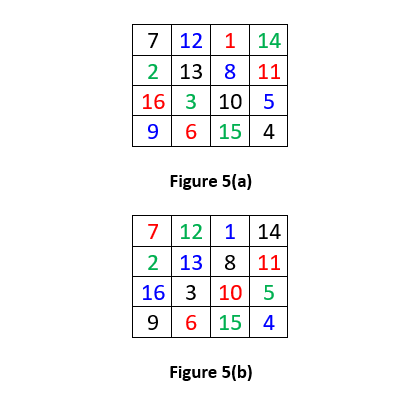 The sum of the central 2x2 square is also 34. The sum of the four corner numbers is also 34. Adding middle two numbers of the top and bottom rows also gives you the sum 34. Same way, adding middle two numbers of the first and last columns also gives you the sum of 34. See figure 6.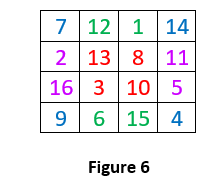 The sums of the side squares as shown in figures 7 (a) and (b) is also 34.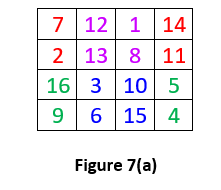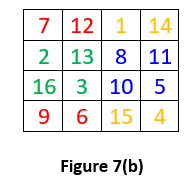 This magic square called Chautisa Yantra (chautisa is 34 in Hindi) is believed to bring peace.
This inscription at Khajuraho is also an archaeological evidence of the development of the numerals (number symbols) in devanagari. At that time the rest of the world did not even know how to count.
Image Credits: Madhya Pradesh Tourism
Disclaimer: The opinions expressed within this article are the personal opinions of the author. MyIndMakers is not responsible for the accuracy, completeness, suitability, or validity of any information on this article. All information is provided on an as-is basis. The information, facts or opinions appearing in the article do not reflect the views of MyindMakers and it does not assume any responsibility or liability for the same.
Comments