CAA - An Overview and a Historical Perspective
To Understand CAA and NRC, it helps to get the historical context. For that, we must start with Assam.
Assam has borne the brunt of Bangladeshi immigrants from 1951 or to be precise even before that. (This section briefs on the same)
1. The congress government under Gopinath Bordoloi in 1935 chose to sit in the opposition and Syed Muhammed Saadullah (SMS) with certain other parties became the Prime minister of Assam
2. SMS was also a member of the All India Muslim League and indulged in communal activities like settling Muslims from East Bengal into Assam.
3. SMS indulged in this to such an extent that Lord Wavell said "SMS was more interested in growing Muslims" rather than revenue. Reference to the statement is given below.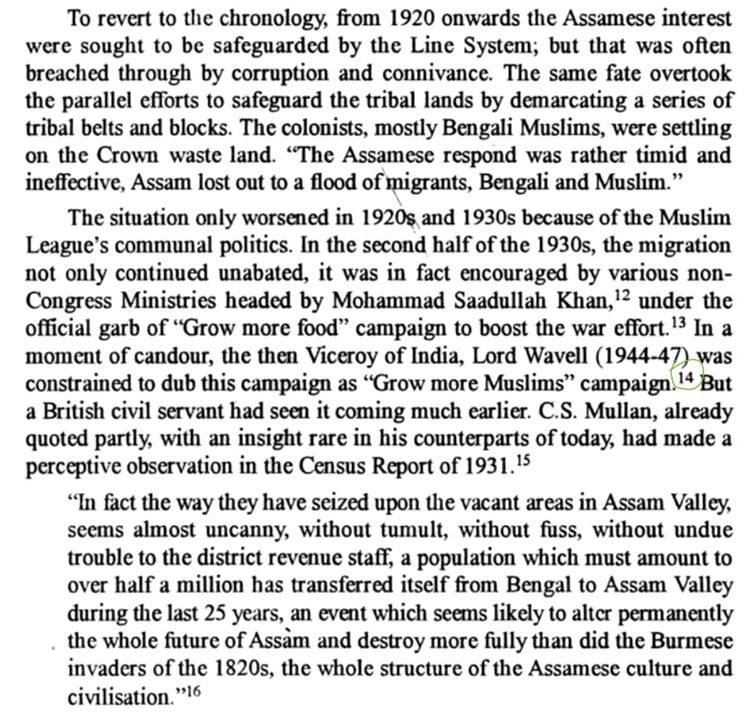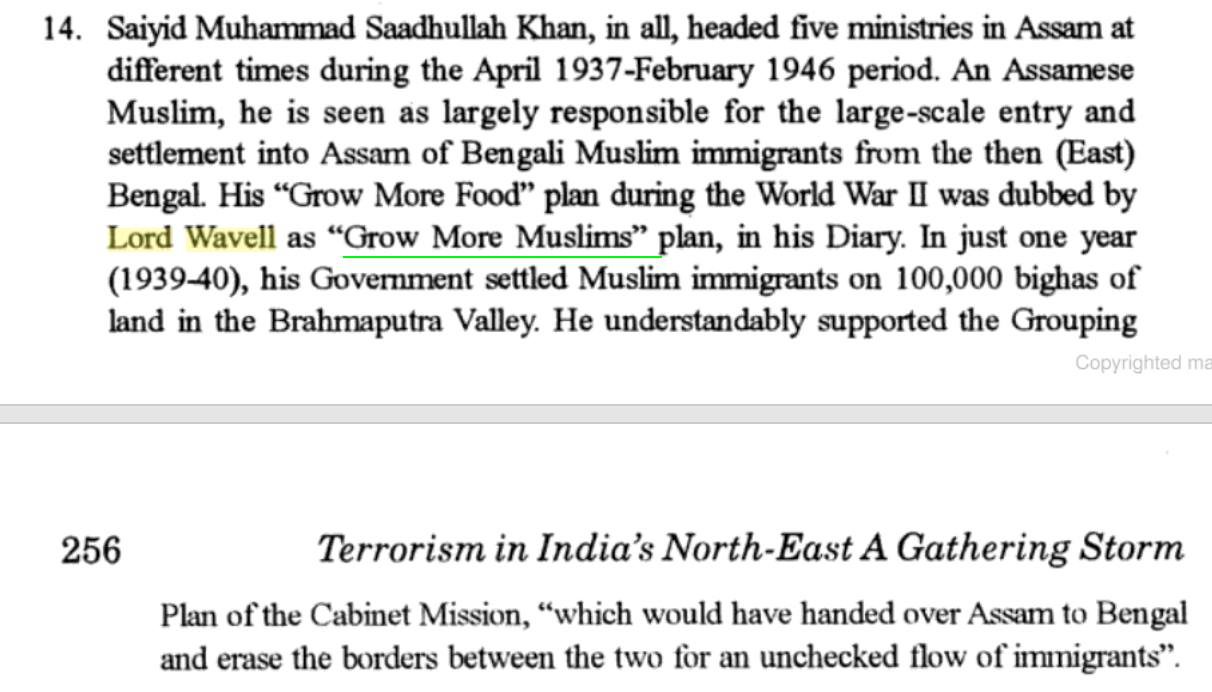 To set the context to the present day
1. The country was partitioned on Religious basis and one country became two with Pakistan having Islam as the state religion
2. Assam's border with East-Pakistan has always been porous leading to natural and (Muslim league) planned migration of people from East Pakistan
3. Then 1971 happened with Hindus at the receiving end and Bangladesh was formed
4. Assam shares a porous 263 km border with Bangladesh and illegal immigrants have always been a problem
5. The 1979 Mangaldoi Loksabha by-poll saw a huge increase in the voters list
6. This led to the Assam Movement - All Asom Gana Sangram Parishad (AAGSP) and AASU (All Assam Students Union) were the key players
7. Their aim was " to identify and expel illegal, (mostly Bangladeshi), immigrants and protect and provide constitutional, legislative and administrative safeguards to the indigenous Assamese people"
8. Early 80s literally had Assam burning. I remember headlines like Assam Erigiradhu, arasiyal Sirikkiradu ( Assam is Burning / Politics is Laughing) - rhymes better in Tamil
9. People should also read https://en.wikipedia.org/wiki/Nellie_massacre to understand the gravity of what Assam went through
10. The Assam Accord was signed in 1985 by the Rajiv Gandhi government, Assam Government and the key players mentioned above
1. Under the Accord and subsequent amendment of the Citizenship Act, foreigners were to be divided into the following categories: (i) Those who came to Assam before 1.1.1966; (ii) Those who came between 1.1.1966 and 24.3.1971; (iii) Those who came to Assam on or after 25.3.1971.
2. The first category were to be treated as full-fledged citizens; the second to be denied franchise for 10 years and the third group to be deported
3. Cut-off year 1971 decided due to the 1971 War and Refugees inflow, becomes very important here and it is only for Assam.
11. One of the other important points of the accord was the Development of Assam, something that has been neglected not just in Assam, but the whole of north east by successive governments
12. Lack of Development was also a key point brought up by people whom I had the opportunity to talk to during my visit to Assam and Arunachal Pradesh in November 2018
13. So, Illegal (but planned by ML) Immigration has always been a problem from even before 1947
14. And illegal immigration has continued to happen in Assam because of vote bank politics and has been and continues to be a very sensitive issue.
15. NRC (National Register of Citizens of India) was first prepared for Assam in 1951 based on the census.
16. It was again mandated as per Assam Accord and because of continuous illegal immigration out of Bangladesh into India due to economic or religious persecution
1. The details and background of NRC can be read here - https://en.m.wikipedia.org/wiki/National_Register_of_Citizens
It couldn't be updated because of many issues including political patronage for illegal immigration
17. Supreme Court ordered NRC to be updated in 2013 ( this was in the UPA rule)
18. NRC published on 31 Aug 2019 left out 19 lakh plus persons and these people have the option to approach a tribunal against their non-inclusion
19. A significant number of people who were left out were Hindus who fled Bangladesh more in the decade starting 1990s due to the growth of explicit Islamic parties (https://en.wikipedia.org/wiki/Hinduism_in_Bangladesh)
20. Pakistan, which has Islam as a state religion has been having bad press for persecution of Hindus who have fled Pakistan to India ( https://www.bbc.com/news/world-asia-india-34645370)
21. Hindus in Afghanistan have also been on the receiving end of the Taliban Government (https://en.wikipedia.org/wiki/Persecution_of_Hindus)
22. BJP, has mentioned that it considers India as the cultural homeland of Hindus , Buddhists and Jains across the world
23. Fast tracking refugees to citizens has been a part of BJP electoral Manifesto
24. The Previous UPA government agreed to take the persecuted people as refugees
25. I have attached the citizenship amendment bill and have also highlighted certain sections I think are key.
The above section details why and How NRC came into existence and the reason for its update
1. It can also be seen how illegal migration from Bangladesh into Assam and West Bengal has been happening with political patronage for multiple decades going all the way to the 1930s or even earlier.
2. Congress in Assam ( Tarun Gogoi when he was CM) and parties in west Bengal (CPM and Mamta ) have been talking about this, the ill effects of illegal immigration and have wanted NRC at various points in time, not considering their present stand.
3. Have in mind that though Bharat was divided on the basis of religion, India has never had Hinduism as the state religion, and the word 'Secularism' was slipped in to the constitution during emergency period along with 'Socialist' as part of the 42nd Amendment ( https://en.wikipedia.org/wiki/Forty-second_Amendment_of_the_Constitution_of_India )
4. It also helps to read https://indiancitizenshiponline.nic.in/acquisition1.htm and understand the law of the land on acquiring Indian citizenship for foreigners. It doesn't apply for Illegal Immigrants.
The present amendment does talk about multiple things, but the following are in major focus.
1. Hindu, Sikh, Buddhist, Jain, Parsi and Christian communities have faced persecution on grounds of religion ONLY of the countries of Pakistan, Afghanistan and Bangladesh who already entered India as of a cut-off date ( 31st December 2014) automatically get Indian citizenship.
2. It ensures that the time period for the persecuted minorities from the above mentioned countries is 5 years to get citizenship as against the 11 years for others.
People still need to have valid papers/identification documents or with only papers provided by Indian authorities in the absence of any documents and still have to wait for 5 years in refugee camps before they become eligible as against the 11 years now.
For Hindus or any of the religions mentioned above from other countries, the wait is still 11 years and this also holds for muslims across the world and including those from Pakistan. Trying to answer the exceptions or questions that I have seen around
1. Refugees are not Illegal Immigrants. Refugees identify themselves as such while Illegal Immigrants don't. This is a key difference and by treating them on par with Illegal Immigrants, we do a disservice to Refugees.
2. Request to Include Muslims from the 3 countries in this amendment is as good as requesting Indian citizenship for all people in the three countries, that too, in an amendment dealing with religious persecution of people from countries where Islam is the state religion
3. As regards Ahmadiyas, India considers them Muslims, irrespective of how other countries, including Pakistan treat them. Bringing Ahmadis into the argument by Indian Muslims as a reason to weaken the CAA is more a wild herring because the general treatment of Ahmadis by other Indian Muslims hasn't been great. Reading this article gives more information on the subject.
4. Ahmadiyas are one of the fastest growing Islamic communities in the world. Indonesia, Ghana and other places have a sizeable population of them. (https://en.wikipedia.org/wiki/Ahmadiyya_by_country)
5. More importantly, I am not sure of any Ahmadis in refugee camps in India and if they have applied for citizenship. If anyone knows any info, please share in the comment section. I say this because of the below point
6. India is not a choice place to migrate to, for people who have other options and developed countries to migrate to or apply for citizenship
7. People do legally get Indian citizenship. I read that Pakistanis top the list followed by Afghans and have become the citizens of India legally. This is < 5K , but there are processes that happen and people do get citizenship NOT based on their religion ( This 2017 article has information)
8. Rohingyas are an ethnic minority and not a religious minority. The Rohingya problem has been around for multiple decades starting in the 1970s. It is the wave of people that started out in 2017 that got global attention
1. This gives a decent picture about the root cause of the Rohingya's issue - https://www.cfr.org/backgrounder/rohingya-crisis
2. Even Bangladesh and Pakistan have refused to absorb them as citizens. - (https://www.news18.com/news/world/bangladesh-pm-sheikh-hasina-terms-rohingyas-as-threat-to-national-and-regional-security-2382731.html?)
7. As far as Srilankan Tamils are concerned, while a set of them in India should be given citizenship if the people want it, it has to be understood that the problem is not that of religion, but ethnicity.
8. Same holds for Myanmar and both of these are Buddhist nations and Buddhism doesn't consider followers of other religions as infidels, to the best of my knowledge
9. Myanmar is key to India's ambitious plan to reach out to the east. I hope people remember reading about plans for a road that connects India all the way to Thailand.
10. NRC across India may be needed because the illegal immigrants have spread across India helped by vote bank politics.
11. But how it may be implemented is anyone's guess as it will be a logistical nightmare for the government
12. Easier for opposition parties to talk about the worst case (consequences and cost included) and scare people.
13. Fact of the matter is that no implementation details are known about NRC and any comparison with Assam is more fear mongering
Personal Note
1. Armchair critics or people in the opposition can criticize any act till the end of the world, but then they also have the option to not act.
2. Governments don't have that luxury, but they can sit on decisions / go-slow.
3. Sitting on decisions / go-slow has consequences far worse than fast decisions
4. Governance is a wicked problem and decisions are always rated good or bad and many times weighed through ideological glasses.
5. Any sovereign country has the right to decide who will be let in and who will not be, considering among other factors, security of the country
6. Illegal Immigrants don't deserve the same treatment as Refugees
7. Just because India did not announce itself as a Hindu State, it doesn't mean that it should not help persecuted people of religions that originated here and other religions whose people were a part of undivided Bharat.
8. It is significant to note that during the previous governments period (UPA 2004-14), they agreed to take the persecuted people in as refugees
9. Allowing people from P, B and A of Muslims on the basis of Religious discrimination, when the state religion of the countries is Islam, flies in the face of logic and is as good as saying that we take in all of the citizens of these country and make them Indian Citizens
10. May be then we should also take over the land, as we have already got 130 crore plus population and are growing with natural resources under severe pressure
11. Liberals of the world may make a big issue out of not accommodating Muslims from these countries in the amendment, but that is more to accommodate the liberal logic and not common sense
12. I haven't seen a single liberal welcoming the fast tracking of religious minorities in the said countries and their focus has always been on the exclusion. Should I take this as Hinduphobia?
1. Please also read https://www.jihadwatch.org/2019/12/india-offers-refuge-to-real-refugees-and-is-savaged-for-it
12. There have been a lot of concerns regarding NRC.
1. The implementation details are not yet known. People are afraid that across the nation, it will follow an implementation process similar to Assam. Assam is different, for reasons mentioned above
2. Rest of India ( which has a cut-off date as 1950 ) for someone to be considered a Citizen, may follow a different process that we don't know yet
3. Fear mongering on the basis of something whose implementation details are not yet known, is just that
4. India still has decent recourse to judicial means to fight the government on the basis of Constitution, if the implementation of NRC across the country comes across as biased, whenever that happens
5. Already parties have knocked on the doors of the Supreme Court asking for the implementation of CAA to be stopped. The court has refused to do so, but has asked for the government to respond to the concerns raised
6. So everyone accepts the presence of a recourse
13. Islam as a religion
1. How successful has Islam been in accommodating other religions, where Muslims are a majority, giving other religions equal right to practice , how many such countries exist across the world need to be seriously looked into, and is left as an exercise to the reader
2. Islam seems to function more as a horizontal than a vertical in the business sense and this has ensured further alienation of people and prevented people from integrating into the culture and local practices of the places where Muslims live
3. Even in a place like India where Muslims have special rights as minorities, they rank poorly as compared to other minorities in human resource development indices
4. The reason for the segregation Muslims feel and the poor HRI has to be looked at by insiders and sorted out
5. Muslims need to be wary of parties that use them as vote-bank and only as vote-bank and do nothing to help them lead a better life
14. Constitution, considered as sacred by many, has already been sullied during the emergency (https://en.wikipedia.org/wiki/The_Emergency_(India).
15. The term secularism has been beaten to death by the liberals and left - and is more a hollow word which finds a convoluted meaning only in the Indian liberal context.
16. I prefer the word plural to secular. India is plural, not because of its Constitution but because of its people, mainly people of Indic religions
Conclusion:
I believe CAA is very much needed to ensure that people in refugee camps for more than 10 years lead a human existence and not continue to rot in the camps.
CAA has nothing against existing Muslim Citizens of India, as can be seen above
Nothing much is known about NRC
Use of CAA, which doesn't talk about Muslim Citizens of India, and NRC, whose implementation details across India aren't known yet, to incite riots across India, come across more as politically motivated by vested interests to keep their vote bank intact.
The violent protests because of the perceived dangers of the act, make people think if there is more to these protests than what meets the eye
People like Labeeda Sakhaloon fronting the protests with media highlighting her or similar people, may drive more fence-sitters towards the ruling party and help in further consolidation of votes.
References and Further Reading
1. The Role of Muslims in separatist politics in Assam during 1874 - 1947 A pHd thesis submitted in Assam University and makes for a very interesting read https://shodhganga.inflibnet.ac.in/handle/10603/21970
2. Book: Terrorism in India's North-east: A Gathering Storm, Volume 1,2 and 3 By Ved Prakash
3. The Bill Introduced by the Home Minister Shri Amit Shah with relevant sections highlighted is attached as a separate pdf file
Image Credits: ANI News
Author's Note:
This document has been put together based on my reading (primary source - internet) and books to understand the reason behind CAB, NRC and the protests.
The conclusions are mine and hence may be opinionated
Disclaimer: The opinions expressed within this article are the personal opinions of the author. MyIndMakers is not responsible for the accuracy, completeness, suitability, or validity of any information on this article. All information is provided on an as-is basis. The information, facts or opinions appearing in the article do not reflect the views of MyindMakers and it does not assume any responsibility or liability for the same.
Comments