Biden to host first in-person Quad Leaders Summit on 24 September
In news
12:07 PM, Sep 14, 2021
Prime Minister Narendra Modi will participate in the first-ever in-person summit of Quad leaders in US on September 24 along with President Joe Biden, Australia PM Scott Morrison and Japan PM Yoshihide Suga. The meeting comes amid mounting global concerns over China's growing military muscle-flexing in the Indo-Pacific region.
At the meeting, the leaders are expected to review the progress made since their first virtual summit on March 12 this year and discuss regional issues of shared interest, according to a statement released by the government.
"They will also exchange views on contemporary global issues such as critical and emerging technologies, connectivity and infrastructure, cyber security, maritime security, humanitarian assistance/disaster relief, climate change and education. The Summit would provide a valuable opportunity for dialogue and interactions among the Leaders, anchored in their shared vision of ensuring a free, open and inclusive Indo-Pacific region," the statement said.
During his US visit, Prime Minister Modi is also scheduled to address the general debate of the High-Level Segment of the 76th Session of the United Nations General Assembly (UNGA) on September 25 in New York.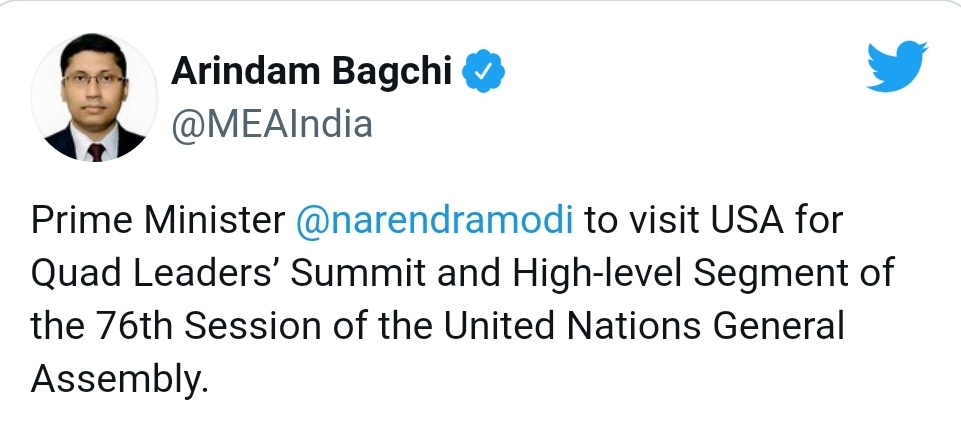 The theme for this year's general debate is 'Building Resilience through hope to recover from Covid-19, rebuild sustainably, respond to the needs of the planet, respect the rights of people, and revitalise the United Nations'.
PM Modi had previously visited the US in September 2019 when former President Donald Trump hosted him for the grand 'Howdy, Modi' event.1
The Quad meeting will come after Biden's image has taken a battering over the chaotic US withdrawal from Afghanistan.
US officials have said ending America's longest war will allow the administration to divert resources and attention to tackling China-related issues.
Senator Bill Hagerty, a Republican, and former US ambassador to Japan, welcomed the plan to host the Quad leaders.
"Biden's Afghanistan withdrawal debacle made India's neighbourhood more dangerous & raises legitimate questions for Japan and Australia as well, so it's good we will be hosting Quad partners soon," he said on Twitter. "We must repair & renew our alliances, and this one is key."
Image source: TOI
Comments