Are we at a time where we need to have another look at Reservation? Is it time to establish a greater degree of equality
Disclaimer (Author's Note) — I'm not against reservation. This article is an idea to make reservations work better for the nation and spread out the benefit to more people within the reserved %. Don't troll me or put me in a casteist mould. This disclaimer could have been put at the end of the article, but we've kind of lost the ability to read till the end. We just read a bit and judge. So there.
Reservations have been around for a generation now and we no longer can visualise how we would have fared if those %s wouldn't have been around. I am from the first generation of reservation affected people. Honestly, my life is just fine and I have never faced any real hurdles that matter in the long run, because of reservations going against me. Friends who got lower ranks got into IIT, classmates who didn't do very well at school today have high ranking government jobs. And only when they got those seats did we (as kids in school), wonder how; and got introduced to the concept of caste.
Till then, we honestly did not know what caste our friends belonged to. There is no real reason to have known! And once the bug gets into our thought process, instantly it takes root, and never really goes away after that. But no complaints really. Since I did not study in a top-rated institution, or have ever applied for a Government job, personally it didn't really matter to me. And this article is not about the haves vs the have-nots. It is not to talk about the merits and demerits of the mandal commission and the subsequent changes to the act. It is not to comment on the %s assigned and the basis on which they are allotted. This article is to offer a practical amendment.
With age comes maturity and an ability to see things without blinkers and emotion (or rather, it should). It is a fact that the concept of caste is being kept alive, fuelled, and stoked because of reservations. If one would spend a bit of time to look at what reservations looked like when they first became the law a couple of decades ago, and what they look like now, one would realise that we've taken it to a whole different level, and not in a good way. Politicians have always used emotion and found most of our population gullible and swayed by promises. Each election, since it was first introduced, the reservations bill has become more and more complex. Especially since the %s in departments under state purview are decided by the states, it has become a competition based on the how many voters can be swayed by additional %s for a particular caste. It is an open and dirty road our leadership takes every five years. It doesn't change. And since the generation of people who did not have reservations in their lives has almost passed, only those who take it for granted remain. We want more, we lobby for it, blackmail our leaders with our votes, and each election, every caste digs itself deeper into their trench to fight from.
Just this last week, our current government has announced this —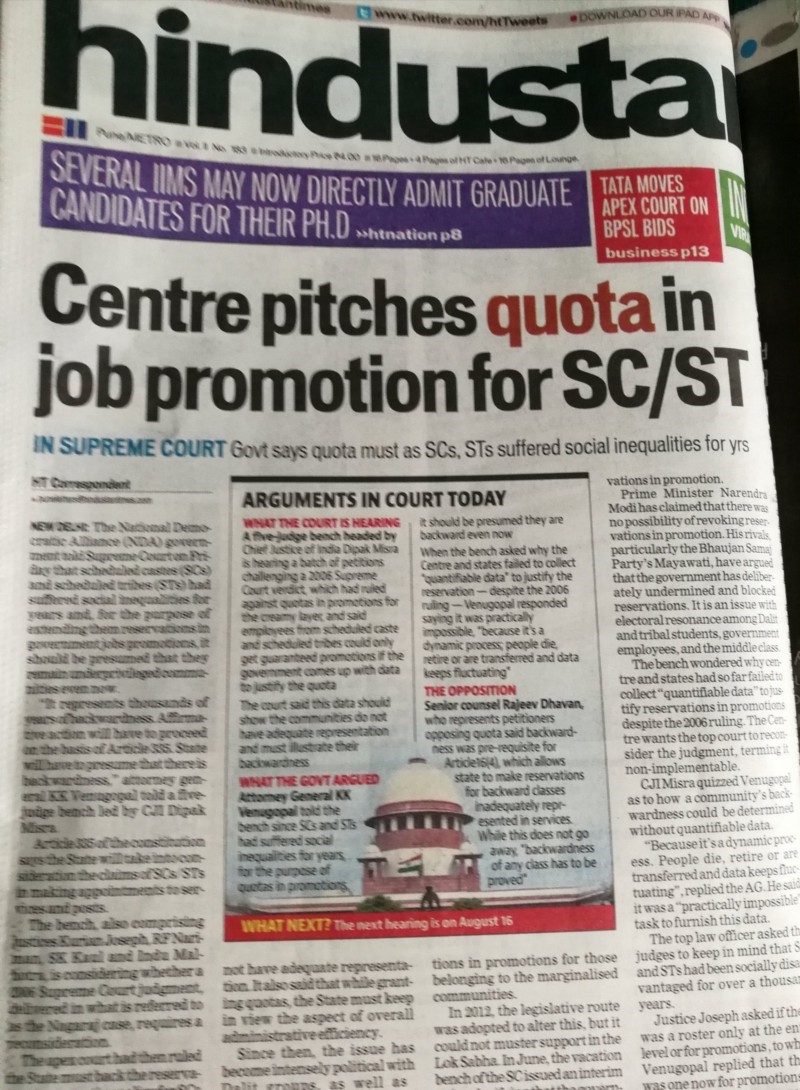 The hearing is from a petition challenging a Supreme Court verdict from 2008. It clearly says 'against quota in promotions for creamy layer'. And our Attorney General today is arguing that 'since SC/STs have suffered social inequalities for years, for the purpose of quotas in promotions, it should be presumed that they are backward even now. The 'creamy layer', mind you, should still be 'presumed to be backward even now' — after all these years. If the 'creamy layer' is backward, what about those who reservations were supposed to actually benefit?!
Most of us reading this article would be familiar with the recent caste-based agitations in Rajasthan, Gujarat, Karnataka, Maharashtra, and Andhra Pradesh. We have all seen 'agitations' where humungous rallies were conducted with swanky imported cars. It is quite obvious that these are the 'creamy layer' our Supreme Court spoke about in that said petition. But our Attorney General himself is arguing on behalf of the government that they should be 'presumed backward even now'. Those driving to the rally in Mercedes cars, BMWs, and Audis don't even pretend to be 'backward'. For them, reservation is not primarily for college seats or government jobs. It is about power. Our politicians have mastered that equation, and their single-minded agenda is about a 'vote-base'.
If you would spend a bit of time to read about the original recommendations of Mandal Commission, it is quite different from what we see in action today. Most important finding from that recommendation (and what forms the crux of this blog post), is this —

In the very first page of the report submitted to the government, the commission chairman B P Mandal mentioned that L R Naik did not sign the recommendation because of the above reason. Boy, was Mr Naik right or what!! There is no real way to study if the real beneficiaries of the reservation bill — the most backward classes — are getting what they should be. When the same % of reserved seats / jobs have to be spread out between all those registered under a particular caste, is the benefit reaching the real downtrodden? If an entrance exam were conducted in which the son of that BMW driving Ahmedabad businessman (who studied in the city's fanciest school) and the son of a farm labourer of the same caste (who barely passed his government school exam), who will score more, and who'll get that seat under quota? This is but an example of what Mr Naik rightly opined while making recommendations for the Mandal Commission report, which formed the basis for all our reservation %s across the country today.
To use words from the earlier quoted Supreme Court petition, 'creamy layer' will keep walking away with most of the benefits of reservation while the marginalised will continue to remain marginalised. The basis for reservations was that people from certain castes were oppressed by people from the so-called 'upper classes', and that they needed a bolster to catch up. Instead, what we managed to do was to replace these 'upper classes' with 'creamy layer' from their own castes, thereby dealing in a double whammy — one to the people who genuinely should have been benefiting from reservation, and second to those now bunched into the 'open category' because their ancestors did not appreciate equality a few hundred years before these poor chaps were even born. Let's counter reservation with reverse reservation
Disclaimer: The opinions expressed within this article are the personal opinions of the author. MyIndMakers is not responsible for the accuracy, completeness, suitability, or validity of any information on this article. All information is provided on an as-is basis. The information, facts or opinions appearing in the article do not reflect the views of MyindMakers and it does not assume any responsibility or liability for the same.
Comments