AOC's Green New Deal reads like a Utopian Socialist Manifesto. And it is doomed to fail.
Last month, the Democrats under the leadership of Rep Alexandria Ocasio-Cortez, the first-term celebrity Congresswoman from NY, and Sen. Ed Markey from Massachusetts, introduced the "Green New Deal". The Deal lays out a framework of an environmental public policy for America.
The primary objective of the Deal is to eliminate all US carbon emissions through economic transformations. It intends to create a new national, social, industrial, and economic mobilization on a scale not seen since the World War II and the New Deal era. The Deal seeks to provide opportunity to create millions of good, high-wage jobs and promises an 'unprecedented level of prosperity and economic security' for all Americans.
The antecedents of the Deal can be found in Thomas Friedman's 2007 New York Times column where he uses the term to describe the requirements in energy investments that would be necessary to turn the tide back on climate change. To spark a Green New Deal today, he wrote, "requires getting two things right: government regulations and prices". He called for government regulations and taxation. He further wrote, "I don't care whether it is a federal gasoline tax, carbon tax, B.T.U. tax or cap-and-trade system, power utilities, factories and car owners have to be required to pay the real and full cost to society of the carbon they put into the atmosphere. And higher costs for fossil fuels make more costly clean alternatives more competitive."
Much before any modern-day environmental protocol was ever signed, it is the Bhoomisuktam (hymn of the Mother Earth) of the Atharva Veda that provides a framework for environmentalism. Composed more than 3,000 years year ago, Bhoomisuktam can be considered the oldest environmental protocol.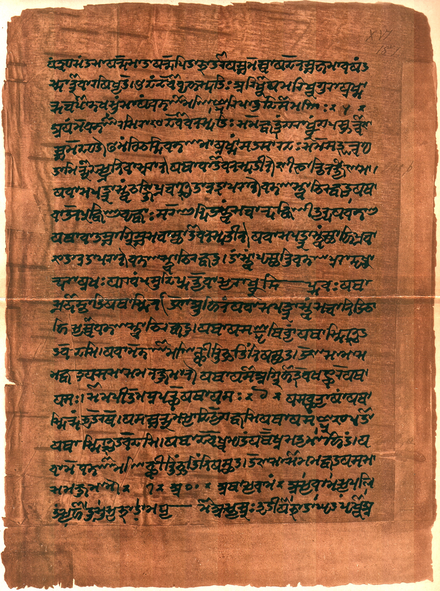 (A page from the Atharva Veda Samhita. Source: wikipedia.org creative commons)
The Sukta is composed of 63 verses. Those verses provide a framework of understanding as well as respecting the Mother Earth and her environment. The Sukta recognizes the Earth for all her gifts such as plants and herb, rivers and cultivable land for food, animals for mik, honey, etc. But going a step further, the invoker of the verses declares that despite availing all those boons, he does not intend to hurt her in any manner whatsoever. For Hindus, Earth is not just a piece of land to be plundered at will. It is venerated as Mother, eulogized as the vast repository of precious wealth and resources. The Sukta gives to Mother Earth an assurance of rational utilization of her resources. Nithin Sridhar provides a brilliant explanation of the Bhumisuktam in his article Bhoomi Suktam: Understanding the tender maternal nature of planet Earth.
This 2019 avatar of the Green New Deal, however, reads more like a socialist manifesto. You will find terms and phrases like 'anti-labor', 'socio-economic mobility', 'erosion of earnings', 'income inequality', 'gender earning gap', 'systematic injustice' etc. sprinkled throughout document. The Deal calls for 'upgrading all existing buildings'; 'universal access to healthy food'; 'overhauling transportation system' by increase in electric car production, ubiquitous charging station, encouraging rail travel and discouraging air travel; and 'high-quality health care', etc.
The Green New Deal of 2019 is remarkable in the sense that it is largely dogmatic and utopian. It erroneously assumes that climate change is not just the largest threat to human civilization but it is also the only threat and failure to take prescribed steps will spell doom for the world civilization. At the same time, the threat of a possible third World War, the threat of nuclear escalation, or any other catastrophe- natural or man-made take a back seat. The deal also promises an illusionary life lived happily ever after once the climate change problem is resolved.
The Deal calls for a top-down anthropocentric approach where what is good for the society and how that good is to be achieved is predetermined by a few elites. Whereas what is needed for the resolution of such a complex issue is a bottom up approach that is self centric and empowers individuals. Such approach will have a higher chance of compliance. The danger in developing such a top-down approach to this problem is that it then becomes part of the establishment which in turn becomes a part of the problem.
The Green New Deal suggests remedies to a problem of a diverse world at the perils of diversity and pluralism of opinions. Many traditional societies have ecological and environmental concerns and awareness built into their culture though they may not be discussed and realized in terms of "global warming" and "biodiversity". Pankaj Jain in his book Dharma and Ecology of Hindu Communities describes three communities in India that have actively and consciously worked to preserve and protect the environment as part of their cultural and religious ideology. Those communities include the Swadhyayis, Bishnois, and Bhils.
The Swadhyayis diavow environmentalism. Their mission is "to generate and spread reverence for humans, animals, trees, earth, nature, and the entire universe in general" (Jain, p.31). Similarly, the Bishnoi community was founded by a 15 century Guru Jambheshwara who spread the teachings of conservation and living in harmony with nature. Bhils, on the other hand, have protected their own sacred groves for generation.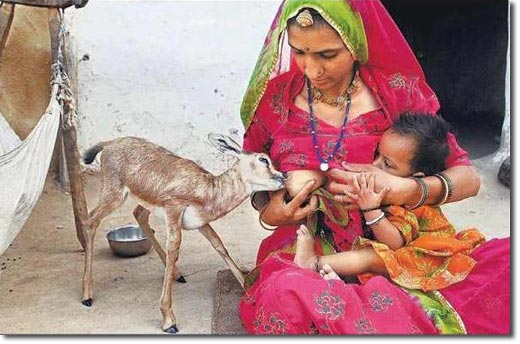 (A Bishnoi woman. Credit: https://permaculturenews.org/2013/09/30/the-bishnoi-eco-warriors-since-the-15th-century-india/)
The Green New Deal has set before itself a lofty and ambitious goal of saving the mankind from environmental catastrophe. But it has developed neither the means nor the mechanism commensurate to the loftiness of its goal. Unless the ecological concerns do not empower individuals and communities around the world to find their own solutions at a more local and micro level, the real solution will always evade us.
Disclaimer: The opinions expressed within this article are the personal opinions of the author. MyIndMakers is not responsible for the accuracy, completeness, suitability, or validity of any information on this article. All information is provided on an as-is basis. The information, facts or opinions appearing in the article do not reflect the views of MyindMakers and it does not assume any responsibility or liability for the same.
Comments