All religions have terrorists, did you say? Which is the winner?
It's a technique well-known to novelists: Decide the end and write towards it. Let's follow a practitioner at work.
Say, the desired outcome is to have the world believe Hindu-terrorism stalks the land, he starts by tossing out sentences like these: Terror has no religion, All religions have extremists, We must condemn all forms of terrorism etc. By implication there are terrorists among Jains, Buddhists, Parsis, Sikhs and of course Hindus. You don't even react because for you they are tired cliches.
He then bides his time till something develops in this vast country that is of promise for furthering his plot. Along come cow vigilantes. He takes this kernel of truth -namely, scattered instances of cow vigilantism- and scales it up till cow-goons are deemed Hindu-terrorists.
What he has created is a neatly packaged narrative capital, to be saved for deployment at a needy moment. Just such a need arises when Amarnath pilgrims are killed by terrorists.
The dog whistle blows: "Expend some of the saved capital to create room and comfort for jihadists. And don't forget to centre-stage Hindu-terror." Praetorian guards clear their throats. Listen to their synchronised marching song: It goes, like: "Yes, yes… Amarnath and all that. But don't forget Hindu-terror"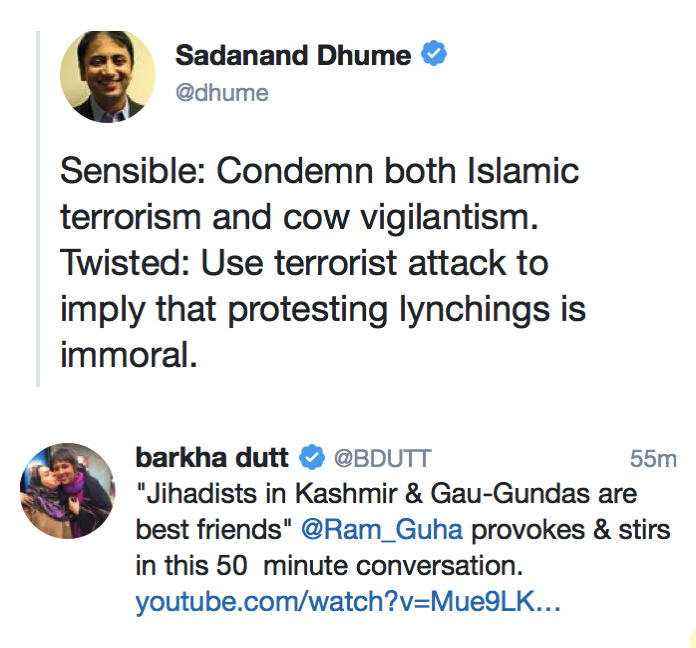 All right, enough of that. We know the grand design of these eminences. Their livelihoods depend on what they churn out.
Is there a way to evaluate if all religions are really the same as far as terrorism is concerned? Yes, indeed. In fact you can do -all by your self- way better than the many dataset analysts at large. I propose a simple checklist to compare Islamic and Hindu terror. Work through it and find out for yourself.
First pick a time-slug. Start 1400 years ago when Islam began or 1940s, the pre-partition days, or 1992 when the Babri Masjid was brought down, or 2004 when UPA began during which the phrase Hindu Terror was popularised. Pick any time frame really. You'll see, your finding will hold good for any.
Collect news bits for the period, that relate to Muslim and Hindu terror attacks. That's your dataset. Sort them into Hindu or Muslim authored incidents.
Pause a moment now to see how another discussion is obfuscated in the same way Islamic terror is. It is corruption. How do they fuzz it? Sab chor hai, corruption is a universal phenomenon, who can escape corruption etc. Telecom Raja is no different from the peon at the door who takes a Rs 50 baksheesh. Say a cop stopped you because you are speeding on your bike. The fine is Rs.300; 300 is all you had. You give it to the cop and get going. 'You did that, didn't you? Shut up now, you have no right to discuss big-ticket corruption. A pick-pocket cannot report a murder.'
We will see how the six point check-list that follows can evaluate terrorism. We can come up with a numerical score. [Arguments in parenthesis apply when you are scoring corruption]
Grab your dataset and get started. Have a 3 column, 8 row table. Top row has these captions: Aspect, Hinduism and Islam. Enter scores on a scale of 10, against each aspect: Frequency, Scale etc. The last row is for Totals.
Start.
1- Frequency: How frequently do Hindu and Islamic terrorists strike?
[How often have you given or taken bribes? Is hafta collection the same as the odd chai-pani tip?]
2-Scale: What's the number of fatalities and injuries Hindus and Muslims have inflicted in each attack?
[How big are the bribes you have demanded or given? Is a Rs.20 to chaprasi the same as Rs.5 crores to the Finance Minister's son?]
3-Design: Are the incidents planned on a large scale as part of an ideology?
[Are you a random bribe taker/giver or are you running an organised racket?]
4-Context: Is the attack a provocation or a reaction? This is a tricky question that can be deflected by the 'root-cause' argument. This is one place where limiting by a time-slug matters
[Is your bribery habitual or compelled by a particular situation?]
5- Sanction: Is there theological sanction within Islam and Hinduism for violent propagation of belief?
[Do your friends and family endorse your life in bribery or do you need to be discreet about your actions]
6- Censure: What relative percentages of ordinary Hindus and Muslims speak out and condemn attacks by fellow religionists
[If found out, do your friends and family keep quiet,or castigate you? Or, admire you?]
I scored myself against Lalu Prasad Yadav on corruption. Y'see, I have let a Rs.1,000 bribe be paid in a land registration office. Ok, ok… plus on a few more occasions as well. Was ashamed to talk about it before. I am squirming to admit it here. But, look I am happy to lose the match to Lalu.
.
You get the idea. Now do a run on Hindu and Islamic terrorism. Save your score in your mind. Compare it with numbers your Muslim and Hindu friends get. Average it.
I am not asserting what conclusion you will arrive at. That depends on biases that influence all of us. Also, I don't know what quibbles will meet the design of this exercise, but I do believe there'd be little wriggle-room for the predetermined dataset analysts prowling at large.
Challenge them and find out.
Disclaimer: The opinions expressed within this article are the personal opinions of the author. MyIndMakers is not responsible for the accuracy, completeness, suitability, or validity of any information on this article. All information is provided on an as-is basis. The information, facts or opinions appearing in the article do not reflect the views of MyindMakers and it does not assume any responsibility or liability for the same.
Comments