Is DMK headed for a three-fourth majority in Tamil Nadu?
As India is navigating itself through one of its worst challenge post the partition, my heart goes out to all those who have lost their near and dears. We have lost two lives in our family and words cannot describe my anguish and helplessness sitting beyond the shores of Bharat and not able to help beyond donations, RT'ing cries for help to get an ambulance, beds, oxygens and medicines. I pray to Lord Dhanvantri in my native place Srirangam to alleviate the sufferings of billions of my countrymen during these tough times.
I guess even time and tide may wait to see the surge in Covid19 trauma, but Indian Politics doesn't and we are seeing a horrible manifestation of the same playing out on the ground. As a follow up to my earlier column1, regarding the state of play in the TN Assembly elections, here is my take on the exit polls and how I think the final outcome may pan out.
Pollsters including those like Axis My India, who have had incredible hit rate in predicting the outcome in most parts of the country have got their predictions horribly wrong in the last few elections reminding us how unpredictable TN voters can be. With that caveat, this is a snapshot of all the exit polls that have been out. As I had forecasted in my earlier column, most of them are predicting a change of guard in Fort St. George and M.K. Stalin is all set to realize his four-decade old dream of becoming CM of the state.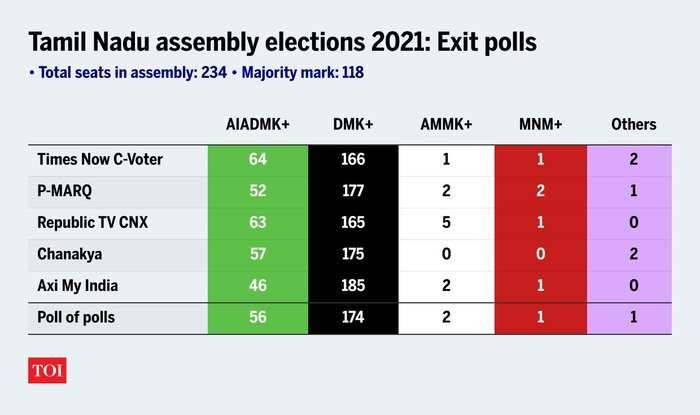 Picture Credit: Times of India
I believe that almost all of them except the ones who are running an agenda have got the direction of the outcome right, none of them except may be Axis My India are forthcoming in predicting the sweep that DMK may turn out to achieve. So, let me stick my neck out and put out my predictions with the caveat that this is an assessment/judgement based on published opinion polls, TV debates, media reports, talking to my friends and families across the state and not a scientific psephological exercise.
DMK + 190 – 210
ADMK + 22 – 40
AMMK – 1
MNM - 0-1
NTK – 0
One may ask if this is indeed the case, why is the feeling in social media and quite a few mainstream media that this election is far closer than what I project it to be? My take is that ADMK's IT cell and media managers have done an excellent job of creating a narrative that it has narrowed the gap. While that is true to some extent and we can expect wafer thin victory margins in many seats as it happened in Bihar, but on the ground the arithmetic and the chemistry favors the DMK alliance and they are all set to storm into the Fort St. George with brute force majority.
1. https://myind.net/Home/viewArticle/battle-for-tamilnadu-who-will-prevail
Image Source: Business Today
Disclaimer: The opinions expressed within this article are the personal opinions of the author. MyIndMakers is not responsible for the accuracy, completeness, suitability, or validity of any information on this article. All information is provided on an as-is basis. The information, facts or opinions appearing in the article do not reflect the views of MyindMakers and it does not assume any responsibility or liability for the same.
Comments