Who will win Karnataka? Will the BJP repeat the 2008 results or will the Congress repeat its 2013 performance?
In what has been called the virtual "quarter-final" before the big final in 2019 Lok Sabha elections (MP, RAJ & CHG being the "semi-final" in Dec this year) the stakes are very high for both BJP & INC. BJP after a near scare in Gujarat wants to get back to its ways of comfortably winning elections while Congress is desperate to hold on to its last major big state bastion of Karnataka. The only other states where INC is in power are Punjab, Pondicherry & Mizoram (which goes to poll later this year).

CONTESTANTS:
The contest in Karnataka is three way contests between the BJP, INC & the JDS. The INC campaign is being led primarily by its incumbent CM Siddaramaiah who has been given a relative free hand in the campaign including say in selection of candidates. This is a deviation from the recent INC history where strong regional chieftains were not looked upon kindly. There was the fear that these regional satraps will someday become too big for their boots & rebel against the INC high command eroding the hold of the family on the party. The BJP's CM face is former CM B.S.Yeddyurappa. JDS is led by former PM H. D. Deve Gowda whose son & ex CM H.D. Kumaraswamy is the CM candidate.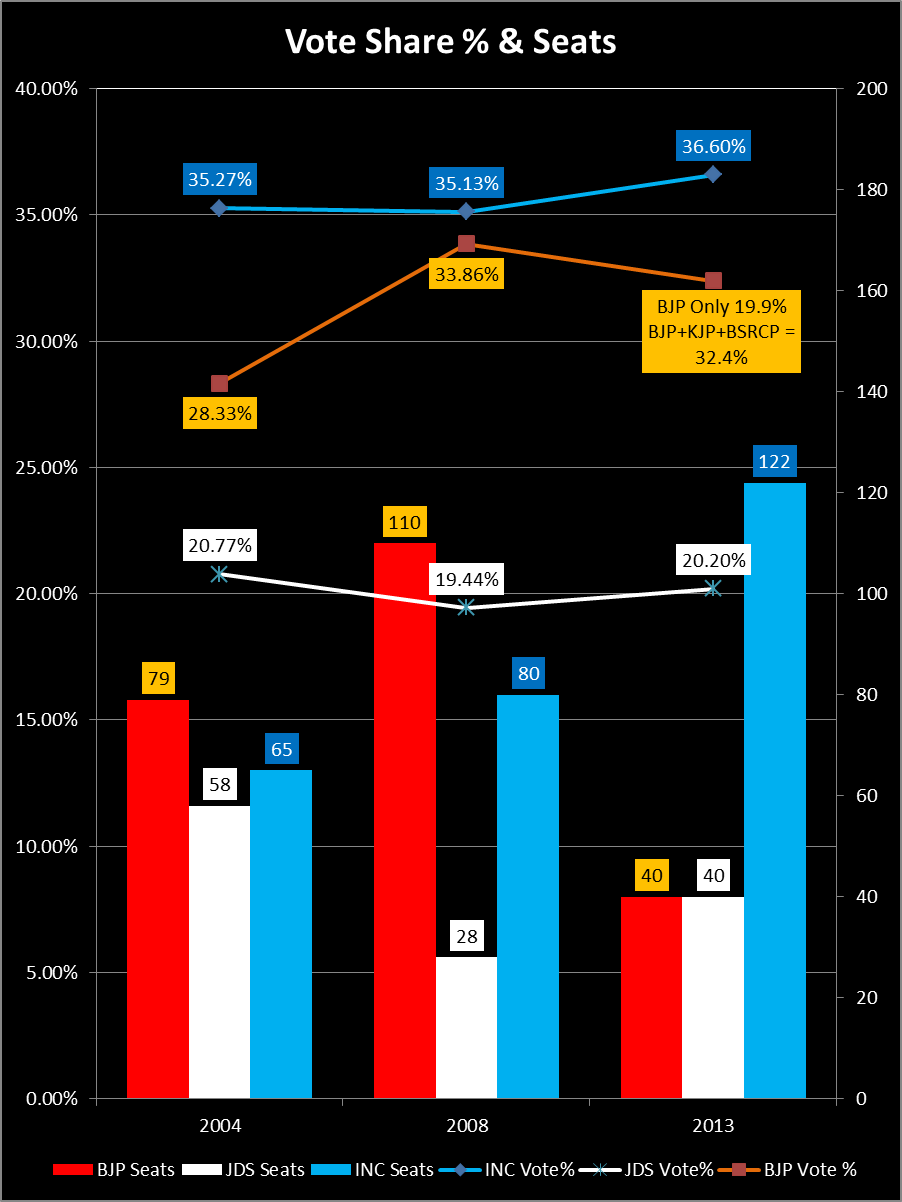 HISTORY
In 2004 Assembly elections with no party getting a clear majority the INC & JDS joined hands to form a coalition government which lasted 20 months. JDS then pulled out the coalition & instead joined hands with the 3rd major player in state politics BJP. As per the power sharing agreement Kumaraswamy (JDS) was to become CM for 20 months after which it was the BJP's turn to nominate their CM. However Kumaraswamy refused to give up the CM's chair which led to BJP withdrawing support & imposition of President's Rule. However a month later both buried their differences & B.S.Yeddyurappa became the first BJP CM in Southern India. A mere 7 days later again differences cropped up between both parties which led to imposition of Presidents rule for 6 months. The 2008 elections were a watershed for BJP where they were able to form their first non-coalition government in Southern India (albeit with support of few independents). Yeddyurappa was the CM from 2008 till 2011 when he was forced to resign because of corruption charges against him. Inspite of having 3 CM's in 5 years the BJP government did survive for 5 years but was badly splintered by the time of next election in 2013. Yeddyurappa broke away to form his own party called KJP (Karnataka Janata Paksha) & other BJP leaders B Sriramulu & Janardhan Reddy formed the BSRCP (Badagara Shramika Raitala Congress). The split in the BJP votes among 3 separate parties decimated the BJP whose seats were drastically reduced from 110 seats in 2008 to just 40 in 2013. INC on the other hand with a mere increase of 1.8% in their vote share went from 80 to 122 seats & formed the next government.
CASTE EQUATION:
A majority of the CM's of Karnataka have been from either the Vokkaligas or Lingayat castes. Siddaramaiah the architect of this victory in 2013 formed together the social coalition called AHINDA which includes Dalits, STs, Muslims, Kurubas (Siddaramaiah's own community) and Christians. BJP's core constituency are the Lingayats, Upper castes & non-Kuruba OBC's which is referred to some as the LIBRA coalition. JDS core support comes from just a single community the Vokkaligas & hence are bit limited in terms of the influence across Karnataka.
REGIONS:
Karnataka many people think as a homogenous monolingual state which actually is not correct. The state can be classified into 6 separate regions

Mumbai-Karnataka (50 Seats)
The North West part of the state was part of the erstwhile Bombay State. The Kannada speaking districts were transferred to then Mysore State. Since this is an area where the Lingayats are in strength the BJP is expected to do well. This will be a test of the Lingayats reservation issue if it bears any fruit for Siddaramaiah or not. A potential matter of concern for the BJP here is the Mahadayi water sharing issue with BJP ruled Goa. Late last year Yeddyurappa announced that Goa would allocate more water after consultations with the Goa CM Manohar Parrikar. However later on after the BJP allies in the coalition government in Goa shot down the idea the issue is again at a stalemate. Modi has promised to resolve this thorny issue but it remains to be seen if it can be amicably resolved. As per some reports facing a tough fight in Chamundeshwari constituency in south Karnataka, Siddaramaiah has opted to fight from a 2nd seat in Mumbai Karnataka in Badami. BJP has pitted its big gun B Sriramulu against Siddaramaiah which should make for a cracker of a contest.
Hyderabad Karnataka (40 Seats)
The North East part of the state was once part of the Nizam's kingdom before independence & part of Hyderabad state till 1956 after which it merged with Karnataka. Historically Congress used to be the dominant party in this region but the BJP started growing here slowly in the 2000's Finally in 2008 with the help of the Reddy brothers who have enormous influence in the region they did very well in Hyderabad Karnataka capturing power in the state. One of the brother's Janardhan Reddy was rewarded with a cabinet ministry. In 2011 when corruption charges were levelled against the brothers in the illegal ore mining scam Janardhan Reddy had to resign & was sent to judicial custody. He was granted bail in 2015 in what some claim controversial circumstances. BJP to leverage the Reddy family's hold in this region where they are virtually kings has given tickets to their associates & family members. This association of BJP with the Reddy family has put BJP on a sticky wicket where they on one hand accuse Siddaramaiah of corruption while associating themselves with the Reddy family. This was best encapsulated recently when Amit shah cancelled a rally in Bellary to avoid sharing stage with the Reddy family. Interestingly Andhra Pradesh CM Chandrababu Naidu who recently left the BJP led NDA coalition in Centre has jumped into the fray in neighboring Karnataka. His self-professed goal is to connect with Telugu speaking people of Karnataka to convince them to vote to defeat the BJP.
Central Karnataka (23 Seats)
Yeddyurappa's home bastion, central Karnataka is home to BJP CM candidate B.S. Yeddyurappa. The drought which is an issue statewide is the most acute in this region. The issue of water is the top poll issue for this region during this election. While in 2008 the BJP & INC won equal no. of seats in 2013 the BJP was routed by the INC. This time most pollsters & opinion polls show a clear edge to the BJP who should comfortably sweep this region.
Coastal (Karavali) Karnataka (19 Seats)
This scenic stretch of coastline was one of first entry points of BJP south of the Vindhyas. This area has been affected from long time with Hindu-Muslim communal tensions. This area was earlier this year described by CPI (M) general secretary Sitaram Yechury as "a laboratory of communal politics". The current government's image of inaction against radical outfits PFI (Popular Front of India) & the SDPI (Social Democratic Party of India) coupled with the killings of BJP/RSS workers has ratcheted up the tensions up even higher. Like all other regions of the state this too flipped over to INC in 2013. BJP conducted a 'Jana Suraksha Yatra', which, it claimed, was aimed at creating awareness on the 'anti-Hindu policies' of INC in the State. The four-day yatra ended in Mangalore, where Uttar Pradesh Chief Minister Yogi Adityanath addressed a public rally. BJP in a repeat of the 2014 LS performance hopes to again sweep this region.
Bangalore (23 Seats)
The IT hub of India has grown tremendously over the past few decades but the infrastructure hasn't simply caught up with the growth of the city. There is widespread dismay about the potholed roads, traffic congestion, public safety, increasing crime & garbage disposal. The scenes on TV of foam frothing on the lakes & lakes catching fire also don't paint a good picture of the rising levels of water pollution. Even in a down election year in 2013 BJP still managed to hold its own against INC (12 vs 13) here. BJP usually does well in urban pockets but there is a worry for the BJP of middle class voter apathy.
Old Mysore (64 Seats)
The largest chunk of seats is in the south of the state where the former kingdom of Mysore used to exist. This area which has a high proportion of the Vokkaligas is the area where JDS is strong. Here the fight is mostly between the Congress & JDS while the BJP is weak. This region will prove to be a make or break for Congress & especially JDS if they want to do form the next government. BJP inducted former INC CM S.M.Krishna to improve its outreach with the Vokkaligas but he has been mostly sidelined during this elections cycle. BJP knows that it is very weak in this region & can't do much so it has decided to go damage the INC's chances here. It is an open secret that in many constituencies BJP has deliberately put up weak candidates to allow the anti INC votes to goto JDS thus preventing INC from doing well in this region. Due to anger of Vokkaligas vs INC (which I will touch on later) some experts feel that INC is in trouble in Old Mysore region. This trouble is what has forced Siddaramaiah to contest in a 2nd constituency in northern part of the state (Badami) in addition to Chamundeshwari in Old Mysore region.
GROUND SITUATION:
Siddaramaiah & INC have run a unique campaign where a national party INC has focused on regional pride (for e.g. the issue of regional flag) similar to a regional party. He has tried to portray Modi & Shah as outsiders from Northern India bringing into focus up the North vs South divide. Due to the language barrier there were some apprehensions of how the connect of the PM with the voters would be. From the ground it has been reported that the speeches have been well received statewide & that the PM has established good rapport with the crowds in his rallies. Earlier reports had stated that Yeddyurappa was not getting any traction with the masses & sulking from the denial of the ticket to his son. Narendra Modi's blitzkrieg since May 1 has now energized the lethargic base. Now it remains to be seen how well this translates into votes come Election Day.
Siddaramaiah AHINDA (Minorities, Dalits and backward castes) policies plus favoring of Kurubas in government & administration has led to resentment both among the Lingayats & Vokkaligas. The Vokkaligas who haven't forgiven him for walking out of JDS & joining Congress in 2006 were already upset with him. This could lead to an unprecedented situation where both the Lingayats & Vokkaligas are against INC in this election. This could lead to serious trouble in the Old Mysore region for INC. PM Modi few days curiously praised H.D. Deve Gowda which seemed odd as JDS is not an ally. This shred move was to woo over Vokkaligas angry with Siddaramaiah outside of Old Mysore region where JDS is weak to instead shift their votes to the BJP with the single aim of defeating the INC. This kind of vote transference theory looks good on paper but only time will tell if this was a masterstroke or a dud. This praise of Deve Gowda was not entirely unnoticed by INC who has called JDS as the "B team" of BJP in order to ensure that the minorities stick to the INC vs defecting to the JDS. Deve Gowda for his part has promised that he will not align with the BJP as in the past & even declared that he will disown his own son H.D.Kumarswamy if he chooses to go with the BJP in a post poll alliance. JDS has been hamstrung by being limited to just one major caste group: Vokkaligas have now decided to tie up with Mayawati' s BSP party & Asaduddin Owaisi's AIMM to move the Dalit & Muslim vote towards JDS. JDS has left 20 seats for its partners to contest. As always in Indian politics due to caste tensions between Vokkaligas & Dalits the vote transference between the groups might be suspect.
CONCLUSION:
Siddaramaiah is relatively well liked CM who incidentally more popular than Yeddyurappa in the state. He lost a bit of focus towards the end of the campaign by going after Modi instead of focusing on attacking Yeddyurappa & the local BJP leadership. Nevertheless a wily operator he at certain times has proven to be an able match for BJP giving them trouble. His Bhagya pro-poor welfare schemes are well liked by the electorate but don't have a long list of accomplishments to fall back on. A state like Karnataka which has a long history of voting out incumbent governments every 5 years (a record which stretches well back into the 20th century) coupled with other problems like drought, farming distress (3K+ farmer suicides since 2013), Bangalore infrastructure issue, favoritism towards Kuruba & AHINDA policies has left him & the INC facing headwinds. His trump card of the Lingayats reservation issue to split the BJP base was a hot topic just a few months ago. Now it is dead in the water with it being hardly brought up by INC on the campaign trail. A strategy generally used to beat anti-incumbency is to replace a significant number of sitting MLA's. INC might have missed a trick by repeating a very large % of sittings MLAs especially when there is reported to be a lot of anti-incumbency against sitting MLA's (vs incumbent government) across party lines. Since INC has most no. of MLA's it will take a bigger hit than BJP or JDS. The presence of 3rd player in JDS along with the absence of BJP statewide has allowed INC to remain in the game with the possibility of a coalition government. In case of hung assembly JDS could align with INC on the condition their enemy no. 1 Siddaramaiah is no longer CM or that the CM is nominated from the JDS. As per an analysis by analyst Amitabh Tiwari BJP is only truly in the contest in around approximately 160 seats. I.e. other 80 odds seats are JDS vs INC fight. This means that to form a government on its own by the BJP it would have to achieve a fantastic 70+% strike rate. The campaign which was idling around for some time with both the BJP & INC seat nos. floating in the "hung assembly range" has seen the PM gives it's now customary last minute frantic push over the line. At the time of writing this article, based on the information that I have, I forecast the following numbers where I see BJP to be the single largest party with it either achieving a razor thin majority or falling just short of it.
TOTAL ASSEMBLY SEATS: 224
Seats needed for majority: 113
BJP 105 – 115
INC 65 – 75
JDS 35 – 45
OTHERS 0 – 5
Author's Note: I want to thank Amitabh Tiwari & Subhash Chandra for the thoughts & feedback regarding this election & Sachin Reddy for the deep insights into Karnataka politics.
Disclaimer: The opinions expressed within this article are the personal opinions of the author. MyIndMakers is not responsible for the accuracy, completeness, suitability, or validity of any information on this article. All information is provided on an as-is basis. The information, facts or opinions appearing in the article do not reflect the views of MyindMakers and it does not assume any responsibility or liability for the same.
Comments