Some 'Moderates' in India Are The First Line Of Defense Of Extremists
It is sickening to see the choice of pictures and words by Indian mainstream media in their deliberate attempt at normalizing terrorists and whitewashing their sins, abetting their acts of terrorism. To add that to it, there was this pathetic piece humanizing a terrorist, telling sweet stories about his wonderful nature and the implied heroism. Why So much of love for terrorists?
Soft-Spoken, Humble': Friends Remember Prof Who Joined Hizbul
While The Quint is trying to portrait a terrorist as "humble-soft spoken," NDTV declares these 5 dreaded terrorists as citizens, Firstpost posts pictures of a grieving family giving it an emotional touch, eliciting sympathy. This is how violence is mainstreamed. What a master class propaganda. But at whose behest?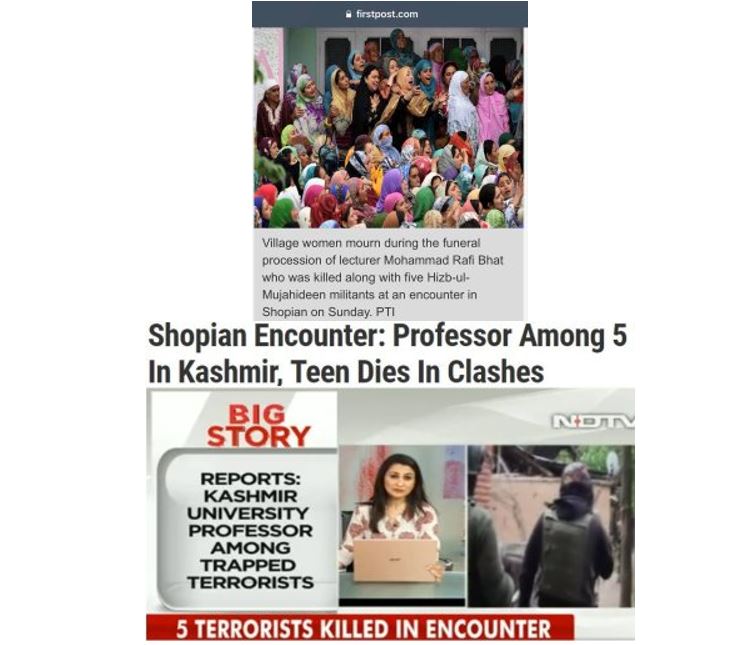 We have been facing terrorism for decades. Ignoring the threat of domestic radicalization won't make it go away. The dishonesty and cowardice of the mainstream media in honestly addressing this critical issue of Kashmir as a euphemism of Islamic-Jihad stoked by Pakistan is nauseating.
This is not the first time this being attempted and this propaganda shows a clear pattern. Last year, Barkha Dutt and the muppets at NDTV called Burhan Wani 'son of a headmaster,' BBC called him a rebel leader. Osama bin Laden's anniversary was celebrated, humanizing him for his role as a father and a husband.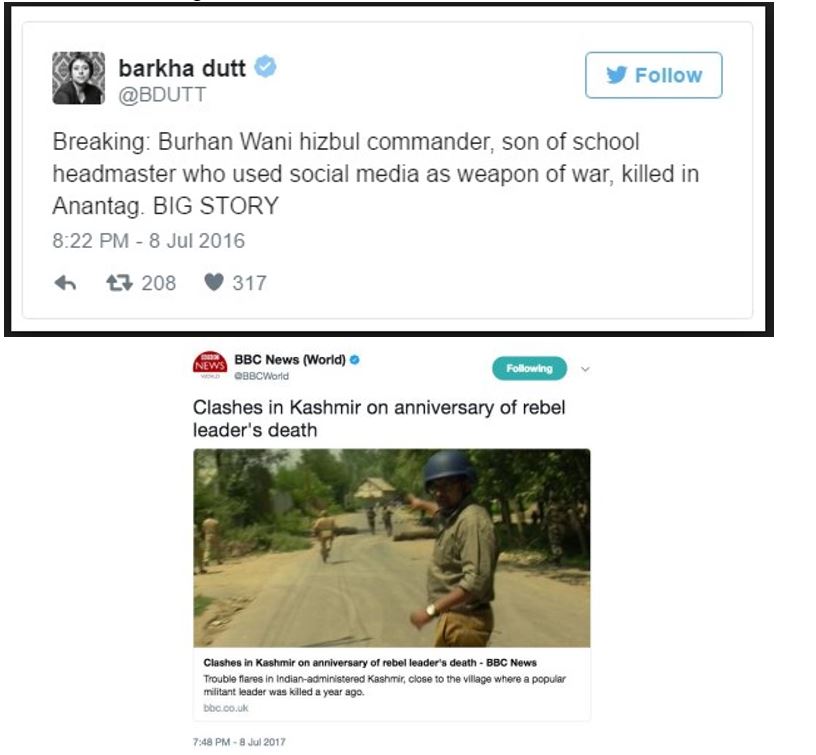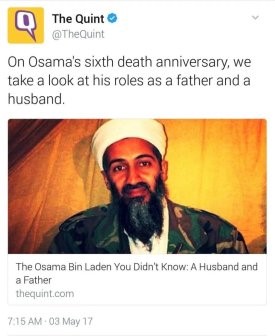 Once Rafi Bhat picked up the gun to wage war against the state and to kill innocents, his degrees mean nothing. There really is no dearth of well-educated recruits in terror organizations. A World Bank study finds that Islamic militant groups' recruits likely to be well educated and finds no link between poverty or educational levels and radicalization.
The most concise and concerted resurgence of the global jihad movement can easily be traced to the conflict in Syria, where they have attracted educated foreign fighters from across the world, galvanizing the global jihad movement.
Even in the subcontinent, the Bangladeshi Cafe killers were all educated and so was Osama Bin Laden, Al Baghdadi, Yaqub Menon, Afzal Guru…. the list of ruthless barbaric educated terrorists goes on.
Remember how the frauds part of the 'ecosystem' came in defense of one modern educated man named Mehdi Biswas when he was smoked out by Indian authorities to be ISIS's emphatic voice on Twitter? How was that different than this terror loving media Barron Bahl?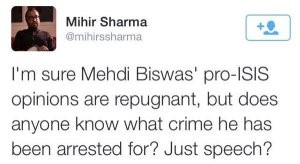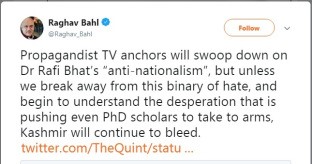 The problem exists in the fraud opinion industry that runs the propaganda on the behest of their political patrons. With political patronage, these fraudsters masquerading as opinion makers dictate the perception market. The spin and censorship have gotten so bad that news agencies bend over backward not to bring Islam into the picture, even if the perpetrator of a terror act has admitted being acting in the name of Islam.
A few years back Chetan Bhagat in a popular post titled "It's not moderate Muslims' fault" in Times of India asked us to understand the point of view of "moderate Muslims" and to understand that, asks us to imagine this:
"You have grown up respecting a religion and its holy texts. Along with customs and rituals, you have also affirmed a lot of positive values – compassion, honesty, humility, love, integrity, generosity. You are a rational, scientific human being but still give religion an important place in your life. After all, it teaches you humanity, makes you a better person and keeps you positive. Now imagine a small section of people, who claim to share your religion, spreading hate and violence. They claim to be defending the same religion you love and respect, but their actions do not agree with your conscience at all. This fringe group is a paradox. It upholds something you love but acts in a manner you despise."
Imaginary indeed. But while defending the indefensible, even Chetan could not ignore the word "despise." The whole discussion ends the moment the moderates 'despise' the actions of what they consider a "paradox".
That is how unwritten blasphemy law is practiced, preventing criticism of Islam, enforced not by the state, but by our secular preachers, the sold-out intellectuals, and the so-called moderates. While mainstream media is consistent in its willful spin and censorship, it is the moderates who provide them the cover.
At times, the right to criticize religious bigotry is both necessary and compelling. We have to use it or lose it. One such columnist is Anand Ranganathan (hence severely hated by these folks on twitter) has a habit of dismantling religious bigotry, every time he chooses to pick his keyboard, in a crisp yet non-provocative manner. He writes:
Quote – "In the language of today's world, the bad Muslims are seen as the moderates while the good Muslims, the extremists. And for any ideology to work, moderates must believe in it. The belief of moderates provides a cushion for the extremists. No ideology can sustain itself for long if only the extremists believe in it, for then it becomes a cult, and cults die. Moderates battle non-violently, extremists violently.
Moderates believe in the good passages and the extremists believe in the bad. But it is the same book and that is what matters to the extremists. Like a virus that needs a human cell to survive and thrive, an extremist needs a moderate or else he will die, become extinct." – Unquote.
In fact, Anand leaves no further scope to say anything on the subject.
The fact is that general public opinion considers the subject too unfashionable, too confusing. The moderates take advantage of the situation and openly defend such behavior by saying, "people who indulged in such acts cannot be Muslims, The Quran does not teach that."
This is a false symmetry and denial of the highest order. The fact that it is the Quranic teachings which are the root of much of the world's terror. On one side, the fanatics threaten to kill you and on the other, critics call you Islamophobic, a term used to stifle any criticism of fanaticism of Islam.
Muslims in India are secure enough to deal with some tough questions. It is condescending to treat Muslims like excitable children who cannot cope with the same probing, that we hand out to Hindus, Sikhs, Jains, and Buddhists.
But our politicians also hesitate to address it, because they don't find any support of these "moderates." Moderates know that insulating a religion from criticism, surrounding it with an electric fence called "respect" keeps it stunted at its most infantile and fundamentalist stage. Add to that the politically correct, left-leaning liberals and other travelers who can't kill their cowardice and present a lopsided narrative and think that merely opposing ISIS is enough.
The so-called intellectuals, and moderates, all for self-promotion and reward, keep spinning the fact. It hardly matters to them who is a criminal and who is a victim. Their own survival is at stake.
Disclaimer: The opinions expressed within this article are the personal opinions of the author. MyIndMakers is not responsible for the accuracy, completeness, suitability, or validity of any information on this article. All information is provided on an as-is basis. The information, facts or opinions appearing in the article do not reflect the views of MyindMakers and it does not assume any responsibility or liability for the same.
Comments