Is Congress's claim of 60 lakh bogus voters in Madhya Pradesh factual or completely baseless?
Madhya Pradesh (MP) which heads to the assembly polls later this year was rocked this week by a sensational piece of news. As per the claim by INC (Indian National Congress) which is the primary opposition party in MP, the electoral rolls in Madhya Pradesh have 60 Lakh (i.e. 6 Million) bogus voters/electors (i.e. citizens above age of 18 eligible to vote). This 6M (million) number is nothing to sneeze at considering the total number of electors in the previous electoral cycle in 2013 was ~ 46.4M. There are always been issues with electoral rolls in India due to duplicate voter entries, deaths, migration of citizens, etc. but what stands out in this case is the sheer size of the claim which would mean that some serious fudging of the electoral rolls has been done in MP.
INC called a press conference to shed light on this matter which was attended by the three bigwigs of INC in MP: state chief Congress chief Kamal Nath, Digvijay Singh and MP Jyotiraditya Scindia. Jyotiraditya Scindia said: "The whole fraud in the voters' list shows the mindset of the state government, its misuse of official machinery and its desperation". He added that this was "biggest attack on the foundation of the Indian democracy and the Constitution," Kamal Nath said "The lists have been deliberately altered at the behest of BJP government in the State," However the statement which piqued my interest the most & which prompted me to dig a little deeper into the data was the following statement from Kamal Nath: "How is it possible that population increased by 24 per cent in 10 years but number of voters increased by 40 per cent?"
Looking into the data from the previous Vidhan Sabha elections in 2013 from the Election Commission of India (ECI) website the total number of electors were 46,457,724 [~46.4 million/4.64 Crore]. Elections for the MP Vidhan Sabha will be held most likely in December 2018. As per the ECI rules all citizens of India who are 18 or older on January 1 can register to vote in an election which is held in that same calendar year. So in MP all youths who were 18 or older on January 1 of this year would be eligible to be added to the electoral rolls for the polls later this year. Looking at the Census data from Government of India (obtained from GOI website) for MP, 8,494,062 adults who were too young back in 2013 would now qualify for to vote for the first time ever in 2018. This would make the total number of electors in MP = 46,457,724 + 8,494,062 = 54,951,786. This however leads to my first question regarding the INC claim as this translates into only an 18.3% increase in total electors from 2013 numbers & not the 24% as claimed by the INC.
So this begs the question as to where the extra 5.7% increase in population came from. Certainly INC wouldn't have meant overall population growth (vs. electors growth) when they referred to the 24% increase as this would mean taking into account newborns (who are too young to vote!) & deaths which occurred in last 5 years. A couple of possible scenarios could help account for this delta: A) registering adults who were missed out on registering in 2013 & are being registered for the 1st timer ever this time around B) the movement of citizens across state borders. So assume that MP received a net influx (citizens who moved from other states to MP minus those who are leaving MP to other states) of adult citizens which accounts for the 5.7% delta. So for my analysis to verify the claim of 6M/60L bogus voters I will consider two scenarios:
1) Addition of ~8.5M first time voters (18-22 year old age group in 2018) &
2) 24% increase in population (which I assume they mean electors) 24% increase in electors from 2013 numbers means (46,457,724 x 0.24) = 11,149,854 new electors.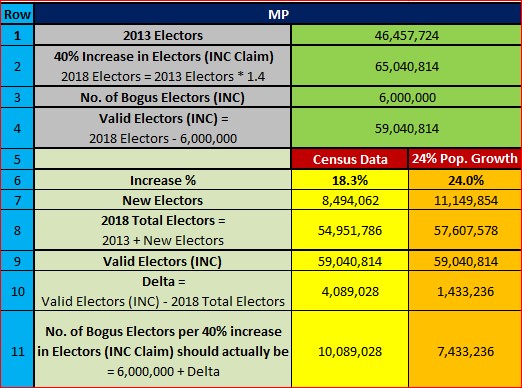 First let's look at the INC claim numbers. A 40% increase in electors due to addition of bogus voters makes the 2018 Total elector count = 46,457,724 x 1.4 = 65,040,814 [Row 2]. After subtracting the 6,000,000 bogus electors claimed by INC the total no. of Valid electors should be 59,040,814 ~59M [Row 4].
Note that the two scenarios of 1) Census Data ~8.5M increase 2) 24% Population Growth have been represented in two separate columns. 2018 Total Electors [Row 8] = 2013 electors + New Electors [Row 7]. The total no. of electors for 2018 elections calculated for these 2 scenarios are 54.9 & 57.6M respectively [Row 8]. However they are off from the INC claim of ~59M (which accounted for 6M bogus voters which were subtracted earlier). The Delta in the 2018 INC Total elector claim number & the calculated 2018 Total Elector values are 4 & 1.4M respectively [Row 10].
So now the question arises that what does all of this mean? There could be two distinct possibilities.
1) One is that that the INC claim of 40% population growth and/or 24% increase is severely inflated with large overestimations.
OR
2) The level of addition of bogus voters is way higher than the 6M. As per [Row 11] the no. of bogus voters needs to be 6M+4M or 6M+1.4M i.e. ~10M or 7.4M in total for the other INC claim numbers to be reconciled to be correct. These even larger numbers of either 7.4 or 10M bogus voters would however portend to an enormous level of problem of bogus voters (i.e. 12% to 17% of all electors on the rolls are bogus).
This analysis doesn't mean to say that there are absolutely no discrepancies or even possibly manipulation of the electoral rolls in MP. If any discrepancies are found they need to be rectified immediately which the ECI has promised to do so after the INC press conference. After the corrections incase a conspiracy is unearthed which shows that a large number of bogus voters were added to pad the electoral rolls, strict action needs to be taken against the people responsible for this to discourage such underhanded machinations in the future. What I wanted to highlight here is that the INC claim doesn't just add up with the available data. The analysis above means that either the 40% elector's growth/24% population growth claim by INC is vastly inflated or there is even a higher level of bogus voter registrations than what INC claims. Either way this does shed poor light on the INC & their data analytics team as either they have either inflated the number of bogus voters to score a political point or even worse they may have vastly undercounted the number of bogus voters on the electoral rolls.
Picture Credits: https://www.facebook.com/JMScindia/photos/a.414169415413487.1073741828.395332553963840/1083448615152227/?type=3&theater
Disclaimer: The opinions expressed within this article are the personal opinions of the author. MyIndMakers is not responsible for the accuracy, completeness, suitability, or validity of any information on this article. All information is provided on an as-is basis. The information, facts or opinions appearing in the article do not reflect the views of MyindMakers and it does not assume any responsibility or liability for the same.
Comments