AAP retains Delhi and BJP falters on its strategy
Consolidating its political fortunes in the National Capital Territory, AAP swept the 2020 Assembly Elections. Marred by violent attacks, staged shootings and the interminable Shaheen Bagh anti-CAA protests 2020 Delhi Assembly Elections hogged national attention. The supposed three-way contest between-AAP, BJP and INC have turned to be a bipolar contest with Congress failing to make a mark. AAP with a vote share of 53.6% obtained 62 seats while BJP having increased its vote share to 38.4% won in 8 constituencies in the 70-seat legislative assembly. Congress with a nominal vote share of 4.2% lost deposits in 67 seats.
With this stellar victory, AAP supremo Arvind Kejriwal is all set to swear-in as the chief minister of Delhi for the third-time in succession. While BJP has marginally increased its vote share and tally compared to 2015 elections, the dream of clinching power in Delhi still eludes it. A bitter defeat for BJP in Delhi assembly elections months after it lost power in the Jharkhand warrants a serious introspection. Decimation of Congress is slowly ushering the Indian polity into an era of "Congress Mukht Bharat". The gradual wiping out of the Congress from Indian politics has created a huge lacuna. Regional parties are leaving no stone unturned to fill this political vacuum. Until BJP resolves to groom leaders at the state level it can't stand a chance to compete with regional parties. BJP which prides in its commendable leadership must now cultivate regional leaders to improve its ground connect. Ably assisted by contingent of motivated cadres, BJP can then aspire to compete with regional parties on equal footing. With elections lined up in big states like Bihar and West Bengal, BJP must evolve new strategies to take on regional parties.
AAP's massive win in part can be attributed to consolidation of anti-BJP forces. With Congress out of contest, AAP which avoided any rhetoric during the election campaign, managed to garner the support of the swing voters or the fence sitters who are largely indecisive. Frenzied BJP motor mouths have certainly driven away some of the neutral voters with their hollow outbursts. While the provocative hyperbole of BJP garnered all the attention, Kejriwal's blatant dole outs to Imams since January 2019 escaped all censure. Following AAP's worst electoral performance in 2019 General elections, with an eye on upcoming assembly elections Kejriwal rolled out several freebies including free bus rides to woman. The left-dominated media justified them and even dared other state governments to follow the same trend. Media turned a blind eye to his soft Hindutva of teerth yatra to senior citizens. AAP's stupendous performance is attributed to his good governance and laudable initiatives in health and education sectors. If development alone has been the single point agenda of AAP it shouldn't have lost the 2017 municipal elections.
There have been several factors at play which includes polarisation politics. Despite AAP's links with the shooting at the Shaheen Bagh protests and PFI, it was given a clean chit and the victory was ascribed to Kejriwal's development-oriented politics. On the contrary, freebies have done the magic for Kejriwal. Unleashing the doctrine of socialism, AAP has earned the support of huge migrant population of the national capital. Besides, Kejriwal carefully stayed away any from taking any stand on the contentious Shaheen Bagh protests, silently supported Ram Mandir verdict and the abrogation of 370. Having borne the brunt of a series of defamation charges and its legal implications Kejriwal learnt it the hard way and refrained from making politically insidious comments.
In India, political parties, especially national parties are expected to be election ready. After every electoral setback, an aspiring political party like BJP must introspect and learn from the past mistakes to stay politically relevant and afloat. The message is clear. BJP must focus on preparing second rung leadership to win state battles. BJP swung into Delhi elections with full force just a fortnight before elections and released candidate list few days ahead of final day of nomination. Also, BJP entered into pitched battle with AAP, singularly run and dominated by Kejriwal without any chief ministerial candidate who can represent the vision of the party. Having released the manifesto almost towards the end of the campaigning it has failed to communicate its vision for the state to the electorate effectively. Every defeat offers hard lessons and BJP must now go back to drawing board to get back to winning ways.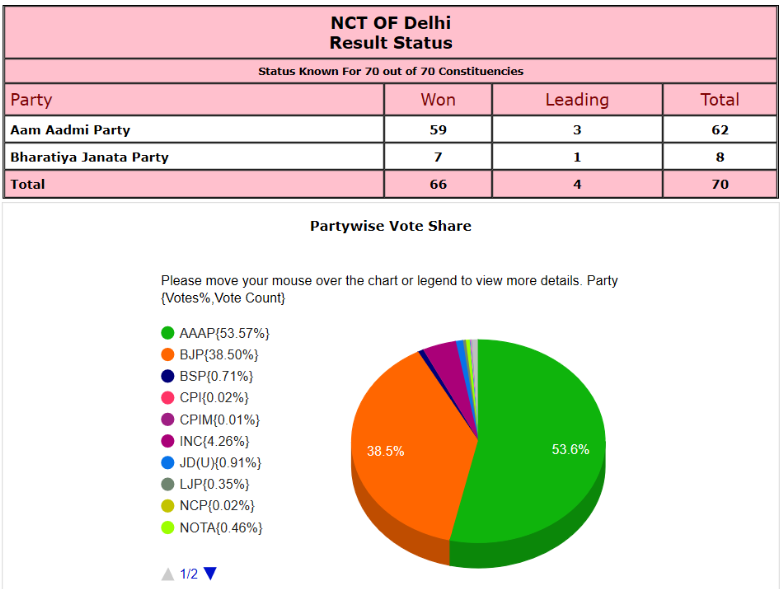 Disclaimer: The opinions expressed within this article are the personal opinions of the author. MyIndMakers is not responsible for the accuracy, completeness, suitability, or validity of any information on this article. All information is provided on an as-is basis. The information, facts or opinions appearing in the article do not reflect the views of MyindMakers and it does not assume any responsibility or liability for the same.
Comments